Jurassic World: Dominion Dominates Fandom Wikis - The Loop
Play Sound
"Jollybells" is the second segment of the holiday-themed episode of the Disney animated series The 7D, based on the characters from the 1937 animated film Snow White and the Seven Dwarfs. It and its partner episode, "Gingersnaps and Grumpy Snaps", premiered on December 2, 2014 on Disney XD. The show's universe has its version of Christmas called Jolly Day as the setting for both segments.
Plot
The kingdom of Jollywood is celebrating Jolly Day at the village center with a huge Jollywood Tree, while the Glooms—who yearn to force Queen Delightful from her throne and take over Jollywood—have their version of the holiday called Gloomy Day. Grim presents his wife Hildy with a gift: a machine called the Joybuster, designed to drain the joy out of people. To test the machine, they use it on a group of carolers from the village arrived at their front door, and the machine sucks the joy out of them, literally turning them blue and depressing. The Glooms then go to the village to make sure that no one in Jollywood will be joyous.
Grim and Hildy appear at the Jolly Day events, which are hosted by the Queen. They then target Doc, Grumpy, Sleepy, and Sneezy, and the other villagers, turning them blue. Happy notices his friends' depressing behavior, and tries to keep their spirits up. Later, the Glooms suck the joy out of Dopey, Queen Delightful's assistant Lord Starchbottom, and Delightful herself, which is difficult because apparently she has a lot of happiness. Bashful, who hasn't been targeted yet, and Happy then found out it's the doing of the Glooms, and they set up a plan to return the villagers' joy.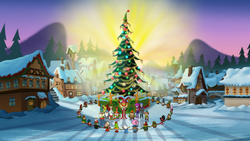 Their first plan is to trick the Glooms into believing that they have all of the joy by using the Joybuster on two makeshift Bashful and Happy mannequins next to a table, with the real dwarfs giving out voices underneath them. The next plan involves Happy singing in an attempt to uplift the 7D's dull spirits at the cottage and then lead them and the villagers to the huge Jollywood Tree. Hildy can't believe that she was fooled, and the Glooms go back to use the Joybuster on Happy. But this is even more difficult than Delightful's -- Happy's joy is so big that it overloads the machine, causing it to explode, and all the joy cascades over the sky, returning it to everyone. As everybody gathers around the tree feeling happy again, even Grim and Hildy find joy inside themselves—though Hildy finds it gross.
Songs
"A Jollywood Jolly Day"
"Jolly Day"
"Gloomy Day"
Availability
Both segments of the episode are currently available digitally on Amazon and iTunes under the second volume of the first season of The 7D.
Gallery
Cast
External links