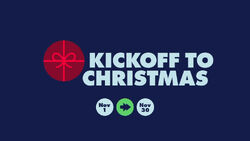 Kickoff to Christmas, originally named Countdown to 25 Days of Christmas, is an annual programming event that has been airing on Freeform (and its predecessor, ABC Family) every November since 2007. As its original title suggests, it serves as a lead-in to the network's annual 25 Days of Christmas programming event in December. Likes its December companion, it typically consists of family-oriented movies, some of which pertain to Christmas and some of which do not.
Since the network is owned by the Walt Disney Company, many of the non-holiday-themed movies aired on the block are ones owned by Disney, though some non-holiday movies owned by other studios (such as WarnerMedia) have also turned up on the block.
Unlike the 25 Days of Christmas, Kickoff to Christmas has never expanded to airing on the other networks owned by Disney.
History
In 2007, due to popular ratings for the 25 Days of Christmas from the previous year, ABC Family launched a companion block titled the Countdown to 25 Days of Christmas, which began on November 23, the day after Thanksgiving. Although this was the network's first official early start for Christmas programming,[1] in recent years, holiday programming had actually always begun during the last week of November, showing mostly older original films.
The 2008 countdown included the basic cable debuts of Disney's Aladdin, the live-action Garfield movie, and the ABC Family debut of the Hallmark Channel's A Carol Christmas. The 2009 event saw the basic cable premieres of The Chronicles of Narnia: The Lion, The Witch and the Wardrobe, the ABC Family premieres of Disney's animated films Lilo and Stitch and Hercules, and the ABC Family original film The Dog Who Saved Christmas. In 2010, the event, which began on November 21, included the sequel, The Dog Who Saved Christmas Vacation.
The 2012 event began on November 17th, marking the block's earliest start until its 2018 rebranding, and included the premiere of Home Alone: The Holiday Heist and the network premiere of Nanny McPhee Returns.
The 2016 event, the first time the block ran following the channel's name change from ABC Family to Freeform, began on Thanksgiving Day of that year (November 24th) and included the network's premiere of The Holiday.
The 2017 event began on November 18th and included the television premiere of Pixar's Inside Out, as well as the Freeform premiere of Four Christmases. The countdown event also notably included many holiday specials that had previously only aired as part of the main 25 Days of Christmas block.
For 2018, the countdown block was renamed KickOff to Christmas and began on November 1st.
Christmas programming
Current (2019)
Movies
TV specials and episodes
Former
Please note, some of the movies listed below are still shown as part of the 25 Days of Christmas itself.
Movies
Specials and TV episodes
References
Community content is available under
CC-BY-SA
unless otherwise noted.