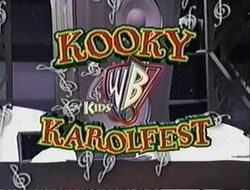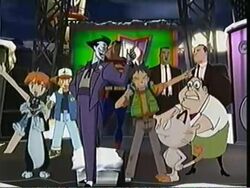 The Kids' WB! Kooky Karolfest was a special edition of the Kids' WB! Saturday morning programming block, originally broadcast on December 11, 1999. Between the shows aired on the block, characters from the shows appeared as the "Warner Choir" to sing parody versions of Christmas songs, all themed around the shows. The characters in the Warner Choir included:
Segments
The segments featured the characters singing the following songs:
The cast sings a Men in Black-themed version of "Oh Christmas Tree", in which they express that they don't want to have their memories erased. Agents Kay and Jay use their Neuralyzers near the end of the song, causing Brock to forget why he's here.
Ash, Misty, and Brock sing a Pokémon-themed version of "Deck the Halls". Gary briefly joins in the song as well.
Meowth, joined by Jessie and James, sings about himself to the tune of "Joy to the World".
Terry sings about the perils he has faced to the tune of "The Twelve Days of Christmas".
In a parody of "The First Noel", Ash sings about how Caterpie was the first Pokémon he caught. Misty sings about how about she didn't like it.
To the tune of "The Nutcracker Suite", Agent Jay sings about how he wants to be allowed to drive the car, but Kay won't allow him to.
The Joker sings a slightly extended version of the "Batman smells" variation of "Jingle Bells". At the end, Batman drops a cage on him.
Jessie and James sing about Jigglypuff and its sleep-inducing singing to the tune of "Hark! The Herald Angels Sing".
Misty sings about her Psyduck to the tune of "Angels We Have Heard on High".
For the closing segment, Sylvester and Meowth sing a toilet-themed version of "We Wish You a Merry Christmas", joined by Wakko Warner from Animaniacs.
Cast
Community content is available under
CC-BY-SA
unless otherwise noted.