Kimi Watanabe Finster is Chuckie Finster's younger stepsister in the Nickelodeon animated series Rugrats and its spin-off All Grown Up! She became one of the main characters of Rugrats in its seventh season, after her mother, Kira, married Chuckie's father, Chas, in the series' second theatrical film, Rugrats in Paris. Like Tommy Pickles, she is super adventurous and is always ready with a smile and an encouraging word. She teaches Chuckie what it means to be a true big brother and helps him manage his fears.
Appearances in Christmas specials
Rugrats
In the third Rugrats Christmas episode, "Babies in Toyland", Kimi, along with her family and friends, takes a trip to the Christmasland park. When Angelica ends up causing the man to play hired Santa Claus to quit, the Rugrats are initially distraught about this, but Kimi theorizes that because he didn't take his bag of toys with him when he quit. Then that means he left the ones he was planning to give to them. Kimi, Chuckie, Tommy, Dil, Phil, and Lil then venture all around Christmasland trying to find his workshop. When they get caught in an audio-animatronic show based on The Nutcracker, Kimi finds a "jingly bell", which she later gives as a gift to baby Jesus in the Nativity display. Later, Angelica, having had a change of heart, presents Kimi with a toy glockenspiel from Santa.
All Grown Up!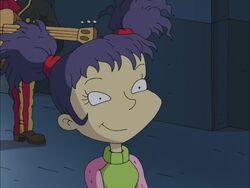 Kimi's subplot in the All Grown Up! Christmas episode, "The Finster Who Stole Christmas", focuses on her and her mother, Kira, having been visiting their relatives in Japan, and now trying to return home in time for Christmas, and having lots of difficulty doing so. First, at the airport in Japan, they are told that the plane they were supposed to be boarding is now full, so they have to wait for the next flight. They are later seen having arrived at an airport in Hawaii, only to find that their luggage has gotten lost, and then trying to catch a taxi in Mexico. At the end of the episode, they finally make it back home on Christmas morning.
Other Christmas productions
Kimi also made an appearance in the Merry Nickmas interstitial short "A Chuckie Finster Christmas, Channukah, Kwaanza, Winter Solstice". During it, she can be seen mimicking Frieda's dance movements from A Charlie Brown Christmas, and at the end of it, she, along with the other Rugrats, wishes happy holidays to Chuckie.
External links
Community content is available under
CC-BY-SA
unless otherwise noted.