Wiki Targeted (Entertainment)
Play Sound
"
It's the day before Christmas, and there's no better time to be in the Loud house!
"

— Lincoln greeting the viewers
Lincoln Albert Loud is the protagonist from the Nickelodeon animated series The Loud House. He is the 11-year-old (later 12 years old as of the show's fifth season), white-haired middle child of Lynn Loud Sr. and his wife Rita, and also the only male child in the family. Lincoln is an enthusiastic, charismatic, and kind-hearted boy with interests in comic books, manga, video games, fantasy and science fiction stories. He is known for speaking to the viewers about the chaotic conditions of the household and the insane antics of his ten sisters, though this trait became less frequent from the second season onward.
Appearances in Christmas specials
The Loud House
As the main character of The Loud House, Lincoln naturally has a major role in the series' Christmas episode, "11 Louds a Leapin'". The episode's main plot begins when Lincoln goes sledding with his new Fearsome Flyer 8000 sled, which he calls "Big Red", only to accidentally lose it in the back yard of the Loud family's crabby neighbor, Mr. Grouse. With help from his best friend Clyde McBride, Lincoln attempts to retrieve "Big Red", but he is eventually caught and ends up breaking the sled. In doing so, however, he learns that Mr. Grouse is also from a big family, but he has not seen them in five years and cannot afford to travel out to see them for Christmas. Feeling sad for the poor old man, Lincoln tells his sisters all about it, and they all pitch in to give Mr. Grouse a bus ticket so that he can go see his family tomorrow. Mr. Grouse is touched by the Loud family's kindness and apologizes to Lincoln for letting his sled get broken, but Lincoln doesn't mind, saying he's glad that they're friends now. On Christmas morning, Lincoln finds that Mr. Grouse has given him the Fearsome Flyer 1000 sled that he owned when he was a kid, and he goes out to thank the old man for it.
In the online-exclusive Loud House short "12 Days of Christmas", in which the Louds sing their version of the titular song, Lincoln sings that he got six new issues of his favorite comic book, Ace Savvy.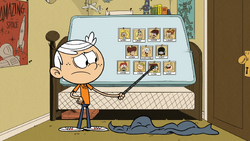 Lincoln has the starring role again in "Season's Cheatings", the first segment of the show's second Christmas episode. The episode has him anticipating his family's annual gift swap, in which each of his siblings pick one of the others' names from a Santa Claus hat and only buy a gift for whichever sibling they got. Lincoln wants a Rip Hardcore backpack for Christmas, and therefore hopes that his youngest sister, Lily, will be picked as his Secret Santa, because their parents are the ones who actually buy the gift she's supposedly giving (being a preschooler, Lily is too young to buy gifts herself). Therefore, Lincoln rigs the gift swap by taping the card with his name inside so that Lily ends up picking his name out of the hat. However, Lincoln's plan hits a snag when Lynn Sr. and Rita announce that Lily is going to be giving her very own gift, which is likely to be a homemade gift. Not keen on that prospect, Lincoln tries switching out Lily's card with Leni's, but Lynn Jr., Leni's designated gift recipient, prevents him from doing so. He then tries getting Lori and Luan to switch with Lily, but finds he can't get his desired result from them (due to Lori only having the time to buy a Fairway University mug, and Luan's ventriloquist dummy, Mr. Coconuts, demanding he pick out the gift). Finally, he convinces Luna to switch her Secret Santa card with Lily, and to his delight, she does indeed buy the backpack. However, Lincoln then realizes that, because he's been so busy making sure he got what he wanted, he hasn't picked up a gift for the sister he drew from the hat - Lola. When Lincoln is unable to buy any kind of gift for Lola, he is forced to trade the backpack to his rival, Chandler, for a pair of earrings. Lily, however, having seen the exchange, makes it up to Lincoln on Christmas morning by presenting him with a drawing she drew of herself giving him the backpack.
Lincoln has a smaller role in "Season's Cheatings"' partner episode, "A Flipmas Carol", technically only appearing in the middle and at the end of the episode. However, since the episode is a take on A Christmas Carol, Lincoln, along with Clyde, also plays the Ghost of Christmas Present to a Scrooge-like Flip. As the Ghosts of Christmas Present, Lincoln and Clyde show Flip just how much his customers are not having a merry Christmas as a result of his swindling them.
Lincoln will have the starring role again in the upcoming live-action special The Loud House: A Very Loud Christmas! However, very little is currently known about his role in the special other than that he finds out his sisters all have plans to be elsewhere on Christmas Day, and that he tries to put a stop to said plans so they can all be together.
Other Christmas productions
Lincoln and his family have a very brief cameo at the end of The Casagrandes episode "A Very Casagrandes Christmas". During the Casagrandes' Nochebuena party, the Loud family shows up, with Lincoln explaining that they had come to pick up Lori from college. However, Vanzilla broke down, so they've come to spend Christmas with the Casagrandes.
Outside of The Loud House itself, Lincoln and his sister Lucy, as well as his friend Ronnie Anne, had a brief appearance in The All-Star Nickmas Spectacular. Lincoln's scene has him giving season's greetings from himself and all ten of his sisters, listing each of them individually, but he forgets to mention Lucy, leading her to come up from behind the couch and scare him by pointing it out.
External links