The Christmas Specials Wiki is a website that anyone can edit about our favorite Christmas Specials, movies, TV episodes, characters from within these media and music from them. The wiki format allows anyone to create or edit any article, so we can all work together -- and isn't that the true Christmas spirit? Check out the Help pages to get started! Have any questions? Then just leave a message on JeremyCreek's, Mouseinphilly's, or Dingleborder's talk pages.
For information on other holiday specials and movies, visit our sister wiki, the Other Holiday Specials Wiki.
Featured Article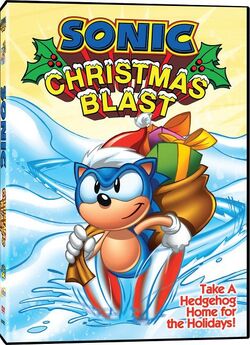 Sonic Christmas Blast (originally titled An X-Tremely Sonic Christmas) is a 1996 Christmas television special originally aired on the USA Network, spun off from the animated series Adventures of Sonic the Hedgehog, which itself was based on the Sonic the Hedgehog video game series. Christmas Eve has come to Robotropolis, and everyone in town has gathered around the Jumbotron in the middle of the square to see Santa Claus (actually a robot duplicate) make a very important announcement - he's retiring. He claims to have found a "perfect replacement" in the form of Robotnik Claus (Dr. Robotnik in a Santa suit), who says that he is making a few slight changes to the holiday. The kids who don't know any better line up in the mall to sit on Robotnik's lap, only to find out that he is demand the children to give him presents for Christmas. Meanwhile, Sonic, after having a talk with Princess Sally, goes to meet up with his buddy Tails, whom he recruits to help him find some Christmas presents for Sally. This confuses the little fox, because Sonic just agreed with Sally that they wouldn't get each other anything this year. Sonic explains that he and Sally made this same agreement last year, but she ended up getting Sonic a bunch of cool stuff anyway, like a ring on his finger with a mysterious squiggle mark. Sonic, on the other hand, took the "no presents" agreement seriously and got Sally nothing last year. This year, though, he has figured out that when a girl say she wants "no presents, she really means two stores full." (more...)
---
Vote
HERE
for the next Featured Article.
News
Upcoming Premieres
November 15th
Unknown dates
Upcoming Video Releases
DVD

March 3rd

March 17th

November 1st




December 5th

Blu-ray

March 17th
Popular Christmas Specials
Popular Christmas Movies
Common Adaptations
Polls
What do you think about Freeform's 25 Days of Christmas expanding to Disney's other networks?
Community content is available under
CC-BY-SA
unless otherwise noted.