The Christmas Specials Wiki is a website that anyone can edit about our favorite Christmas Specials, movies, TV episodes, characters from within these media and music from them. The wiki format allows anyone to create or edit any article, so we can all work together -- and isn't that the true Christmas spirit? Check out the Help pages to get started! Have any questions? Then just leave a message on JeremyCreek's, Mouseinphilly's, or Dingleborder's talk pages.
For information on other holiday specials and movies, visit our sister wiki, the Other Holiday Specials Wiki.
Featured Article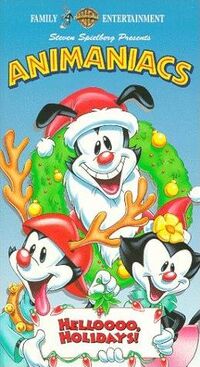 "'Twas the Day Before Christmas" is the first featured segment of the 50th produced episode of the Warner Bros. animated series Animaniacs, and the first Christmas-themed segment of the series. It was aired with "Jingle Boo", "The Great Wakkorotti: The Holiday Concert", and "Toy Shop Terror". As the title suggests, it is a parody of the classic poem The Night Before Christmas. It is Christmas Eve at Slappy Squirrel's tree, and her nephew Skippy is looking outside his window at the sky. Slappy comes in, telling him that he is supposed to be asleep right now. Skippy is too excited to sleep, and he asks his aunt to tell him a Christmas-themed bedtime story, handing her a nearby book - The Day Before Christmas. In the story (which is told in rhyme), it is Christmas Eve at the Warner Bros. Studio in Burbank, California, and Yakko, Wakko and Dot are preparing the Water Tower for Santa's arrival tonight. Over in his office, CEO Thaddeus Plotz has gathered the Warner siblings' Christmas presents from the studio and needs someone to deliver it to them. (more...)
---
Vote
HERE
for the next Featured Article.
News
Upcoming Premieres
Unknown dates (2020)
Unknown dates (2021 and/or beyond)
Upcoming Video Releases
DVD

December 4th

December 8th

January 5th

Blu-ray

December 15th

December 22nd
Trivia
Popular Christmas Specials
Popular Christmas Movies
Common Adaptations
Affiliates
Community content is available under
CC-BY-SA
unless otherwise noted.