The Christmas Specials Wiki is a website that anyone can edit about our favorite Christmas Specials, movies, TV episodes, characters from within these media and music from them. The wiki format allows anyone to create or edit any article, so we can all work together -- and isn't that the true Christmas spirit? Check out the Help pages to get started! Have any questions? Then just leave a message on JeremyCreek's, Mouseinphilly's, or Jack5555's talk pages.
For information on other holiday specials and movies, visit our sister wiki, the Other Holiday Specials Wiki.
Featured Article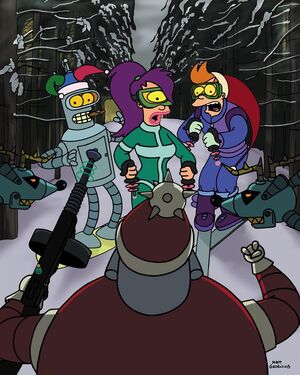 "Xmas Story" is the first of three Christmas-themed episodes of the animated television series Futurama, presented in the show's second production season in both production and broadcast order. It was written by David X. Cohen, and directed by Peter Avanzino. While on a ski trip, Fry begins to feel nostalgic for 20th century Christmases. To cheer him up, the rest of the Planet Express staff decide to decorate for Xmas (as Christmas is now called; pronounced "eks-mas"), which includes cutting down an Xmas tree. Fry decides to venture into the city to buy Leela a present, because she hadn't felt happy about Xmas when she was an orphan. The others warn him to be back before sundown, or else he will be killed by a murderous robotic Santa Claus. In the year 2801, Mom's Friendly Robot Company had made up a robotic version of St. Nick himself to determine who's been naughty and who's been nice. Unfortunately, due to a programming error, the jolly robotic elf's standards are set too high and he will kill anyone who has been naughty at sundown. (more)
---
Vote
HERE
for the next Featured Article.
News
Maury Laws, who composed the music for the Rankin/Bass television specials (such as Rudolph the Red-Nosed Reindeer, Frosty the Snowman, and Santa Claus is Comin' to Town) died at the age of 95 on March 30, 2019.
The Walt Disney Company has officially completed its acquisition of 21st Century Fox, bringing Miracle on 34th Street, Home Alone, The Simpsons, the X-Men movies, Blue Sky Studios, and other Fox properties under the same corporate umbrella as Mickey Mouse, Winnie the Pooh, Frozen, Phineas and Ferb, Gravity Falls, the Muppets, the Marvel Cinematic Universe, and Star Wars (for better or for worse).
Beverly Hills, 90210 star Luke Perry, who also starred in films like A Very Merry Daughter of the Bride and Scoot and Kassie's Christmas Adventure, died at age 52 on March 4th.
Aron Tager, who voiced Cranky Kong in the Donkey Kong Country cartoon (including its Christmas episode), passed away at the age of 84 on February 28th.
Katherine Helmond, who starred as Maude Marley from Ms. Scrooge, Shatzie from How to Marry A Billionaire: A Christmas Tale, Queen Carlotta from Mr. St. Nick, and Roxie Famosa from A Grandpa for Christmas died at the age of 89 on February 23rd.
Ron Miller, president and CEO of the Walt Disney Company from 1978 to 1984 died at the age of 85 on February 9th.
British actor Albert Finney, who starred as Ebenezer Scrooge in the 1970 film Scrooge, died at the age 82 on February 7th.
Dick Miller, known for appearing in every film directed by Joe Dante, including Gremlins, died at the age of 90 on January 30th.
James Frawley, who directed such films as The Muppet Movie and On the 2nd Day of Christmas, died on January 22nd at the age of 82.
Upcoming Premieres
November 15th
Unknown dates
Upcoming Video Releases
DVD
April 30th
May 7th
May 21st
June 4th
Popular Christmas Specials
Popular Christmas Movies
Common Adaptations
Polls
What do you think about Freeform's 25 Days of Christmas expanding to Disney's other networks?