The
Christmas Specials Wiki
is a website that anyone can edit about our favorite Christmas Specials, movies, TV episodes, and the characters and music from within these media. The wiki format allows anyone to create or edit any article, so we can all work together -- and isn't that the true Christmas spirit? Check out the
Help pages
to get started! Have any questions? Then just leave a message on
JeremyCreek
's,
Mouseinphilly
's, or
Dingleborder
's talk pages.
For information on other holiday specials and movies, visit our sister wiki, the Other Holiday Specials Wiki.
Featured Article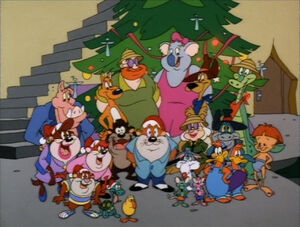 "No Time for Christmas" is the Christmas episode of the Warner Bros. animated television series Taz-Mania, aired as the season finale of the show's third season. It's Christmas Eve in Tasmania, and no one is more excited about it than Taz himself, who is gathering up all the presents he has just wrapped for his family and friends. He goes out into his family's living room to put his family's gifts under their trees. In the kitchen, Taz's mother, Jean, is baking cookies and discussing all the stuff she has to do for Christmas. Taz wants to have one of the cookies, but Jean tells him that these cookies are for the club, and she'll make the family's cookies later. Taz then goes to see his sister Molly, who is busy addressing her Christmas cards. Molly says she has no time for him, but offers to let him assist her with the cards by licking the stamps. However, Taz ends up licking all the stamps at once, and Molly throws him out of her room. Taz passes by the hall closet when he suddenly hears a shaking sound inside; he opens to door to find his little brother Jake shaking a Christmas present. Taz offers to help him search for their hidden presents, but Jake says he works better alone. Taz then overhears his father, Hugh, and goes to the living room, where he finds Hugh having turned up the air-conditioner and pretending to warm up in front of the TV, which is showing a burning fireplace. Taz tells his dad that he's going out to spread some holiday cheer to his friends and co-stars, and leaves as Hugh starts rambling about having an old-fashioned Christmas. (more)
---
Vote
HERE
for the next Featured Article.
Random Quote of the Moment
"
Now how can you overlook that? His beak blinks like a blinkin' beacon!
"
News
Upcoming Premieres
October 22nd

October 23rd

October 24th

October 29th

October 30th

October 31st

November

November 5th

November 6th

November 7th

November 12th

December

December 2nd

December 3rd

December 17th
Unknown dates (2021 and/or beyond)
Upcoming Video Releases
DVD

October 5th

October 19th

PBS Kids Christmas Collection

October 26th

The Adventures of Jimmy Neutron, Boy Genius: The Complete Series (includes "Holly Jolly Jimmy")




November 2nd

Christmas in the Wilds

Nick Jr.: The Night Before Christmas




November 9th

When Calls the Heart Holiday Double Feature (includes

The Greatest Christmas Wish

and

Home for Christmas

)

November 16th

Christmas 3-Pack Collection

November 23rd

Blu-ray

October 5th

October 19th

Smallville: The Complete Series (includes "Lexmas")

November 16th
Popular Christmas Specials
Popular Christmas Movies
Common Adaptations
Affiliates