The
Christmas Specials Wiki
is a website that anyone can edit about our favorite Christmas Specials, movies, TV episodes, and the characters and music from within these media. The wiki format allows anyone to create or edit any article, so we can all work together -- and isn't that the true Christmas spirit? Check out the
Help pages
to get started! Have any questions? Then just leave a message on
JeremyCreek
's,
Mouseinphilly
's, or
Dingleborder
's talk pages.
For information on other holiday specials and movies, visit our sister wiki, the Other Holiday Specials Wiki.
Top 10 Christmas Specials

Wiki Entertainment staff's picks for the top 10 Christmas specials of all time.

Worst Christmas Specials

Wiki Entertainment staff's picks for the worst 10 Christmas specials of all time.

Other Holiday Specials
Featured Article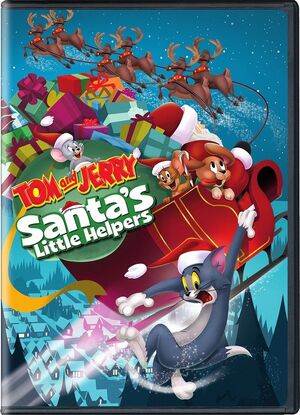 Tom and Jerry: Santa's Little Helpers is a 2014 direct-to-video Christmas special starring Tom and Jerry, which also serves as a half-hour Christmas episode of The Tom and Jerry Show, produced by Warner Bros. Animation. At a post office in the desert, Tom looks at a postcard that has just been dropped off and realizes it's almost Christmas Eve. He starts writing a letter to Santa Claus, asking that Santa find him a good home (having gotten banned from the city he used to live in due to causing multiple accidents). After Tom tries to seal his letter, though, his envelope won't stay sealed, so he tries use the post office's super-sealer machine, but ends up going through the machine himself. Noticing it's almost 3:00, Tom, now stuck in a box shape with his letter, jumps into the mail pickup box, resulting in the mailman unknowingly bringing him to the airport. Tom is then dropped off at the North Pole, where he then smells some cookies that Mrs. Claus has just baked. We then see that Jerry and his nephew, Tuffy, are living in a mouse hole somewhere in Santa's workshop. Tom sneaks in to eat some of the baked goods himself, but he and Jerry get into one of their usual scuffles. Mrs. Claus then comes in and, correctly guessing that Tom came in from the cold, offers to take him in. (more...)
---
Vote
HERE
for the next Featured Article.
Random Quote of the Moment
News
Upcoming Premieres
December 17th
Unknown dates (2021 and/or beyond)
Popular Christmas Specials
Popular Christmas Movies
Common Adaptations
Affiliates
Community content is available under
CC-BY-SA
unless otherwise noted.