The Christmas Specials Wiki is a website that anyone can edit about our favorite Christmas Specials, movies, TV episodes, characters from within these media and music from them. The wiki format allows anyone to create or edit any article, so we can all work together -- and isn't that the true Christmas spirit? Check out the Help pages to get started! Have any questions? Then just leave a message on JeremyCreek's, Mouseinphilly's, or Jack5555's talk pages.
For information on other holiday specials and movies, visit our sister wiki, the Other Holiday Specials Wiki.
Featured Article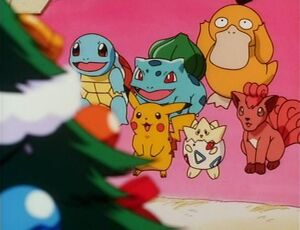 "Pikachu's Winter Vacation: Christmas Night" (クリスマスであそぼ!, Let's Play in Christmas!?) is the first Pikachu's Winter Vacation special and also the second Christmas special based on Nintendo's Pokémon video game franchise, first broadcast in Japan on December 22, 1998. In the United States, it was released as a direct-to-video special and later aired as an episode of Pokémon Chronicles. The special opens on Ash, Misty, Brock, and their Pokémon planning to spend the holidays in a cabin that Professor Oak has lent to them. However, the trainers first have to leave to go pick up the Christmas cake, leaving their Pokémon at the cabin, with Ash's Pikachu in charge. However, chaos soon ensues when Bulbasaur and Squirtle get in a fight over the delicious holiday treats left out for them, and Vulpix gets itself stuck in a Christmas stocking. (more)
---
Vote
HERE
for the next Featured Article.
News
Upcoming Premieres
November 15th
Unknown dates
Upcoming Video Releases
DVD
June 4th
June 25th
Popular Christmas Specials
Popular Christmas Movies
Common Adaptations
Polls
What do you think about Freeform's 25 Days of Christmas expanding to Disney's other networks?