The Christmas Specials Wiki is a website that anyone can edit about our favorite Christmas Specials, movies, TV episodes, characters from within these media and music from them. The wiki format allows anyone to create or edit any article, so we can all work together -- and isn't that the true Christmas spirit? Check out the Help pages to get started! Have any questions? Then just leave a message on JeremyCreek's, Mouseinphilly's, or Dingleborder's talk pages.
For information on other holiday specials and movies, visit our sister wiki, the Other Holiday Specials Wiki.
Christmas Day!
Featured Article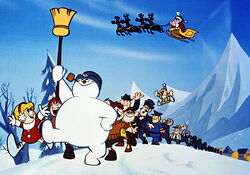 Frosty the Snowman is an animated Christmas special that premiered on CBS on December 7, 1969, and has aired on the network annually since then. This special, written by Romeo Muller and produced and directed by Arthur Rankin and Jules Bass, is based on the holiday song of the same name that was originally written by Jack Rollins and Steve Nelson and first performed by Gene Autry in the 1940s. It is Rankin/Bass's second most prominent special to be aired on broadcast channels, behind Rudolph the Red-Nosed Reindeer. One December afternoon, a school girl named Karen and her friends create a snowman after school. After several suggestions of what to call their snowman, Karen decides to name him Frosty. They then acquire a top hat discarded by inept magician Professor Hinkle. When Karen places it on top of Frosty's head, the snowman comes to life. Hinkle, learning of the magic power his hat actually possesses, takes it back and departs, pretending that he did not see Frosty come to life. However, the professor's pet rabbit, Hocus Pocus, returns the hat to Frosty. Frosty soon senses the temperature is rising, though, and worries about melting. The children suggest putting him on the next train to the North Pole, where he will never melt. (more)
---
Vote
HERE
for the next Featured Article.
News
Upcoming Premieres
December 12th

December 13th

December 14th

December 15th

December 16th

December 19th

December 20th

December 21st

December 22nd

December 24th

Unknown dates
Upcoming Video Releases
DVD
December 10th
Trivia
Popular Christmas Specials
Popular Christmas Movies
Common Adaptations
Polls
What do you think about Freeform's 25 Days of Christmas expanding to Disney's other networks?
Community content is available under
CC-BY-SA
unless otherwise noted.