The Christmas Specials Wiki is a website that anyone can edit about our favorite Christmas Specials, movies, TV episodes, characters from within these media and music from them. The wiki format allows anyone to create or edit any article, so we can all work together -- and isn't that the true Christmas spirit? Check out the Help pages to get started! Have any questions? Then just leave a message on JeremyCreek's, Mouseinphilly's, or Jack5555's talk pages.
For information on other holiday specials and movies, visit our sister wiki, the Other Holiday Specials Wiki.
Featured Article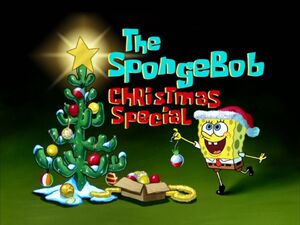 "Christmas Who? is the first Christmas episode of the Nickelodeon animated series SpongeBob SquarePants, produced and aired as part of the show's second season. The special begins as SpongeBob SquarePants fan club president Patchy the Pirate receives a fan letter asking if SpongeBob likes Christmas as much as he does. Patchy explains that they didn't always celebrate Christmas in Bikini Bottom, and decides to show how they were introduced to it, beginning the main story. SpongeBob is outside Sandy's treedome, planning a surprise karate attack on her, when he sees Sandy's tree hooked up with lights and mistakes it for a fire. After Sandy finds that SpongeBob doesn't know what Christmas is, she begins to describe the festive holiday to SpongeBob, who is very interested. The next day, at the Krusty Krab, SpongeBob tells Mr. Krabs, Patrick and Squidward all about Christmas, and how if they write a letter to Santa Claus, he'll give them gifts on Christmas Day. Patrick and Mr. Krabs are very enthusiastic about the idea, while Squidward grumpily refuses. SpongeBob soon gets all of Bikini Bottom interested in Christmas, and they all write letters to Santa and later decorate Bikini Bottom for Santa's arrival, much to Squidward's annoyance. (more)
---
Vote
HERE
for the next Featured Article.
News
Upcoming Premieres
October 26th

November 2nd

November 3rd

November 8th

November 9th

November 16th

November 30th

November 2019

December 1st

December 22nd

Unknown dates
Upcoming Video Releases
DVD

Blu-ray

October 1st
Popular Christmas Specials
Popular Christmas Movies
Common Adaptations
Polls
What do you think about Freeform's 25 Days of Christmas expanding to Disney's other networks?
Community content is available under
CC-BY-SA
unless otherwise noted.