The
Christmas Specials Wiki
is a website that anyone can edit about our favorite Christmas Specials, movies, TV episodes, and the characters and music from within these media. The wiki format allows anyone to create or edit any article, so we can all work together -- and isn't that the true Christmas spirit? Check out the
Help pages
to get started! Have any questions? Then just leave a message on
JeremyCreek
's,
Mouseinphilly
's, or
Dingleborder
's talk pages.
For information on other holiday specials and movies, visit our sister wiki, the Other Holiday Specials Wiki.
Top 10 Christmas Specials

Wiki Entertainment staff's picks for the top 10 Christmas specials of all time.

Worst Christmas Specials

Wiki Entertainment staff's picks for the worst 10 Christmas specials of all time.

Other Holiday Specials
Featured Article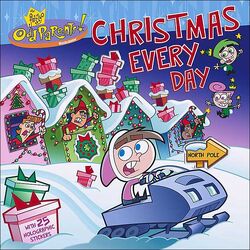 "Christmas Every Day!" is the first Christmas-themed episode of the Nickelodeon animated series The Fairly OddParents!, originally aired on December 6, 2001. Christmas is Timmy Turner's favorite day of the year, as in addition to the tremendous amount of gifts he receives from Santa Claus, it is also the one day of the year he is guaranteed that his mom and dad will stay home and not have Vicky babysit him. So when the day arrives, he expresses through song to Cosmo and Wanda that he wishes Christmas were every day. Despite their reluctance, they grant his wish. At first, Timmy is thrilled to have Christmas every day, but things soon take a sour turn, as he begins to notice when he starts receiving less and less presents for obvious reasons. And because Christmas now falls on every day, all the schools, stores, and businesses remain closed, and everybody has become so sick of Christmas that the armed forces are working to shoot Santa's sleigh down. Even worse, the mascots for the other holidays (led by the Easter Bunny and consisting of Baby New Year, Cupid, and The April Fool) are furious that their respective holidays can no longer come. (more...)
---
Vote
HERE
for the next Featured Article.
Random Quote of the Moment
Otto: Zese recipes require little bits of hard-boiled egg. You - chop an egg!
Yogi: Yes sir! Yes sir, sir! One chopped egg comin' up! Choppity chop chop! [chops a raw egg, causing yolk to splatter all over Otto's face]
Otto: Aaauuuggh! You obviously have never studied ze art of cuisine!
Yogi: As a matter of fact, I haven't, sir! Was this Cuisine fellow a, a good artist?|Yogi's First Christmas}}
News
Upcoming Premieres
November
December 17th
Unknown dates (2021 and/or beyond)
Upcoming Video Releases
Popular Christmas Specials
Popular Christmas Movies
Common Adaptations
Affiliates
Community content is available under
CC-BY-SA
unless otherwise noted.