The Christmas Specials Wiki is a website that anyone can edit about our favorite Christmas Specials, movies, TV episodes, characters from within these media and music from them. The wiki format allows anyone to create or edit any article, so we can all work together -- and isn't that the true Christmas spirit? Check out the Help pages to get started! Have any questions? Then just leave a message on JeremyCreek's, Mouseinphilly's, or Jack5555's talk pages.
For information on other holiday specials and movies, visit our sister wiki, the Other Holiday Specials Wiki.
Featured Article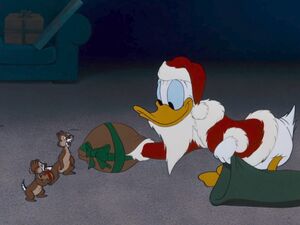 Toy Tinkers, also known as Christmas Capers, is a Christmas-themed theatrical animated short starring Donald Duck and Chip 'n' Dale, produced by Walt Disney Productions and originally released by RKO Radio Pictures on December 16, 1949. It was nominated for the Academy Award for Best Animated Short of 1949, but lost to the Pepé Le Pew cartoon For Scent-imental Reasons. When Chip and Dale are awoken from hibernation to the nearby sounds of Donald chopping down a pine tree, they follow him to his house where they spy on him setting up his Christmas tree. (more)
---
Vote
HERE
for the next Featured Article.
News
Alistair Browning, who played De Jong in Merry Christmas, Mr. Lawrence died at age 65 on June 2th.
Leon Redbone, who voiced a snowman caricature of himself in Elf and also performed three songs for its soundtrack, died at age 69 on May 30th.
Rudolph the Red-Nosed Reindeer and Frosty the Snowman will be making their cable debut on the 25 Days of Christmas on Freeform this holiday season.
Internet sensation Grumpy Cat, who starred in the Lifetime movie Grumpy Cat's Worst Christmas Ever, passed away at age 7 on May 14th.
Tim Conway of The Carol Burnett Show fame, who also provided the U.S. voice of Santa in Saving Santa and Barnacle Boy on SpongeBob SquarePants, died at the age of 85 on May 14th.
Doris Day, performer of "Here Comes Santa Claus" for the North Pole running gag in Fred Claus, died at the age of 98 on May 13th.
Clement von Franckenstein, actor in The American President and Single Santa Seeks Mrs. Claus, passed away at the age of 74 on May 9th.
Peter Mayhew, the original performer of Chewbacca in the Star Wars films (including The Star Wars Holiday Special), died at the age of 74 on April 30th.
The Walt Disney Company has officially completed its acquisition of 21st Century Fox, bringing Miracle on 34th Street, Home Alone, The Simpsons, the X-Men movies, Blue Sky Studios, and other Fox properties under the same corporate umbrella as Mickey Mouse, Winnie the Pooh, Frozen, Phineas and Ferb, Gravity Falls, the Muppets, the Marvel Cinematic Universe, and Star Wars (for better or for worse).
Upcoming Premieres
November 15th
Unknown dates
Upcoming Video Releases
DVD
June 25th
Popular Christmas Specials
Popular Christmas Movies
Common Adaptations
Polls
What do you think about Freeform's 25 Days of Christmas expanding to Disney's other networks?
Community content is available under
CC-BY-SA
unless otherwise noted.