The Christmas Specials Wiki is a website that anyone can edit about our favorite Christmas Specials, movies, TV episodes, characters from within these media and music from them. The wiki format allows anyone to create or edit any article, so we can all work together -- and isn't that the true Christmas spirit? Check out the Help pages to get started! Have any questions? Then just leave a message on JeremyCreek's, Mouseinphilly's, or Dingleborder's talk pages.
For information on other holiday specials and movies, visit our sister wiki, the Other Holiday Specials Wiki.
Featured Article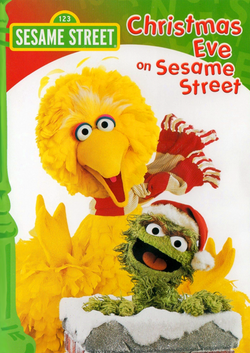 Christmas Eve on Sesame Street is an hour-long Christmas television special based on the television series Sesame Street. It was originally broadcast on PBS on Sunday, December 3, 1978, and won the 1979 Primetime Emmy Award for Outstanding Children's Program. The opening features the inhabitants of Sesame Street enjoying an ice skating party. Big Bird has trouble skating, but a child gives him a hand, and he ends up doing very well. Bert falls victim to the antics of Ernie, Cookie Monster, and The Count as they play ice hockey with one of his shoes, clown around while barrel jumping, play a practical joke on him, and make him very dizzy in a game of Crack the Whip which somehow sent Oscar thrown into the air, tumbling down the stairs, through a couple of walls and onto the sidewalk where Big Bird and his friend, Patty (a girl around age seven) catch up to him and get him back up on his feet. After the skating party, the story leads into three principal plotlines. After Oscar questions how Santa Claus can get down a chimney, Big Bird tries to figure out how. Meanwhile, in a retelling of The Gift of the Magi, Ernie and Bert trade their most prized possessions for a gift for each other, and Cookie Monster attempts to write his letter to Santa. (more)
---
Vote
HERE
for the next Featured Article.
News
Upcoming Premieres
November 21st

November 22nd

November 23rd

November 24th

November 25th

November 26th

November 27th

November 28th

November 29th

November 30th

December 1st

December 2nd

December 5th

December 6th

December 7th

December 8th

December 12th

December 13th

December 14th

December 15th

December 19th

December 20th

December 21st

December 22nd

December 24th

Unknown dates
Upcoming Video Releases
Popular Christmas Specials
Popular Christmas Movies
Common Adaptations
Polls
What do you think about Freeform's 25 Days of Christmas expanding to Disney's other networks?
Community content is available under
CC-BY-SA
unless otherwise noted.