Matchmaker Santa is a made-for-TV Christmas movie, originally aired on the Hallmark Channel on November 17, 2012.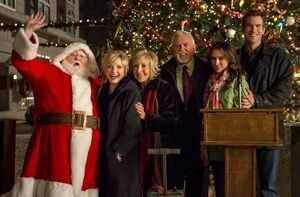 Synopsis
Excited about meeting her upscale and slightly intimidating future mother-in-law, fresh faced Melanie makes the trek to her fiancé's home for Christmas. Despite the fact that Justin is a workaholic, Melanie is head over heels for him and sees a bright future for them. Melanie's best friend, thinks she's is better suited for Dean, Justin's longtime and dependable assistant. Because Justin is known to choose work over Melanie, Dean often times stands in to accompany Melanie on her "dates." With a little help from a man named Chris, Melanie and Dean end up stranded in a sleepy, little romantic town called Buford Falls. Here, it is all about Christmas. Will Chris' magic be the key to Melanie and Dean's holiday happiness?
Cast
| Actor | Character |
| --- | --- |
| Lacey Chabert | Melanie Hogan |
| Adam Mayfield | Dean |
| Donovan Scott | Chris |
| John Ratzenberger | George |
| Florence Henderson | Peggy |
| Thad Luckinbill | Justin |
External links
This page about a Christmas movie is a stub. Please help The Christmas Special Wiki by expanding this article.