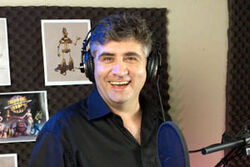 Maurice LaMarche (born March 30, 1958) is an Emmy Award-winning Canadian voice actor and former stand up comedian. He is best known for his voice work in various cartoons, including voicing the Brain from Animaniacs and Pinky and the Brain, Dizzy Devil from Tiny Toon Adventures, Kif Kroker, Morbo, and Calculon from Futurama, Egon Spengler in The Real Ghostbusters, Big Bob Pataki in Hey Arnold!, and Mortimer Mouse in Mickey Mouse Works and House of Mouse. LaMarche was also the voice of Chief Quimby in Inspector Gadget, and would also portray Gadget himself in two live-action segments of The Super Mario Bros. Super Show! before becoming the character's official voice actor in 1999. He is additionally the current voice of Yosemite Sam, whom he has voiced in various Looney Tunes-related productions since 1990.
Christmas specials filmography
Warner Bros. Animation
Other Christmas specials
External links
Community content is available under
CC-BY-SA
unless otherwise noted.