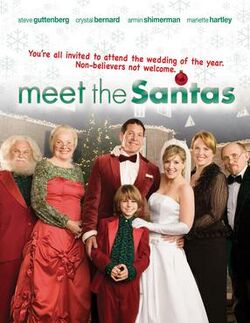 Meet the Santas is a sequel to Single Santa Seeks Mrs. Claus.
Synopsis
Beth is engaged to a wonderful man named Nick. The only problem is that he assumed the mantle of Santa Claus on December 26th of the previous year when his father retired. Now she must marry him on Christmas Eve and assume the duties of Mrs. Claus. Overwhelmed, she asks her mother to help; but she knows nothing of her fiance, his family, or their secret. Disregarding their wishes she plans a much bigger wedding than they wish for. As things become more and more frantic, a distraught Beth finally tells Nick she can't marry him, because she can't be Mrs. Claus and make Christmas right for the whole world; she can't even get it right for her son, Jake.
She and Jake go home and discover that there is no Christmas. Nobody has lights up or is busy planning celebrations. Without Mrs. Claus there can be no Christmas at all.
Nick apologizes and the reconciled couple discover that getting married when Christmas isn't happening is much easier; they have their ceremony on Christmas Eve, and as soon as they kiss it's back.
Cast
Actor/actress
Character(s)
Steve Guttenberg
Nick
Crystal Bernard
Beth
Dominic Scott Kay
Jake
Armin Shimerman
Ernest
John Wheeler
Mr. Claus
Marcia Ann Burrs
Mrs. Claus
Mariette Hartley
Joanna
Julie Ariola
Winnie
Roark Critchlow
Mark
Kelley Hazen
Joanie
Jack De Mave
Douglas
Margaret Blye
Abigail
Tom O'Keefe (#1: Mall)
Charles Kahlenberg (#2: Party)
Men
Stephanie Michels #1: Mall)
Julie Sanford (#2: Party)
Women
Lyn Alicia Henderson
Ms. Glenn
Blake Lindsley
Amanda
Michael C. Gwynne
Rev. Moran
Parker McKenna Posey
Poppy Frost
Dave Clark
Anchorman
Cher Calvin
Anchorwoman
Joseph Oliveira
Man at the house lawn
Jon Overgaauw
Elf
Donna Russo (uncredited)
Santa's Elf
External links
Community content is available under
CC-BY-SA
unless otherwise noted.