"Merry Christmas" is the thirtieth episode of the Cartoon Network original series Ben 10. Originally broadcast on December 11, 2006.
Synopsis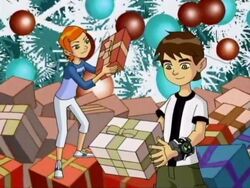 It's a hot day in the middle of the desert, and the air conditioner is broken. The gang sees something in the distance of the desert, so they check it out. When they get there, it turns out to be a building of some sort that has a cool breeze coming from inside. Upon entering, Ben, Gwen and Grandpa Max come upon a bizarre Christmas village run by a Christmas-obsessed man who thinks Max is Santa Claus and proceeds to trap him.
As Ben and Gwen explore the village, they learn about a strange curse on the village from one of its few unloyal elves, who happens to be the son of the Christmas-obsessed man named Mr. Jingles. The village was frozen at Christmas time in the 1930s, meaning that time doesn't move there.
All the villagers were turned into elves by a mysterious machine. After learning this, Elf Ben transforms into Grey Matter and sneaks into the machine and deactivates it. Mr. Jingles tells them that happiness from perfect gifts is the only solution to end the "village curse". Max explains that the spirit of Christmas isn't about giving the perfect gifts but it's about the spirit of giving. When Stinkfly delivers all the gifts that have been made, the "village curse" was lifted and the Tennysons were somehow teleported back to their right time Mr. Jingles and his son are gone but a statue of them remain, which, according to a villager, was created in 1932.
Trivia
Merry Christmas is a Christmas special, yet it takes place during the summer.
When Stinkfly reverts to Ben, his harness falls to the ground behind him, it should have remained around his shoulders.
When the Rust Bucket got damaged, Ben could've gone Upgrade to repair it after he recharged.
Ben and Gwen nearly turned into elves but changed back to normal after breaking the curse.
This is the first time XLR8 runs on ice.
It is the the first Christmas special episode in the Ben 10 Franchise, the second being The Feels in the Ben 10 reboot.
It is the only episode with magic facts that are not related to the magic of Gwen, Hex or Charmcaster.
Merry Christmas is the one year celebration of Ben 10.
Some of the children resemble Team Ebisu.
Availability
The episode was made available on the Ben 10: The Complete Season 3 DVD set, released by Warner Home Video in 2008.[1]
Cast
Gallery
References
External links
Community content is available under
CC-BY-SA
unless otherwise noted.