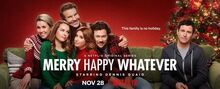 Merry Happy Whatever is an upcoming Christmas special that will debut on Netflix on November 28, 2019.
Plot
Set during the happy but hectic days before and after Christmas, Merry Happy Whatever follows Don Quinn (Dennis Quaid), a strong-willed patriarch from Philadelphia doing his best to balance the stress of the holidays with the demands of his close-knit but eclectic family — and his family doing their best to manage him. But when youngest daughter Emmy (Bridgit Mendler) arrives home from L.A. with a new boyfriend, struggling musician Matt (Brent Morin), Don's belief that "there's the Quinn way… and the wrong way" is put to the test.
Cast
Dennis Quaid as Don Quinn
Bridgit Mendler as Emmy Quinn
Brent Morin as Matt
Ashley Tisdale as Kayla
Hayes MacArthur as Sean Quinn
Adam Rose as Todd
Siobhan Murphy as Patsy
Elizabeth Ho as Joy Quinn
Garcelle Beauvais as Nancy
Tyler Ritter as Alan
Chris Myers as Bryan
Mason Davis as Sean Quinn Jr.
Lucas Jaye as Donny Quinn
Community content is available under
CC-BY-SA
unless otherwise noted.