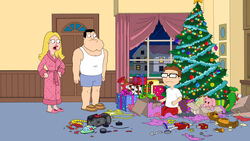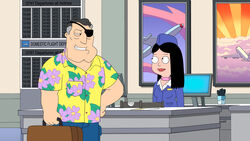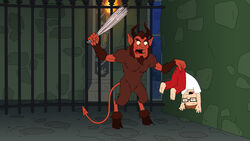 "Minstrel Krampus" is the sixth Christmas-themed episode of American Dad! It was originally scheduled to air on December 16, 2012, but was cancelled the previous Friday without official word from FOX. A report does cite sensitive content in the wake of a tragic shooting at Sandy Hook Elementary School in Newtown, Connecticut.[1] It eventually aired on December 15, 2013.[2]
Synopsis
As the holidays approach, Steve becomes a brat and Stan takes him to see his grandfather to be scared straight. Grandpa Jack tells him the story of Krampus that punishes the naughty children at Christmas and Steve refuses to buy into it, as Jack tells how he captured the Krampus and keeps it in a copper pot in the basement. Steve starts opening his gifts early and Stan tries to hide them in the basement. There, he is called by the Krampus who talks him into being let out to punish Steve, but he kidnaps him instead and demands Jack so he can extract revenge. Stan tells his father what he did to Jack's horror as he promises to use his CIA connections to get him out. Instead, Jack takes off.
In the Krampus' Castle in Bavaria, Steve is imprisoned to his surprise and spanked. Stan talks to Roger who brings up Santa, but Stan is nervous about confronting Santa after their last encounter. Despite this, they set off to the North Pole and are captured. Santa beats Stan as he tells what happened. Santa only agrees to help if they can kill Krampus and also promises to take him off the naughty list. At the Krampus' lair, the household goods try to convince Steve that Krampus only punishes naughty children because he cares for their well-being. Steve realizes that it is the truth and discovers that the Krampus actually only intended to beat Jack to save him from being bad, but was captured in a moment of carelessness while eating strudel.
Meanwhile, Hayley goes Christmas shopping but needs money. She goes to see Roger for a loan but he refuses her and gives her the help-wanted section where she spots a job at the airport. There, she bumps into Jack trying to flee as he tries to figure out why he should help the family. She gets the message through to him and he heads to Bavaria to save Steve.
Santa and Stan arrive and take on the Krampus, killing the household items. As Steve tries to stop him, Santa shoots Krampus and finishes him off before turning the gun on Stan and Steve as he reveals himself to be the true bad guy due to being a partner in the toy business. As Santa tries to shoot Stan, Jack intervenes and saves Stan, injuring Santa who flees with his elves. As Jack lays dying, his and the Krampus' blood intermingles, allowing Jack to become the new Krampus to punish naughty children.
Notes
Krampus is a mythical creature whom according to legend, accompanies Saint Nicholas during the Christmas season, warning and punishing bad children, in contrast to St. Nicholas, who gives gifts to good children. When the Krampus finds a particularly naughty child, it stuffs the child in its sack and carries the frightened child away to its lair.
References
See also
External link
20th Century Studios
Television episodes and specials
Animated shows and specials
The Simpsons
"Simpson Christmas" • "Simpsons Roasting on an Open Fire" • "Marge Be Not Proud" • "Miracle on Evergreen Terrace" • "Grift of the Magi" • "Skinner's Sense of Snow" • "She of Little Faith" • "'Tis the Fifteenth Season" • "Simpson Christmas Stories" • "Kill Gil, Volumes I & II" • "The Fight Before Christmas" • "Holidays of Future Passed" • "White Christmas Blues" • "I Won't Be Home for Christmas • "The Nightmare After Krustmas" • "'Tis the 30th Season" • "Bobby, It's Cold Outside" • "The Way of The Dog" • "A Springfield Summer Christmas for Christmas"
King of the Hill
"The Unbearable Blindness of Laying" • "Pretty, Pretty Dresses" • "Hillennium" • "'Twas the Nut Before Christmas" • "The Father, the Son, and J.C." • "Livin' on Reds, Vitamin C and Propane" • "Ms. Wakefield"
Family Guy, American Dad!, and The Cleveland Show
"A Very Special Family Guy Freakin' Christmas" • "The Best Christmas Story Never" • "The Most Adequate Christmas Ever" • "Rapture's Delight" • "A Cleveland Brown Christmas" • "Road to the North Pole" • "For Whom the Sleigh Bell Tolls" • "Murray Christmas" • "Season's Beatings" • "Die Semi-Hard" • "Jesus, Mary and Joseph!" • "'Tis the Cleveland To Be Sorry" • "Minstrel Krampus" • "Christmas Guy" • "Dreaming of a White Porsche Christmas" • "The 2000-Year-Old Virgin" • "How the Griffin Stole Christmas" • "Ninety North, Zero West" • "Don't Be a Dickens At Christmas" • "Santa, Schmanta" • "Christmas is Coming" • "Yule. Tide. Repeat." • "The First No L"
Futurama
"Xmas Story" • "A Tale of Two Santas" • "The Futurama Holiday Spectacular"
Bob's Burgers
"God Rest Ye Merry Gentle-Mannequins" • "Christmas in the Car" • "Father of the Bob" • "Nice-Capades" • "The Last Gingerbread House on the Left" • "The Bleakening" • "Better Off Sled" • "Have Yourself a Maily Linda Christmas" • "Yachty or Nice"
Other cartoons
"Hook's Christmas" • "A Christmas Surprise for Mrs. Stillman" • Olive, the Other Reindeer • Ice Age: A Mammoth Christmas • "The War on Grafelnik" • "Miracle on Culpepper Slims Boulevard"
Community content is available under
CC-BY-SA
unless otherwise noted.