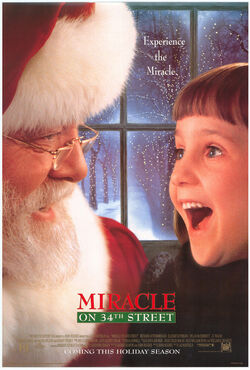 Miracle on 34th Street is a 1994 theatrical remake of the 1947 classic of the same name. It was directed by Les Mayfield and filmed in and around Chicago due to the connections of producer/screenwriter John Hughes. This fact alone infuriated the owners of Macy's from allowing him to use their store name for this remake; a fictitious store named Cole's was used in its place. Also, since Gimbel's had gone out of business in 1987, another fictional store called Shopper's Express was used.
Synopsis
When Tony Falacchi, the Cole's Santa Claus, gets drunk before taking part in the Thanksgiving Day Parade, Dorey Walker, the store's director of special events, fires him and must find a replacement immediately. She spots an old man berating Tony, and begs him to take over. He claims his name is Kris Kringle. He does so well during the parade that he is immediately hired to be the store's main Santa for the holiday period. All the children begin to believe that he is the real Santa, with the exception of Dorey's six-year-old daughter, Susan. Dorey's boyfriend and neighbor, Bryan Bedford, does his best to convince Susan to believe. While being babysat by Kris one night, she shares her Christmas wish with him. She would like a dad, a house (used every year for the Cole's catalog photoshoot) and a baby brother. He asks her if she got all those things, she would then begin to believe in Santa. She agrees that she would.
Kris is credited with bringing in many more sales to Cole's than previous years until one night, when he is arrested and sectioned for supposedly assaulting a man on the street. Later, the truth emerges, that it was Tony, who set him up to be arrested, with the help of staff from Shopper's Express.
With Bryan's help, Dorey pushes Kris' case to court, and drums up support from him from the public. It soon becomes clear that to get him acquitted and freed, Bryan must prove that not only does Santa exist, but that he is the real one. It is a seemingly impossible task until he comes up with a plan that requires some help from Susan. The next day in court the proceeding is interrupted by her giving Judge Henry Harper a Christmas card with a $1 bill inside. He notices a red circle on a specific part of it, which says "In God We Trust". He realizes that it was issued like all money by the government which represents the people, and if they can believe in God enough to have this message printed on legal tender on faith alone without any physical proof then by that same logic he can say that Santa exists in the form of Kris.
Following the court case, Dorey and Bryan are manipulated by Kris into realizing their true feelings for each other, and married in a very small ceremony after the Christmas Eve Midnight Mass. On Christmas morning, Susan wakes to the news of the marriage and is elated to see that she has part one of her Christmas wish, a dad. Together, they drive out to the catalog house and upon arrival, they find that Kris has arranged for them to purchase it. Susan, now having gotten part two of her Christmas wish, excitedly runs inside to look at her bedroom. Dorey and Bryan ask her what part three of her Christmas wish was, and she triumphantly announces that it was a baby brother. They both look at each other, shocked, before glancing down at Dorey's stomach. The film ends with the belief that Susan has now gained part three of her Christmas wish.
Music
Songs
Score
The film's full score, composed and conducted by Bruce Broughton, was released by Intrada Records in 2002 as the eighth volume of their "Special Collection" album series. The track listing was as follows:
| # | Track title | Length |
| --- | --- | --- |
| 1 | Main Title | 2:46 |
| 2 | North Pole Moon | 1:16 |
| 3 | The Secret | 2:06 |
| 4 | Susan at the Window | 1:43 |
| 5 | The People We Love | 2:49 |
| 6 | Merry Mayfield | 1:59 |
| 7 | I Like It | 0:52 |
| 8 | Patty's Pleasure | 1:29 |
| 9 | As Real As Me | 0:58 |
| 10 | Charmin' Armin | 2:49 |
| 11 | The Mom and the Myth | 1:34 |
| 12 | Completely Out of His Mind | 1:11 |
| 13 | I'm a Symbol | 3:12 |
| 14 | Love Theme (Dan Higgins, soprano sax) | 1:42 |
| 15 | Susan's Christmas Wish | 3:05 |
| 16 | The Engagement Ring | 2:41 |
| 17 | A Big Fat Fake | 4:27 |
| 18 | The Bellevue Carol | 2:12 |
| 19 | Dorey Hires Counsel | 0:35 |
| 20 | I Disgraced Myself | 1:42 |
| 21 | Dorey's Plea | 1:21 |
| 22 | First Witness | 1:01 |
| 23 | Recess, Reconnoiter, Apologize | 2:33 |
| 24 | Leading the Witness | 1:15 |
| 25 | Summations | 4:00 |
| 26 | Susan's Christmas Card | 2:15 |
| 27 | Case Dismissed | 5:07 |
| 28 | Meet Me at St. Francis | 2:24 |
| 29 | Christmas Morning | 3:37 |
| 30 | Baby on the Way | 1:54 |
Home video releases
Cast
Actor/actress
Character(s)
Richard Attenborough*
Kris Kringle
Elizabeth Perkins
Dorey Walker
Dylan McDermott
Bryan Bedford
J.T. Walsh
Ed Collins
James Remar
Jack Duff
Jane Leeves
Alberta Leonard
Simon Jones
Donald Shellhammer
William Windom
C.F. Cole
Mara Wilson
Susan Walker
Robert Prosky
Judge Henry Harper
Kathrine Narducci
Mother
Mary McCormack
Myrna Foy
Allison Janney
Woman in Christmas Shop
Alvin Greenman
Doorman
Greg Noonan
Cmdr. Coulson
Byrne Piven
Dr. Hunter
Peter Gerety
Cop
Jack McGee
Tony Falacchi
Joss Ackland
Victor Landberg
Joe Pentangelo
Bailiff
Mark Damiano II
Daniel
Casey Wurzbach
Grandson
Jennifer Morrison
Denice
Peter Siragusa
Cabbie
Samantha Krieger
Sami
Horatio Sanz
Orderly
Lisa Sparrman
Rebecca Collins
Kimberly Smith
Court Clerk
Mike Bacarella
Santa
Harve Kolzow
Businessman
Bianca Rose Pucci
Alexandra Michelle Stewart
Little Girls
Jimmy Joseph Meglio
Hank Johnson (uncredited)
Kyle Pittman (uncredited)
Little Boys
Margo Buchanan
Another Mother
Bill Buell
Band Director
Ron Beattie
Priest
Paige Walker Leavell
Tricia
Rosanna Scotto
Michele Marsh
Joe Moskowitz
Newsanchors
Lester Holt
Susie Park
Janey Kauss
Newscasters
Uncredited
John D. Bair
Parade turkey
Melinda Chilton
Peter D'Alessio
Reporters
Brian Ferrari
Balloon handler
Matthew T. Gitkin
Bridge worker
Eliza Harris
Ice skater
Robert Osladil
Popcorn vendor
Antonio Polk
Richard Remppel
Court Reporters
April Sandmeyer
Parade bystander
John Thurner
Newspaper Reporter
*Nominated for a 1995 Saturn Award for Best Supporting Actor
External links
20th Century Studios
Television episodes and specials
Animated shows and specials
The Simpsons
"Simpson Christmas" • "Simpsons Roasting on an Open Fire" • "Marge Be Not Proud" • "Miracle on Evergreen Terrace" • "Grift of the Magi" • "Skinner's Sense of Snow" • "She of Little Faith" • "'Tis the Fifteenth Season" • "Simpson Christmas Stories" • "Kill Gil, Volumes I & II" • "The Fight Before Christmas" • "Holidays of Future Passed" • "White Christmas Blues" • "I Won't Be Home for Christmas • "The Nightmare After Krustmas" • "'Tis the 30th Season" • "Bobby, It's Cold Outside" • "The Way of The Dog" • "A Springfield Summer Christmas for Christmas"
King of the Hill
"The Unbearable Blindness of Laying" • "Pretty, Pretty Dresses" • "Hillennium" • "'Twas the Nut Before Christmas" • "The Father, the Son, and J.C." • "Livin' on Reds, Vitamin C and Propane" • "Ms. Wakefield"
Family Guy, American Dad!, and The Cleveland Show
"A Very Special Family Guy Freakin' Christmas" • "The Best Christmas Story Never" • "The Most Adequate Christmas Ever" • "Rapture's Delight" • "A Cleveland Brown Christmas" • "Road to the North Pole" • "For Whom the Sleigh Bell Tolls" • "Murray Christmas" • "Season's Beatings" • "Die Semi-Hard" • "Jesus, Mary and Joseph!" • "'Tis the Cleveland To Be Sorry" • "Minstrel Krampus" • "Christmas Guy" • "Dreaming of a White Porsche Christmas" • "The 2000-Year-Old Virgin" • "How the Griffin Stole Christmas" • "Ninety North, Zero West" • "Don't Be a Dickens At Christmas" • "Santa, Schmanta" • "Christmas is Coming" • "Yule. Tide. Repeat." • "The First No L"
Futurama
"Xmas Story" • "A Tale of Two Santas" • "The Futurama Holiday Spectacular"
Bob's Burgers
"God Rest Ye Merry Gentle-Mannequins" • "Christmas in the Car" • "Father of the Bob" • "Nice-Capades" • "The Last Gingerbread House on the Left" • "The Bleakening" • "Better Off Sled" • "Have Yourself a Maily Linda Christmas" • "Yachty or Nice"
Other cartoons
"Hook's Christmas" • "A Christmas Surprise for Mrs. Stillman" • Olive, the Other Reindeer • Ice Age: A Mammoth Christmas • "The War on Grafelnik" • "Miracle on Culpepper Slims Boulevard"
Community content is available under
CC-BY-SA
unless otherwise noted.