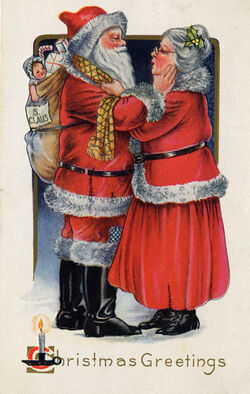 Every loyal wife gives support to her husband, and Santa's wife is his one true supporter. The following is a list of the actresses who have played Mrs. Claus.
Portrayals
Live-action
Animated
Picture
Performer
Feature
Year
Notes

Peg Dixon
Rudolph the Red-Nosed Reindeer
1964
First known representation of Santa's wife on TV. Married to a skinny Santa, Mrs. Claus is charged with fattening her husband up for the big ride on Christmas Eve.

Robie Lester
Santa Claus is Comin' to Town
1970

Main article: Jessica Claus

Jessica, Somber Town's school teacher, marries Kris Kringle (then considered an outlaw by the Burgermeister Meisterburger) in the forest because no church would marry them on Christmas Eve.

Shirley Booth
The Year Without a Santa Claus
1974
Mrs. Claus orchestrates a plan to get Santa back into the spirit of Christmas by enlisting the help of a couple of elves and the elements of nature. This version of Mrs. Claus can also be seen in the opening shot from Nestor, the Long-Eared Christmas Donkey.

Virginia Gregg
A Flintstone Christmas
1977

Darlene Conley
Rudolph and Frosty's Christmas in July
1979
This version of Mrs. Claus is meant to be the same version from Santa Claus is Comin' to Town.

June Foray
A Chipmunk Christmas
1981
After Alvin gives his prized golden harmonica away to a sick child, she buys a new one for him as a gift.

The Nightmare Before Christmas
1993
Mrs. Claus makes a cameo appearance.

Betty White
The Story of Santa Claus
1996
In this special, her first name is Gretchen.

Tress MacNeille
Olive, the Other Reindeer
1998

Debbie Reynolds
Rudolph the Red-Nosed Reindeer: The Movie
1998

Jean Alexander (original British version)
Grey DeLisle (US redub)
Robbie the Reindeer: Hooves of Fire
1999
In this special, she is known as Mrs. Santa and has a beard.

Grey DeLisle
The Fairly OddParents: "Christmas Every Day!"
2001
Unlike most depictions, this version is a thin and attractive woman who acts as a secretary to her husband's toy factory in the North Pole.

Kathleen Barr
In Search of Santa
2004
In the castle in Santa's City, immediately following the key to the city ceremony, she greets Royal Penguin Princesses Crystal & Lucinda to declaring them as "heroes" (True Believers). She mentions that her & Santa saw their journey over the "magic looking glass", and mentions that "every elf, reindeer and toy knows of your great adventure." She also appears in the photo album and in the group portrait in Santa's office.

Carol Kane
The Grim Adventures of Billy and Mandy: "Billy & Mandy Save Christmas"
2005

Tress MacNeille
Mickey Mouse Clubhouse: "Mickey Saves Santa"
2006

Edie McClurg
Holidaze: The Christmas That Almost Didn't Happen
2006
Mrs. Claus hosts a cooking show where Rusty attempts to help.

Shirley Jones
Christmas is Here Again
2007
In this movie, her name is Victoria.

Grey DeLisle
The Fairly OddParents: "Merry Wishmas"
2008
In a stark contrast to the previous Fairly OddParents Christmas special, Mrs. Claus is now depicted in her traditional design. DeLisle reprises her role from the previous special.

Catherine Disher
A Miser Brothers' Christmas
2008
As this special is a sequel to The Year Without a Santa Claus, this version of Mrs. Claus is meant to be the same as the above-mentioned version from that special (albeit with a slightly different design).

Betty White
"Operation: Secret Santa"
2010
In this Prep & Landing spin-off short, the wife of the the Big Red One, with the help of Magee, enlists Wayne and Lanny to retrieve a special gift hidden inside Santa's office. Like her husband, her face is never shown onscreen. She also makes a cameo at the end of Prep & Landing: Naughty vs. Nice.

Imelda Staunton
Arthur Christmas
2011
In this film, Mrs. Claus's first name is Margaret and has two sons with Santa (whose real named is Malcolm): Steve and Arthur.

N/A
Teen Titans Go! "The Teen Titans Go Easter Holiday Classic"
2015

Wendi McLendon-Covey
Puppy Dog Pals: "A Santa for Bob"
2018
See also
Community content is available under
CC-BY-SA
unless otherwise noted.