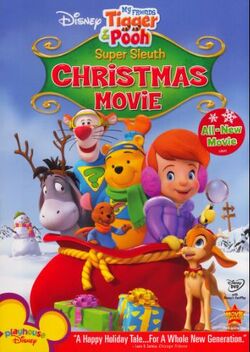 My Friends Tigger & Pooh: Super Sleuth Christmas Movie is a direct-to-video Christmas special spun off from the Playhouse Disney series My Friends Tigger & Pooh.
Synopsis
When friends Roo and Lumpy are out playing on Christmas Eve, they come upon a deer trapped in a bush. After freeing the deer, Holly, they learn that she is one of Santa's reindeer-in-training and came to the Hundred Acre Wood Acre looking for Santa's magic sack that he uses to carry the toys. She has, in fact, found it, and now the Super Sleuths must journey to the North Pole in order to return it. Faced with challenging circumstances, they begin to lose hope, but Darby is determined to go on and not give up.
Songs
"Time to Go (On a Trek Through the Snow)"
"Snowman Song"
Cast
This page about a Christmas special or an episode from a television series with a Christmas theme is a stub. Please help the Christmas Special Wiki by expanding this article.
Community content is available under
CC-BY-SA
unless otherwise noted.