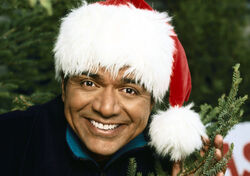 Naughty or Nice is a ABC original movie starring that premiered as a installment of the network's anthology series, The Wonderful World of Disney, on Christmas Day of 2004.
Summary
A Chicago sports radio shock jock is changed by a Christmas season encounter with a 15-year-old fan who is dying of a heart problem who forces him to be nice for a day.
Cast
Actor/actress
Character/As
George Lopez
Henry Ramiro
Lisa Vidal
Diana Ramiro
James Kirk
Michael
Bianca Collins
Olivia Ramiro
Roger Lodge
The Hit Man
John Salley
K.C. Collins
Bobby
Dan McLean
Kevin Gilmore
Randy Apostle
Richard Morrow
Marina Kerr
Jane Morrow
Paige Bannister
Jessica
Steve Ratzlaff
Professor Studlar
Darren Wall
Marcus
Kevin Williams
Newsstand Attendant
Pat Hunter
Diner Waitress
Markel Marchan
Cabbie
Jeff Skinner
Sammy
Ho 'Oyster' Chow
Korean Owner
Stuart Scott
Himself
Curtis Moore
Charlie Wright
Romulo Orellana
Uncle Hector
Allegra Fulton
Carmen
Billy-Jack McKay
Carlos
Robert Huculak
Greg
Megally Zelaya
EMT Woman
Joyce Krenz
Mrs.Taweel
Frank Adamson
Santa #1
Jimmy Mac
Santa Max
Jon Ljungberg
Tommy Santa
Linden Porco
Little boy
Nancy Drake
Old Woman
Devin McCracken
Man
Brooklyn Kilfoyle
Child in line
Susana Castillo
Family member
Tracy Beemer (uncredited)
Young Wife
Jimi Campbell (uncredited)
Special Skills Extra
Cory Cassidy (uncredited)
Studio Audience Member
Ferrone Gavriel (uncredited)
Christmas Shopper
Lorrie Papadopoulos (uncredited)
Driver in Car
Jessica Scott (uncredited)
Co-worker
Debbie Sookram (uncredited)}
Party guest
External links
Community content is available under
CC-BY-SA
unless otherwise noted.