We're Getting Mutants in the MCU - The Loop
Play Sound
"No Time for Christmas" is the Christmas episode of the Warner Bros. Television Animation show Taz-Mania, aired on Fox Kids as the season finale of the show's third season.
Synopsis
It's Christmas Eve in Tasmania, and no one is more excited about it than Taz himself, who is gathering up all the presents he has just wrapped for his family and friends. He goes out into his family's living room to put his family's gifts under their trees. In the kitchen, Taz's mother, Jean, is baking cookies and discussing all the stuff she has to do for Christmas. Taz wants to have one of the cookies, but Jean tells him that these cookies are for the club, and she'll make the family's cookies later. Taz then goes to see his sister Molly, who is busy addressing her Christmas cards. Molly says she has no time for him, but offers to let him assist her with the cards by licking the stamps. However, Taz ends up licking all the stamps at once, and Molly throws him out of her room. Taz passes by the hall closet when he suddenly hears a shaking sound inside; he opens to door to find his little brother Jake shaking a Christmas present. Taz offers to help him search for their hidden presents, but Jake says he works better alone. Taz then overhears his father, Hugh, and goes to the living room, where he finds Hugh having turned up the air-conditioner and pretending to warm up in front of the TV, which is showing a burning fireplace. Taz tells his dad that he's going out to spread some holiday cheer to his friends and co-stars, and leaves as Hugh starts rambling about having an old-fashioned Christmas.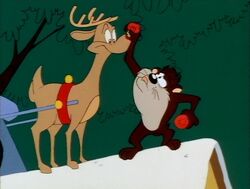 Taz's first stop is the house of the Platypus Brothers, which has been extravagantly decorated. Taz brings his gift to Daniel and Timothy, who explain to him that they're decorating their house for a contest where the prize is a vacation to Fresno. The Platypus Brothers send Taz up to their roof to replace the light bulb representing Rudolph's nose, while they try to find a light-up elf statue to replace one of broken ones in the display. When he does, the bright light causes Taz to stumble down the roof into the spot of the broken elf statue. The Platypus Brothers then turn on their Christmas lights, which electrocutes Taz and sends him flying across Tasmania (though he manages to grab his sack of gifts when the Platypus Brothers notice he left it behind).
Taz lands right by his con-artist friend Digeri Dingo, who is running a fake donation pot in an attempt to get people to give to "his favorite charity" (in other words, himself). Taz gives him his present, but to his dismay, Digeri tosses it to the side (and Jake, popping out from behind a rock, sneaks off with it). Digeri then puts Taz in a Santa Claus outfit and tells him to ring a bell to solicit donations from customers, despite Taz telling him there's nobody else around. Digeri insists that there will be people showing up to donate, though, and as luck would have it, when Taz steps out in front of him, he gets hit by several cars. Eventually, one vehicle ends up taking Taz well away from Digeri's spot.
When Taz, still wearing the Santa suit, finally detaches himself from the speeding bus, he overhears Bull and Axl Gator sneaking up on him, hiding in a pair of mobile bushes. Taz, playing along with their attempt to trap him, steps into the snare that the two alligators have set for him. Axl, seeing the costumed Taz, thinks that they've actually trapped Santa Claus. Bull tries to tell his dim companion that they've, in fact, trapped a Tasmanian Devil and not Santa Claus, but Axl doesn't listen and sets Taz free. Taz gives the pair a pummeling, but then leaves a present for each of them, leading Axl to think Santa and Taz are one and the same.
Taz's next stop is his place of employment, Hotel Tasmania, where Bushwhacker Bob is being a total Scrooge to Constance and Mr. Thickley ("You're a grim one, Mr. Bob"). Taz presents his gift for Thickley when Bob suddenly comes by and orders Thickley to get back to work before he can open the present. When Bob asks why Taz isn't in uniform, Taz tells him it's his day off and he just came here to give out his presents, including one for Bob. Bob, however, doesn't seem too receptive of it (and Taz kissing him under the mistletoe they're standing under doesn't help matters either), and he kicks Taz out of the hotel, telling him to show up for work at 6 AM tomorrow or else he's fired.
Dejected that nobody else in Tasmania seems to share his Christmas spirit, Taz heads home to find his parents and siblings absent. Fortunately, his pet turtle, Dog, comes to greet him, so Taz presents him with a bone. Dog then runs off with the bone and does not come back when Taz whistles for him. Feeling alone and sad, Taz cries himself to sleep on the couch.
When Taz wakes up the next morning, his whole family is back to wish him tidings of joy, with Jake saying he found the present he was searching for - the one from Taz - and Molly forgives him for messing up her cards. Daniel and Timothy then arrive to thank Taz for giving them a spare light-up elf for their display, telling him they won the contest. Digeri also shows up to thank Taz for the rare Warhol bottle cap Taz gave him, and even Bull and Axl drop by to thank Taz for the new nets he gave them. Thickley also appears to thank Taz for the sticky notes, and Bob also shows up, seemingly angry that Taz didn't come in to work, only to then thanks Taz for the new pith helmet. The rest of the show's cast also show up to spend Christmas with the Tasmanian Devil family. They all seemingly slip away when Hugh starts rambling about Taz keeping the Christmas spirit, but they all come back to pose for "a heartwarming cast shot".
Notes
Bugs Bunny can be seen on the cover of the Life Magazine issue that Bushwhacker Bob is reading.
Availability
The episode was made available on the Taz-Mania: The Complete Third Season manufacture-on-demand DVD set, released by Warner Archive on August 25, 2020.
Cast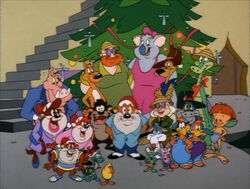 Note: Wendal T. Wolf, Francis X. Bushlad, Mum, Buddy Boar, the Kiwi, and the Bushrats appear at the end, but do not have speaking parts.
External links