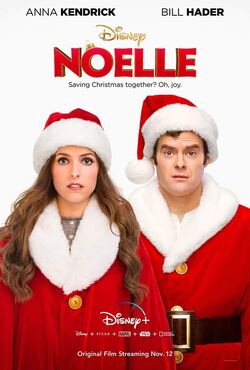 "
Saving Christmas together? Oh, joy.
"

— Tagline
Noelle (working title: Nicole) is an fantasy-comedy/adventure film, starring Anna Kendrick and Bill Header, presented by Disney and distributed by Walt Disney Studios Motion Pictures. Noelle was originally created with theatrical distribution in mind, but in March 2018, Disney decided to instead release it on the Disney+ streaming service. It, along with the 2019 remake of Lady and the Tramp, premiered on Disney+ on the service's North American launch date of November 12, 2019.
Summary
Noelle Kringle is full of Christmas spirit and holiday fun, but wishes she could do something "important" like her beloved brother Nick, who will take over from their father as Santa Claus this Christmas. When Nick is about to crumble like a gingerbread cookie from all the pressure, Noelle suggests he take a break and get away… but when he doesn't return, Noelle must find her brother and bring him back in time to save Christmas.'
Cast
Subject to update
Actor/actress
Character(s)
Anna Kendrick
Noelle Kringle (adult)
Lina Renn
Noelle Kringle (young)
Bill Hader
Nick Kringle
Billy Eichner
Gabriel Kringle
Shirley MacLaine
Polly the Elf
Julie Hagerty
unknown
Alison Araya
Sally
Chelah Horsdal
Dr. Shelley Sussman
Alvina August
Jessie
Michael Gross
Abe the Elder Elf
Kingsley Ben-Adir
Jake Hapman
Anna Van Hooft
Mary the Elf
Diana Maria Riva
Helen Rojas
Burgess Jenkins
Dan
Lee Shorten
Officer Chen
Dakota Guppy
Emma
Aliza Vellani
Jojo the Tech Elf
Jason Antoon
Omar
Lisa Chandler
Security Guard
Anthony Konechny
Ted the Elf
Cara Mantella
Bus Driver
Kayden Magnuson
Carmen
Thomas Cadrot
Homeless Father
Shauna Johannesen
Tonya's Mom
Gracie Lawrence
Carol the Elf
Oakley Bull
unknown
Chad Riley
Cop
Ashani Roberts
Cora the Ugly Sweater
Simon Chin
Flobo the Elf
Craig March
Desk Sargeant
Lisa MacFadden
Phoenix mom
Zac Siewert
Serena Crouse
Dancers
Vivian Lanko
Woman
Lauren Halperin
Yoga Pants Customer
Brendan Taylor
Electronics Santa
Jackie Blackmore
Clara Torres
Arran Henn
Newsanchor
Maceo Smedley
Alex
Shaylee Mansfield
Michelle
Kurtis D'Aoust
Michael Delleva
Emma Pedersen
Chris Olson
Santa's Helper Elves
Polina Nikolai
Ryuta Kato
Fritzgerald Ang
Elves
Glen Gordon
Nick (Young)
Heather Kantor
Driver
Phoenix Race Fan
Mike Dunston
Announcer
Ash Lee
Tonya's Father
Rami Kahlon
Reza
Skyler Knight
New York Daughter
Billy Griffith
Billy the Elder Elf
Andy Nez
Mall Santa
Viola Abley
Tonya Cooperman
Andrea Maiuro
Runner the Ugly Sweater
Brian Cook
Colorado Kyle
Jesse Filkow
Homeless Son
Bryan Brendle
Santa
Eddie Flake
Phoenix Dad
Callum Gow
Tech Elf
Sean Amsing
Serge the Elf
Jeff Glover
Hockey Elf
Jasmine Bolton
Pedestrian
Bentley Hixson
Angry Kid in Crowd
Darcey Johnson
Arguing Man #1
Steven E. Rudy
Simon the Elf
Yesenia (credit)
Christmas tree girl
Marissa Leong
On-Set Reindeer
Michael Diel
Jurgen the Elf
Tyler McConachie
Angry Father
Yorkie Joaquin
Phoenix Streeter
Jagen Johnson
Bop Beep the Elf
Devan Stewart
Yogi
Ishaan Vasdev
Okot
Joel Ishman
DRM Mall Cop
Nicole Filer
Polly's Massage Therapist
Rian Rafiq
Roberto
Rex Go
Langley
Santa's Helper Elf #5
Jorg Everding
Civilian
Shopper
Marisa Nielsen
Lisa
Connor Sage
Greg
Eleftheria Kinfe
Homeless Girl
Joan Nichol
Xmas Shopper
Uncredited actors/actresses
Colleen Bradford
North Pole Elf
Tyler Domecq
Hospital Visitor
Cindy Senaud
Shopper
Dan Weisgerber
Mall shopper
External links
This page about a Christmas movie is a stub. Please help The Christmas Special Wiki by expanding this article.
Community content is available under
CC-BY-SA
unless otherwise noted.