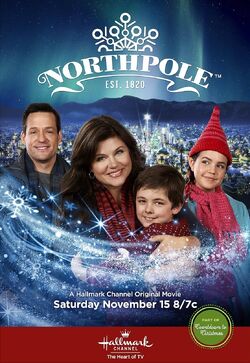 Northpole is a Hallmark Channel original movie that is premiered on November 15, 2014, as part of their fifth annual Countdown to Christmas event.
Summary
Northpole, the magical home to Santa and Mrs. Claus, has grown into a huge city powered by the magic of holiday happiness around the world. Yet as people everywhere get too busy to enjoy festive time together, the city is in trouble. Who can help save the cherished traditions of Christmas? One young boy, Kevin, might have a chance if he can convince his protective mom, Chelsea, to rediscover the magic of the season. With a little added help from Kevin's charming teacher Ryan, a mysterious elf-like girl Clementine (Madison) and a gospel singer named Josephine, Kevin is determined to bring his mom in on the fun and prove that one small voice can change the hearts of many.
Availability
A DVD of the movie, sold exclusively at Walmart, was made available on November 18, 2014.
Cast
Actress/actor
Character(s)
Tiffani Thiessen
Chelsea Hastings
Josh Hopkins
Ryan Wilson
Bailee Madison
Clementine
Max Charles
Kevin Hastings
Candice Glover
Josephine
Jonathan Potts
Mr. Jenkins
Richard Fitzpatrick
Ernie Pendleton
Stefanie Buxton
Clementine's Mom
Frank Schorpion
Mayor Harold Spencer
Jill St. John
Mrs. Claus
Robert Wagner
Santa Claus
Warona Setshwaelo
Jasmine
Kyle Meagher
Norman
Ziad Ghanem
Chuck
Marcel Jeannin
Mr. Finster
Danny Blanco-Hall
Fireman
Dawn Ford
Silver Haired Lady
Anne Cassar
Receptionist
Chloe O'Malley
Andrea
Ambrose McLaughlin
Enrique
Conrad Warren
Kid
Joanna Noyes
Mrs. Tucker
Frank Fontaine
Old Guy
Michael Dozier
Shopkeeper
Trevor Botkin
Weather Editor
Gabriel Maharjan
Passerby
Howard Harris
Homeless Man
Laura Mitchell
Grandma Elf
Una Kay
Great Grandma Elf
Jane Gilchrist
Great-Great-Great Grandma Elf
Francis Limoges
Jason Hsu
Bouncing Elves
André Laperrière
Rescue Fireman
Eric Clark (uncredited)
Teacher
Philippe Desormeaux (uncredited)
Pedestrian
Naïla Flipo (uncredited}
Penelope
Pamela Kuzminski (uncredited)
Extra
Marc Primeau (uncredited)
Skating Townperson
Nathaly Thibault (uncredited)
Councilwoman
External links
Community content is available under
CC-BY-SA
unless otherwise noted.