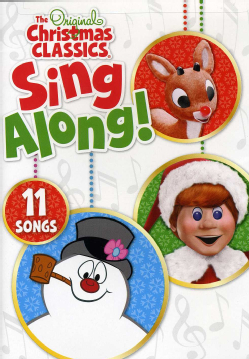 Original Television Christmas Classics Sing-A-Long is a sing-along DVD released by Genius Entertainment. It is the second sing-along video spun off from the pre-1973 Rankin/Bass Christmas Specials (the first being The Rudolph, Frosty & Friends Sing Along). It features eleven songs from Rudolph the Red-Nosed Reindeer, Frosty the Snowman, The Little Drummer Boy and Santa Claus is Comin' to Town.
Songs
Premise
The video starts with the title card before it dissolves to the first song card. The video goes with each song card introducing each song. The character on the card represents the special the song is from. Then, the card dissolves into the sing along screen. When the song is over, the scene fades to black and shows the next song card. The format continues until the end, when the credits roll.
Sing Along Screen
Just like in The Rudolph, Frosty and Friends Sing Along, each song has its own screen. Every song starts with a song card introducing it before fading to the sing along screen, rather than iris in. There is no wave background at the bottom, and the words are a different font, and are all-caps. The words still appear and disappear in time with the vocals, but flash one by one in time with the singer, and sometimes change color to show someone talking in the song. Also, the words change to a similar format of the song's title whenever it's said. Many songs have a "bouncing ball" that bounces along with the words, but it looks different than in the previous version. The words don't flash across the screen, and sometimes there are no words on the screen at all.
On the 2012 release, "The First Toymakers to the King", "The Most Wonderful Day of the Year", and "Be Prepared to Pay" are respectively labeled as "First Toy Maker to the King", "The Most Wonderful Time of the Year", and "Give a Little Love".
Community content is available under
CC-BY-SA
unless otherwise noted.