"Our Very First Christmas Show" is the first Christmas episode of the ABC sitcom Full House, aired in the show's second season.
Synopsis
The Tanners are on a flight to Colorado to spend Christmas with some relatives, and this is a trip that Danny has spent months planning – but on the way there, a blizzard forces an emergency landing at an unfamiliar airport. The Tanners are forced to spend Christmas in the baggage claim room, where everyone thinks it is ruined this time around. Among the things that happen here are: Jesse's father, Nick, tries to get him to kiss Becky under some mistletoe, D.J. is upset that the gifts that they brought along on the flight with them are missing, and Michelle is afraid of Lionel (Sorrell Booke), a man who made her cry on the plane because of his toupee. Jesse, becoming ever so frustrated by everyone's sour attitudes, speaks to the people in the room about the real meaning of Christmas. Then Santa Claus shows up and shows the Tanners where the missing gifts are, and it turns out that Lionel is Santa Claus.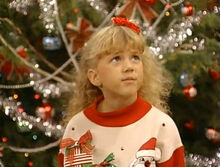 Availability
The episode was made available on the Full House: The Complete Second Season DVD set, released by Warner Home Video on December 6, 2005.
See also
External links
This page about a Christmas special or an episode from a television series with a Christmas theme is a stub. Please help the Christmas Special Wiki by expanding this article.
Community content is available under
CC-BY-SA
unless otherwise noted.