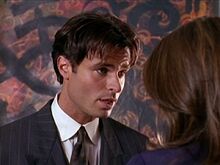 "Oy to the World" is the fourth Christmas episode of the FOX drama Melrose Place, aired in the show's fourth season.
Synopsis
Billy makes the presentation in Alison's place. When Brooke arrives, Billy claims that he slept with Alison (in order to prevent Brooke from finding out that she is off the wagon). Brooke learns that she is not really pregnant, but doesn't share the truth with Billy. Kimberly suggests that Sydney organize the hospital Christmas party to boost Michael's career. Bobby agrees to host the event. When Jane monopolizes Michael's time, Sydney slips tranquilizers into her drink. Jane and Michael head upstairs. As Michael is called to the podium to give the keynote address, he runs out of a bedroom in his underwear and says that Jane collapsed. Richard and Jo plan to force Jane from the business, but Jo has a change of heart when Jane extends an olive branch. Matt and Alan get closer.
See also
Community content is available under
CC-BY-SA
unless otherwise noted.