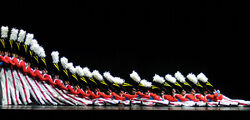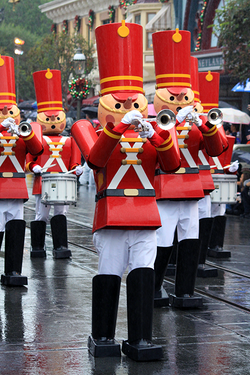 "Parade of the Wooden Soldiers" (Die Parade der Zinnsoldaten), also known as "Parade of the Tin Soldiers", is an instrumental musical character piece, in the form of a popular jaunty march written by Leon Jessel in 1897.
Since the early 1920s, the song has been very popular in the U.S., and has also been frequently performed and recorded worldwide. A song, "Parade of the Wooden Soldiers," was also created from it in 1922 by Ballard MacDonald.
English lyrics written by Ballard MacDonald in 1922
The toy shop door is locked up tight
And everything is quiet for the night.
And suddenly the clock strikes twelve,
The fun's begun!
The dolls are in their best arrayed,
There's going to be a wonderful parade.
Hark to the drum,
Oh, here they come, cries everyone

Hear them all cheering,
Now they are nearing,
There's the captain stiff as starch.
Bayonets flashing,
Music is crashing,
As the wooden soldiers march;
Sabers a-clinking,
Soldiers a-winking,
At each pretty little maid.

Here they come!
Here they come!
Here they come!
Here they come!
Wooden soldiers on parade.

Daylight is creeping,
Dollies are sleeping.
In the toy shop window fast;
Soldiers so jolly,
Think of each dolly,
Dreaming of the night that's past.

When in the morning,
Without warning,
Toyman pulls the window shade,

There's no sign the wood brigade
Was ever out upon parade.
Notes
The song is often used as a Christmas piece. A version sung by the Crystals is on the 1963 album A Christmas Gift for You from Phil Spector. Harry Connick, Jr. sang it on his 1993 album, When My Heart Finds Christmas. It is also on Disney's Disney Sing Along Songs: Very Merry Christmas Songs video.
Community content is available under
CC-BY-SA
unless otherwise noted.