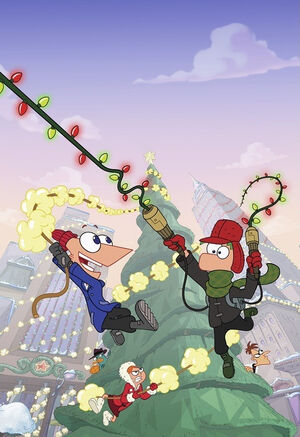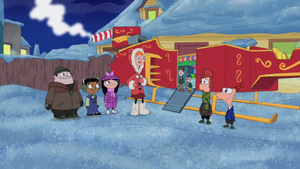 Phineas and Ferb Christmas Vacation! is a Christmas special spun off of the Disney Channel series Phineas and Ferb, originally aired on December 6, 2009 on Disney XD. It subsequently aired on the Disney Channel on December 11, 2009, and on ABC Family on December 18th, 2009, as part of the 25 Days of Christmas programming stunt (marking the first appearance of the show on that network), as well as on many ABC affiliates (in a condensed half-hour form, though). Series co-founders Dan Povenmire and Jeff "Swampy" Marsh, along with the special's director Zac Moncrief, have announced their hopes that the special will become a holiday classic.
The special has been promoted through a multi-platform campaign, which saw the seven musical numbers from the special broadcast on Radio Disney starting November 17, 2009, and Phineas and Ferb appearing in the Disney Parks Christmas Day Parade, broadcast by ABC on Christmas Day. Following its' premiere on Disney XD, the special has become available on video on demand systems, mobile platforms, the Xbox Live Marketplace, and the iTunes Store (where the songs are available for download), though no DVD release has yet been announced.
The special's broadcast on Disney XD was preceded by an "all weekend-long" marathon of the show, and the Disney Channel broadcast was preceded by a six-hour marathon of the show. The premiere of this special on Disney XD drew 2.62 million viewers, making it the most watched telecast ever on Disney XD. Its Disney Channel premiere made it the most watched episode of the series to date, drawing 5.2 million viewers.
Synopsis
SPOILER:
Plot details or story follow.
It's Christmas Eve and an excited Phineas and Ferb are working to turn the city of Danville into a giant shimmering thank you card to Santa Claus. Meanwhile, Dr. Doofenshmirtz develops a Naughty-inator, and suddenly the Tri-state area is clouded in naughtiness and kids' letters to Santa are returned unanswered. Two of Santa's British elves arrive to investigate, but Phineas and Ferb must quickly devise a way to spread holiday cheer, all while Mom and Dad go to the airport to fetch Grandpa and Grandma Fletcher who've just arrived from England. Meanwhile, Candace tries, in a not so covert way, to figure out what's on Jeremy's Christmas wish list.
Songs
A total of seven songs were written for the special, making the most songs featured in a Phineas and Ferb episode. Among them are:
As part of the special's publicity, the songs started being played on Radio Disney on November 27, and clips of the songs appeared as music videos on the Disney Channel. The songs were made available to download on iTunes on December 7th, the day after the special aired.
Trivia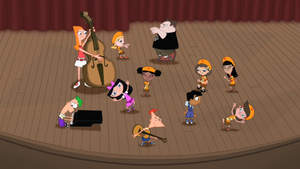 References to other Christmas specials
Cast
Note: Lawrence Fletcher, Adyson Sweetwater, Ginger, Milly, Holly, Katie, Suzy Johnson, Irving, and Meap make appearances, but do not have speaking roles.
Community content is available under
CC-BY-SA
unless otherwise noted.