This article is about a future Christmas Special or episode of a television series with a Christmas theme. Information may change as the date of this program's airing nears.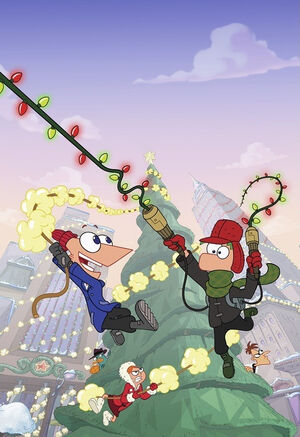 "Phineas and Ferb's Christmas Vacation" is a Christmas special spun off from the Disney Channel series Phineas and Ferb, scheduled to air on December 6, 2009. It will be premiering on Disney XD, and will then subsequently air on the Disney Channel and ABC Family as part of the 25 Days of Christmas (the latter marking the first appearance of the show on that network).
Synopsis
It's Christmas Eve and an excited Phineas and Ferb are working to turn the city of Danville into a giant shimmering thank you card to Santa Claus. Meanwhile, Dr. Doofenshmirtz develops a Naughty-inator, and suddenly the Tri-state area is clouded in naughtiness and kids' letters to Santa are returned unanswered. Two of Santa's British elves arrive to investigate, but Phineas and Ferb must quickly devise a way to spread holiday cheer, all while Mom and Dad go to the airport to fetch Grandpa and Grandma Fletcher who've just arrived from England. Meanwhile, Candace tries, in a not so covert way, to figure out what's on Jeremy's Christmas wish list.
Songs
Christmas is Startin Now - Big Bad Voodoo Daddy
Thank You Santa - Jeremy
I Don't Really Hate Christmas - Dr. Doofenshmirtz
Where Did We Go Wrong - Phineas, Baljeet, and Isabella
Got That Christmas Feeling - Vanessa
Trivia
Community content is available under
CC-BY-SA
unless otherwise noted.