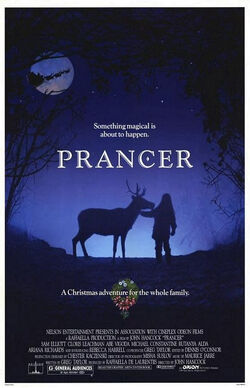 Prancer is a 1989 Christmas film directed by John Hancock. It is set in Three Oaks, Michigan, where town exteriors were filmed. Filming also occurred in LaPorte, Indiana, and at Starved Rock State Park in Utica, Illinois. It is originally set to produced by Dino De Laurentiis and presented by Cineplex Odeon Films, but due to the regine change it was produced by Dino's daughter, Raffaella, through her prodco and presented by Nelson Entertainment through distribution by Orion Pictures.
Synopsis
This page about a Christmas special or an episode from a television series with a Christmas theme is in need of a longer synopsis. You can help the Christmas Special Wiki by expanding this synopsis.
Jessica Riggs is an 8-year-old girl whose mother has recently died of an unknown illness and is in the not very adequate care of her rough, quiet, protective father, John. In the Christmas season, she finds a hurt reindeer who she believes to be Prancer and sets herself on nursing him back to health. A deep bond grows between them. She is helped by a friendly old veterinarian, befriends the old town recluse, and comes to forge a closer relationship with her older brother, Steve.
Jessica and John often clash after he discovers Prancer living in the shed near their house and, despite his revealing brief moments of deep love for her, he does not understand her special love for helping Prancer. After a misunderstanding, he sells him to the local butcher temporarily. His walls of hard feelings begin breaking down and he and Jessica finally forge a deep, loving bond. She, after several emotional and physical struggles between her best friend, Carol Wetherby, her family, and the town, manages to cure Prancer and set him free, where he is seen flying into the sky to rejoin Santa's other seven reindeer on Christmas Eve.
Score
In 2013, Intrara Records released an album containing Maurice Jarre's full score for the film, as the 259th volume of their Special Collection album series. The track listing was as follows:
| # | Track title | Length |
| --- | --- | --- |
| 1 | "Silent Night" & "Main Title Music" | 5:56 |
| 2 | "Moonshot" | 2:32 |
| 3 | "Limpy Reindeer" | 1:35 |
| 4 | "Reindeer Cookies" | 7:25 |
| 5 | "No Circus Deer" | 3:46 |
| 6 | "Christmas Star" | 5:00 |
| 7 | "Theme From Nabucco | 2:15 |
| 8 | "Prancer Picnic" | 2:32 |
| 9 | "Leaving Home" | 7:00 |
| 10 | "Mysteries Of Love" | 3:19 |
| 11 | "Prancer is Free" & "End Credits" | 7:39 |
Cast
* - Nominated for the 1990 Young Artists Awards
See also
External links
Community content is available under
CC-BY-SA
unless otherwise noted.