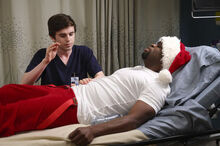 Quarantine is the Christmas episode of The Good Doctor that debuted on ABC on December 3, 2018.
Plot
After sleeping together, Drs. Lim and Melendez agree not to do so again despite both having enjoyed it. The ER and its waiting room are quarantined after two patients, travelers returning from Malaysia, die of a viral respiratory disease. Those quarantined include Shaun, Morgan, Lim, and Alex's estranged son Kellan. Morgan treats Tyler, an infected EMT with whom she shares a developing romance; Tyler dies despite Morgan's impassioned efforts. Lim gets infected and isolates herself. Mall Santa Pete's bowel obstruction requires surgery without benefit of standard equipment; Lim collapses while talking Morgan through a vital part of the surgery. Shaun also collapses, overwhelmed by sensory overload. Kellan suffers an asthma attack, causing panic when patients think he is infected with the virus. Elsewhere in the hospital, Melendez and Claire struggle to keep leukemia patient Chris alive. Chris's marrow donor, his estranged father Bob, is trapped in quarantine; Chris flatlines and Melendez & Claire struggle to revive him despite Chris' DNR. With Shaun unavailable, Lea takes Dr. Glassman for an MRI to check on the status of his cancer; his tumor is confirmed to have returned.
Community content is available under
CC-BY-SA
unless otherwise noted.