This article is about the elf from the 2000 special Grandma Got Run Over by a Reindeer. For other referrals of Quincy, see the disambiguation page.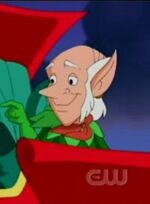 Quincy is a supporting character in the 2000 special Grandma Got Run Over by a Reindeer.
He is Santa Claus' head elf. After Santa accidentelly runs over Grandma Spankenheimer with his sleigh on Christmas Eve, he takes her back to The North Pole to heal her. She recovers, but develops amnesia.
The following September, Grandma's grandson Jake contacts Santa via email about Grandma. Now knowing where Grandma comes from, Santa tells Quincy to send Jake a reply email, but Quincy says that he has a better idea.
Quincy takes the sleigh to Cityville and brings Jake back to The North Pole in hopes that upon seeing Jake, Grandma's memories with return. However this fails as Grandma does not remember Jake. Afterwards, Jake and Santa take Grandma back to Cityville to restore her memories.
Three months later after Grandma is hidden away by her granddaughter Mel and her attorney I.M. Slime in order to sue Santa, Quincy along with Jake find Grandma and discover that Mel had spiked some of Grandma's fruitcake, causing it to attract Santa's reindeer, resulting in her getting run over. They also discover a note Santa had left on the spot Grandma was run over, explaing what had happened (which Mel had been hiding from the rest of the family since last Christmas) take her back home and give her fruitcake (which wasn't spiked) which restores her memories.
The trio then arrive at the courthouse and reveal the truth, resulting in Mel being jailed and Santa being cleared.
Gallery
Community content is available under
CC-BY-SA
unless otherwise noted.