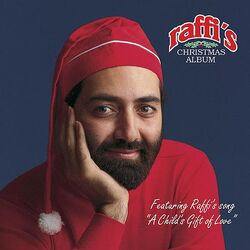 Raffi's Christmas Album is a 1983 music album by children's entertainer Raffi. The album was later remastered and re-released on October 22, 2002. The rerelease contains the additional track "A Child's Gift of Love".
Track listing
Musicians
Soloist
Instrument(s)
Raffi
Guitar
Ken Whiteley
Acoustic Guitar
Autoharp
Mandolin
Glockenspiel
Lap Steel
Banjo
Accordion
Electric Guitar
Piano
Electric Piano
Tambourine
Chris Whiteley
Harmonica
Bass Harmonica
Guitar
Side 1 #3
Tom Szczesniak
Accordion
Table Hockey
Moe Koffman
Flute
Dennis Pendrith
Bass
"Bucky" Berger
Drums
Sleigh Bells
Patrick Godfrey
Piano
Side 1 #6 & 7
Cathy Ambrose
Side 2 #7
Graham Townsend
Fiddle
The Canadian Brass
Charles Daellenbach
Tuba
Eugene Watts
Trombone
Graeme Page
French Horn
Fred Mills
Trumpet
Ronald Romm
Flugelhorn

Eric Robertson (arrangements for TCB)

Vocalists
Raffi
Ken Whiteley
Caitlin Hanford
Mose Scarlett
David Wall
Ben Stein
Firgrove Public School Choir Members
(Under the guidance of Cathy Ambrose)
Jacen Brathwaite
Chris Brown
Susan Dewkinandan
Denee Dunn
Monica Senior
Linda Prakash
Lee Richards
Lindsay Roth
Raffi's friends
Community content is available under
CC-BY-SA
unless otherwise noted.