"Refrigerator Day" is the Christmas episode of the ABC sitcom Dinosaurs, aired in the show's second season.
Synopsis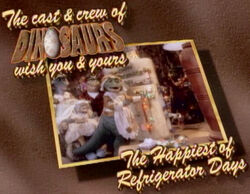 The happiest holiday in Pangaea is approaching and Earl, carried away by the commercial side of the occasion, overspends on presents for his family. When the traditional WESAYSO bonus fails to come through for him, they are placed in financial jeopardy. Any hope for a joyous holiday is dashed when their refrigerator is repossessed. With no food, refrigerator, or money, they are forced to fall back on the spiritual side of the holiday.
Availability
In 1993, the episode was featured on the Dinosaurs: Special Holiday Edition VHS, which also included the series' Halloween-themed episode, "Little Boy Boo". It was later included on the Dinosaurs: The Complete First and Second Seasons DVD set in 2006.
Cast
Performer
Character
Face
Body
Voice
Mak Wilson
Bill Baretta
Stuart Pankin
Earl Sinclair
Allan Trautman
Tony Sabin Prince
Jessica Walter
Fran Sinclair
Steve Whitmire
Leif Tilden
Jason Willinger
Robbie Sinclair
Bruce Lanoil
Michelan Sisti
Sally Struthers
Charlene Sinclair
Kevin Clash
Baby Sinclair
Brian Henson
Florence Stanley
Grandma Ethyl Phillips
David Greenaway
Pons Maar
Sam McMurray
Roy Hess
Steve Whitmire
Sherman Hemsley
B. P. Richfield
John Kennedy
Jack Tate
Thom Sharp
Richard
External links
This page about a Christmas special or an episode from a television series with a Christmas theme is a stub. Please help the Christmas Special Wiki by expanding this article.
Community content is available under
CC-BY-SA
unless otherwise noted.