We're Getting Mutants in the MCU - The Loop
Play Sound
"Refrigerator Day" is the Christmas episode of the Jim Henson Television sitcom Dinosaurs, produced and originally aired on ABC as the twelfth episode of the show's second season.
Synopsis
The Sinclair family is preparing for the happiest holiday in Pangaea - Refrigerator Day, a day in which all the dinosaurs honor the invention that made modern civilization possible. When Baby asks what the holiday is about, his parents, Earl and Fran, and his maternal grandmother Ethyl all explain to him that, long ago, dinosaurs always had to be on the move to find food, until a wise dinosaur came up with the idea of storing food in a cold box, which allowed dinosaurs to settle down and start having families. "The key thing is, we get lots of presents," Charlene adds, at which point Robbie asks Earl if he's already bought theirs. Earl says he has indeed, and spent all his money on them, adding that they shouldn't have to worry about their finances because he's expecting to get a Fridge Day bonus. Fran reprimands her husband, saying that Refrigerator Day is not about spending money on presents, but about being thankful for what they have. She also reminds him, to his dismay, that they're supposed to not eat any food in the two days before Refrigerator Day, as a reminder of the hardships their ancestors faced before the invention of cold food storage.
Later that day, at work, Earl finds himself staring longingly at Roy's lunch; when Earl asks Roy why he's not fasting, Roy says that he's "only fasting between meals". Mr. Richfield then calls Earl into his office, and Earl has a fantasy sequence about Mr. Richfield being very generous towards him and giving him three bonus checks. Unfortunately, the reality that happens is nothing like Earl's expectation - Mr. Richfield only wants him to sharpen some pencils. When Earl asks when he can expect his Fridge Day bonus, Mr. Richfield just laughs and callously informs Earl that he isn't giving his employees a bonus this year.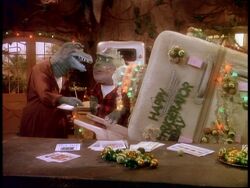 That evening, Earl calls the family together and, after Baby keeps interrupting to say that he drew all over the house, informs them that he's not getting his Fridge Day bonus. Robbie and Charlene don't see a problem with this, since Earl has already bought their Fridge Day presents, but Fran has to remind them that they have bills to pay. Earl tries to put a positive spin on this, thinking that this time of year, the bill collectors will understand why he can't pay his bills right now. But one screen-flip later, a repossession employee named Larry comes to take away the Sinclairs' refrigerator because they were half a day late on their last payment. Earl begs Larry to take some other appliance instead, but Larry says that his boss (who did give him a big Fridge Day bonus) likes to take the ones that put dinosaurs under the most pressure. With that, Larry carts away the refrigerator, and Earl can only wallow in despair ("I'm beneath dirt. I look up to dirt. I wish I was dirt. Dirt laughs at me!") and says this will be the worst Refrigerator Day ever.
The next day, Earl is still crying about the loss of the refrigerator. Charlene gets the idea that they should return the kids' presents that Earl bought, in hopes that they'll get their money back and then buy back the fridge. Robbie and Charlene obviously aren't keen on the idea, but Fran tells them they must do it to help their father. Fran and the kids arrive at Kave Mart and tell a salesman named Richard they want to return their presents. Richard is willing to take the items, but is only confused by the Sinclairs saying they want money in return. After consulting with his co-worker Hank (and after further confusion arises between the two parties), Richard says they will only take the items for less than the wholesale price. Fran agrees to this deal, despite Robbie asking what kind of fridge they could possibly buy for the money they're getting.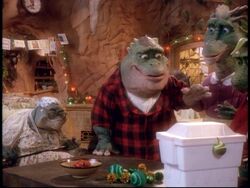 When they arrive home, we see the answer to that question is a styrofoam cooler. Fran explains to Earl that she and the kids returned the presents so they could get the money to buy back the refrigerator, but could only afford the cooler. Earl falls further into depression, to the point that he wants Baby to hit him with the frying pan, though Baby doesn't feel like it (Ethyl, on the other hand, is still willing to whack him with her cane). Fran attempts to cheer her husband by reminding him that they still have more than what their ancestors had - a loving family, a beautiful home, and their hopes for the future - but Earl is too stubborn to look on the bright side. Fran then says she still wants to do their annual Fridge Day pageant, but Earl whines that he doesn't want to.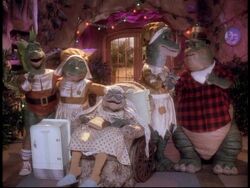 With Ethyl reading the narration from a book, Fran and the kids start performing their annual pageant about the story of the how the refrigerator was invented, in which they portray their constantly-migrating pilgrim-like ancestors. Earl again says that he doesn't want to participate when Fran tells him his lines are coming up, but he reluctantly relents. He at first delivers his lines in a sarcastic tone, but soon drops it as he starts getting more into the play. The story recounts how the wise father of the family (Earl's character in the pageant) heard a voice telling him to "build a box that is cold inside," so he got his family to stop migrating and they got to work on building the box. At first, though, the box was not instantly cold inside and they thought throwing it into the lake would fix the issue... until they realized it simply needed to be plugged in. After finishing the play, Earl finds himself in a much happier mood, telling Fran "I may not have a refrigerator, but I'm the luckiest man in town."
Just then, the doorbell rings, and Robbie and Charlene go to answer it. In come Richard and Hank, who are bringing the Sinclairs' refrigerator back to them. When Earl asks why, Richard explains that his boss thought Fran's "return policy" concept was a terrific idea for them to get the edge over their competitors, become a monopoly, and better serve their customers. Furthermore, Richard and Hank's boss called a few favors and was able to get Earl his Fridge Day bonus, and they're even bringing back the kids' presents and also installing a few snow machines on the Sinclair's roof. Needless to say, Earl is all too happy to sign away the rights to the "return policy" concept to Kave Mart. When Richard comments on the little pageant he's noticed they just had, Earl says that it was the greatest pageant ever, saying that it really helped him remember what the holiday is all about (to which Richard responds by telling him the one they do at the store has an orchestra and laser effects). The episode ends on the Sinclairs celebrating as they plug their refrigerator (and all the lights attached to it) back in.
Songs
Availability
In 1993, the episode made its home video debut on the Dinosaurs: Special Holiday Edition VHS, which also included the series' Halloween-themed episode, "Little Boy Boo". It was later included on the Dinosaurs: The Complete First and Second Seasons DVD set, released on May 2, 2006.
Notes
Cast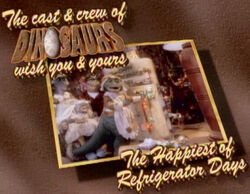 External links