Rizzo the Rat is a character from The Muppet Show, introduced during the show's fourth season. He was created by Steve Whitmire after he took a fascination to a bunch of old rat puppets originally made for The Muppet Musicians of Bremen. Rizzo has a tendency to crack jokes at the expense of the other Muppets and sometimes tries to cheat people into getting what he wants, but has a sensitive side and is also good friends with other Muppets, particularly Gonzo.
Appearances in Christmas specials
The Muppets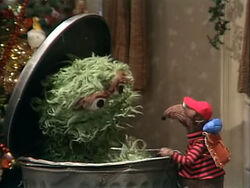 A Muppet Family Christmas - In this 1987 crossover with Sesame Street, Rizzo had a brief speaking role wanting to bunk out in Oscar the Grouch's trash can, much to Oscar's delight.
The Muppet Christmas Carol - This 1992 adaptation of Charles Dickens' A Christmas Carol notably marked the first time Rizzo was cast as a double act with Gonzo, who is playing the role of Dickens himself, a claim that Rizzo finds dubious, to say the least. Along with Gonzo, Rizzo is often on the set while the story is taking place, sometimes getting the worst of the action.
It's a Very Merry Muppet Christmas Movie - At the beginning of this 2002 made-for-TV movie, Rizzo and Gonzo are among the Muppets exchanging gifts at the Muppet Theater's Christmas party. Rizzo reveals that he sold his collection of rare cheese to buy a crystal petri dish for Gonzo's mold collection, but Gonzo tells him sold his mold collection to buy him a diamond-tipped cheese slicer. Rizzo responds by asking if Gonzo kept the receipt.
Other Christmas productions
External links
This article about a character from either a Christmas movie, television episodic series or special with a Christmas theme is a stub. Please help to expand this article in the Christmas Specials Wiki.
Community content is available under
CC-BY-SA
unless otherwise noted.