"Santa's Secret Stuff" is the Christmas episode of The CW sitcom Gilmore Girls, originally aired as the eleventh episode of the show's seventh and final season.
Synopsis
Lorelai and Christopher decide to put their Christmas holidays on hold while Rory is in London over the holidays. Once she returns to Stars Hollow, they decorate several Christmas trees, do their shopping, and even bake Christmas cookies for the first time as a family. Turning up unexpectedly at the inn, Luke asks Lorelai to write a character recommendation letter for his custody battle over April. She struggles to do so until she and Rory run into Luke and April at the mall, and she suddenly remembers how important Luke has always been in Rory's life. Inspired, she writes the letter and mails it to his attorney. Rory decides she will write an apology letter to her friend, Lucy, explaining why she and Marty kept their past friendship a secret.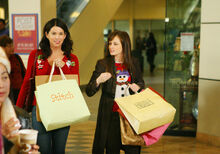 Cast
| Actor | Character |
| --- | --- |
| Lauren Graham | Lorelai Gilmore |
| Alexis Bledel | Rory Gilmore |
| David Sutcliffe | Christopher Hayden |
| Scott Patterson | Luke Danes |
| Vanessa Marano | April Nardini |
| Todd Lowe | Zack Van Gerbig |
| Nicolette Collier | Georgia "GG" Hayden |
This page about a Christmas special or an episode from a television series with a Christmas theme is a stub. Please help the Christmas Special Wiki by expanding this article.