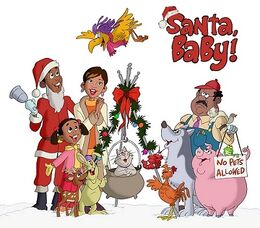 This article is about the 2001 Rankin/Bass special. For the 2006 ABC Family Original Movie, see Santa Baby.
Santa, Baby! is a 2001 animated holiday special that aired on the Fox network. It was Rankin/Bass' first new original Christmas special in over sixteen years (their past holiday production was the 1985 adaptation of The Life and Adventures of Santa Claus), and the only one produced after the liquidation of their animation department. The Special featured the voices of Eartha Kitt and Gregory Hines. Like much of Rankin/Bass' specials, it was based off a song, in this case, the 1954 song originally recorded by Kitt and covered in A Very Special Christmas by Madonna in 1986.
Synopsis
This page about a Christmas special or an episode from a television series with a Christmas theme is in need of a longer synopsis. You can help the Christmas Special Wiki by expanding this synopsis.
When a young black girl uses her wish from a Christmas partridge to help her dad over his song-writing slump, he finds his inspiration and even gives the real Santa Claus a helping hand!
Soundtrack
Santa Baby (Eartha Solo)
Jingle Bells
Deck the Halls
Heart and Soul of Christmas (Reprise)
We Wish You a Merry Christmas
Silent Night
Santa Baby (Trio Version)
Every Time I See a Santa
God Rest Ye Merry Gentlemen
Pick Me!
Heart and Soul of Christmas
Santa Baby (Club Mix)
Notes
Co-writer Suzanne Collins would later go on to write the New York Times Bestselling book series, The Hunger Games which became a film adaptation in 2012.
This is the only Rankin/Bass Christmas special to use Hanna-Barbera sound effects.
Gregory Hines and Kianna Underwood also voiced relatives in the Nick Jr. animated TV series Little Bill as Big Bill and Fuchsia, respectively, only being uncle and niece.
Cast
Gallery
External links
Community content is available under
CC-BY-SA
unless otherwise noted.