Jurassic World: Dominion Dominates Fandom Wikis - The Loop
Play Sound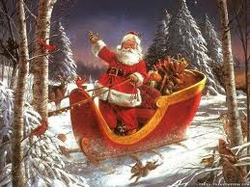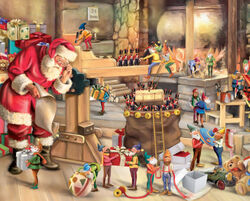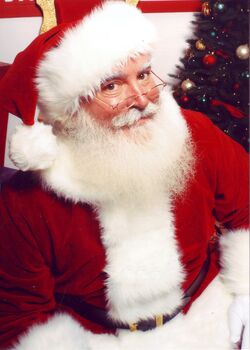 Santa redirects here. For other uses, see Santa (disambiguation).
Santa Claus is a traditional, secular imaginary figure of Christmas good cheer who is the best known (at least in modern times) mascot of Christmas, developed in the United States as an amalgam of the story of St. Nicholas and various other seasonal folk heroes, with many aspects provided by the classic poem A Visit From St. Nicholas. The Santa Claus myth is based largely on the Dutch holiday of "Sinterklaas" (a hastily pronounced "St. Nicholas", who comes down the chimney on the 5th/6th of December) and the imagery of the Saint in question carried over to his North Pole incarnation. (Note that in several countries in Europe, Sinterklaas and Santa Claus are considered two entirely different characters, each with their own elaborate holiday.)
The modern figure of Santa Claus is typically depicted as a portly, jolly, often spectacled, white-bearded man dressed in a red coat with white collar and cuffs, white-cuffed red trousers, and black leather belt and boots; who carries a bag full of toys and gifts for children. He lives at the North Pole in a large workshop staffed by elves which produces toys year round, and every Christmas Eve he sets out in a flying sleigh pulled by at least eight reindeer, delivering toys and other gifts to the children and children-at-heart of the world out of the improbably large sack he carries with him, entering their houses by the chimney, filling their stockings, putting larger gifts under the tree, partaking of whatever food and drink the family left out for him (traditionally cookies and milk), then leaving how he came in.
Typically, after the children have fallen asleep, parents play the role of Santa Claus and leave their gifts under the Christmas tree. Tags on gifts for children are sometimes signed by their parents "From Santa Claus" before the gifts are laid beneath the tree.
Santa Claus appears in many Christmas specials and movies. His portrayal in them varies in many ways, as listed below.
Portrayals
The character known as Santa Claus has been portrayed in many films and television special. Here is a partial list of the actors who have played him.
Live-action
Picture
Performer
Feature
Year
Notes

Edmund Gwenn
Miracle on 34th Street
1947
In his Oscar-winning performance, Gwenn portrays Kris Kringle, the resident of a Long Island old age home who takes up a job at Macy's Department Store in New York City, and wins the heart of an office executive.

Ed Wynn
Miracle on 34th Street
1959
The famous TV (and former vaudeville) comic played Kris Kringle in a live telecast on NBC.

Sebastian Cabot
Miracle on 34th Street
1974
The actor known for playing Giles French on Family Affair played Kris Kringle in this TV film remake.

Sir Richard Attenborough
Miracle on 34th Street
1994
The English actor and director played Kris Kringle in this 1994 remake of the 1947 classic film.

Jim Belushi
Jingle All the Way
1996
Howard meets Santa Claus at the mall and he tells him that he wants to get his son Jamie a Turbo Man doll.

Paul Maxey
Walt Disney's Wonderful World of Color: "Holiday Time at Disneyland"
1962

Jan Rubes
One Magic Christmas
1985
Santa and Gideon the Christmas Angel help Ginny Grainger mother find the spirit of Christmas.

Douglas Seale
Ernest Saves Christmas
1988

Tim Allen
The Santa Clause trilogy
1994-2006
Scott Calvin is a divorced father who is down on his luck when he accidentally kills the previous Santa Claus and inadvertently becomes the new Father Christmas.

John B. Lowe
The Ultimate Christmas Present
2000
Two pre-teen girls find a weather machine owned by Santa who has a secluded shack in the woods somewhere in the Los Angeles Metropolitan Area, and use it to create snow, only to find out it's more than they can handle.

Leslie Nielsen
Santa Who?
2000

George Wendt
Santa Buddies: The Legend of Santa Paws
2009
George Wendt puts on the red suit and beard for this direct-to-video film.

Donovan Scott
Zeke and Luther: "Bro Ho Ho"
2010
Donovan Scott plays a mall Santa who may or may not be the real deal.

Jim O'Heir
Austin & Ally: "Santas & Surprises"
2015

Pickle and Peanut: "A Merry Mocap Musical"
2017
At the end of a short 3D segment, Santa picks up a snow globe with Pickle and Peanut inside and then smashes it towards the wall.

Ed Asner
Elf
2003

Kenneth Welsh
Lexmas
2005

John Goodman
The Year Without a Santa Claus
2006

Paul Giamatti
Fred Claus
2007
Santa is the brother of the title character. He is never on his Sleigh in this film

Dakin Matthews
The Big Bang Theory: "The Santa Simulation"
2012
The geeks of Apartment 4A play a Christmas-themed Dungeons & Dragons game where Sheldon lets Santa Claus get eaten by ogres. That night he dreams of Santa visiting the apartment to get his revenge.

Art Carney
The Great Santa Claus Switch
1970
Carney portrayed both Santa and his evil doppelganger, Cosmo Scam, who plots to take over Santa's workshop in this Jim Henson-created special edition of The Ed Sullivan Show.

Christmas Eve on Sesame Street
1978
Big Bird sits out on the roof of 123 Sesame Street to catch Santa in the act of delivering presents. Santa appears when Big Bird dozes off and is only seen in shadow, disappearing the moment Big Bird awakes. His voice is previously heard over a telephone swallowed by Cookie Monster (the voice provided by Jon Stone).

Charles Durning
Elmo Saves Christmas
1996
When Elmo helps him get unstuck from the chimney on Christmas Eve, Santa grants three wishes to the 3½-year-old Muppet. When Elmo wishes that every day was Christmas, Santa, along with Lightning the Reindeer, shows Elmo the consequences of that wish.

Charles Edward Hall
Elmo's World: "Happy Holidays!"
2002
Elmo visits Santa at his home in the North Pole. Hall also portrays Santa in the Radio City Christmas Spectacular starring The Rockettes.

Kevin James
Elmo's Christmas Countdown
2007

Richard Griffiths
A Muppets Christmas: Letters to Santa
2008

All That: Episode 225
1995
At the beginning of the episode, Santa visits the greenroom, where the cast members tell him what they want for Christmas. Later, he appears in an Adventures of Superdude sketch in which he gets captured by Milkman, but is fortunately rescued by Superdude.

Kenan and Kel: "Merry Christmas, Kenan"
1996
At the end of the episode, Santa brings Kenan the Roadblazer Deluxe Elite mountain bike that he wanted.

Michael Bell
SpongeBob SquarePants: "Christmas Who?"
2000
A live-action Santa flies over Bikini Bottom after Squidward finds a note from him.

Team Umizoomi: "Santa's Little Fixers"
2010
A live-action Santa appearing in an animated show.

Donavon Stinson
A Fairly Odd Christmas
2012
As this movie is a follow-up to The Fairly OddParents, this Santa is meant to be the same version from the show's Christmas episodes.

Miscellaneous

Art Carney
The Twilight Zone: "Night of the Meek"
1960
A rare videotaped telecast of CBS' sci-fi series created and written by Rod Serling saw Carney as a department store Santa.

John Call
Santa Claus Conquers the Martians
1964
Santa gets kidnapped by martians who believe that their planet needs someone like him. In the end, he suggests that a martian named Dropo be his Mars equivalent.

Jay Ripley
Santa and the Ice Cream Bunny
1972
Santa's sleigh gets stuck in the sands of Dania Beach, Florida, near the Pirates World Amusement Park. Summoning nearby kids to help rescue him so he can resume his annual deliveries but to no avail, he tells the kids one of two non-Christmas fairy tales and is rescued by a man in a bunny suit who drives an antique fire engine.

Art Carney
The Night They Saved Christmas
1984
Jackie Gleason's long-time second banana once again played jolly old St. Nicholas, this time saving his workshop from evil oil prospectors.

David Huddleston
Santa Claus: The Movie
1985
The story of Santa's origins are revealed from the days before he became a Christmas hero all over the world.

Richard Mulligan
The Twilight Zone: "Night of the Meek" (1985 remake)
Mulligan (left) takes over the role of a drunken department store Santa made famous by Art Carney in the remake.

Thomas the Tank Engine & Friends: "Thomas and the Missing Christmas Tree"
1986
Father Christmas (as a model, considering the style of the show at the time) makes a cameo appearance as a guest dropped off by Harold the Helicopter. He is also mentioned by Thomas in "Thomas and Percy's Christmas Adventure".

Kort Falkenberg
The Super Mario Bros. Super Show: "Santa Claus Is Coming to Flatbush"
1989
Santa pays a visit to Mario and Luigi.

Henry Hammack
Barney and the Backyard Gang: Waiting for Santa
1990
Barney reads The Night Before Christmas to Michael and Amy, children he has befriended, all while Santa himself is in the living room doing his usual work. He falls asleep just as he comes to "With a little old driver, so lively and quick, I knew in a moment it must be St. Nick". Santa whispers the last quotation to the camera after that.

Lloyd Bridges
'Tis a Gift
Santa Claus (also known as Mr. Nicholas) visits Shining Time Station. He catches a train called "The Northern Star".

Robert Miliam
The Best Christmas Ever!
Poofer the Elf brings in Santa to the workshop. Santa helps Gusty to figure out the problem, so he brings Dermie to try on some brand-new glasses. On Christmas morning, he gives the Smith parents, Barbara and Larry, a doll and a football.

Robyn Archer - Eating on the Plane
1991
Santa, who is dressed up by one of the kids and on the plane, is working on the computer while making a cameo appearance.

Don Mincey
We Wish You a Merry Christmas
1992
The Kidsongs Kids and Ms. Morganstern visit Santa and Mrs. Claus at the North Pole.

Robert Fliss
Mighty Morphin' Power Rangers: "I'm Dreaming of a White Ranger"
1995
Santa's workshop is overrun by Goldar and Rito Revolto, forcing the Power Rangers to save him and the elves.

Charles Durning
Mrs. Santa Claus
1996
Durning played Santa Claus twice in the same year, as the costar of Angela Lansbury's titular character in this made-for-TV movie musical.

Jonathan Mill
Wiggly, Wiggly Christmas
1997
Santa Claus appears during "Wiggly, Wiggly Christmas", "Rudolph the Red-Nosed Reindeer", "Go Santa Go", "Christmas Picnic", "Let's Clap Hands for Santa Claus" and "Jeff's Christmas Tune".

Brian Blessed
Fun in the Snow

William Hootkins
Like Father, Like Santa
1998
Santa is the father to a son (Harry Hamlin) who is a ruthless tycoon in the toy industry.

Robert Von Flies
Jay Jay the Jet Plane: "Jay Jay's Christmas Adventure"
Santa is a jolly man who called Old Oscar, Jay Jay, Herky, Snuffy, and Tracy to help him deliver presents since his reindeer are sick.

Cameron Lewis
The Wiggly Big Show
1999
Santa Claus returns to do "Wiggly Christmas Medley".

Gerry Parkes
Must Be Santa

Fred Gaffney
Yule Be Wiggling
2001
Santa appears on The Wiggles for the third time.

Charles Durning
Mr. Saint Nick
2002
Durning donned the red suit a third time, playing Kelsey Grammer's father in this made-for-cable film.

Franko Torrelli
Santa's Rockin'!
2004
Santa makes an appearance with the Wiggles once again.

George Wendt
Santa Baby
2006
Santa falls ill and his daughter (Jenny McCarthy) has to fill in for him on Christmas Eve.

George Wendt
A Colbert Christmas: The Greatest Gift of All!
2008
Wendt appeared as St. Nick in Steven Colbert's Christmas special.

Paul Sorvino
Santa Baby 2: Christmas Maybe
2009
In this sequel to Santa Baby, the Oscar-winning actor took over the role previously played by George Wendt.

W. Morgan Sheppard
Farewell Mr. Kringle
2010
Sheppard played Kris Kringle in a live-action role.

R.D. Reid
The Night Before the Night Before Christmas
St. Nick is in a jam at a house on December 23rd.

James Cosmo
The Santa Incident
An inept U.S. Homeland Security agent holds Santa for invading U.S. airspace.

Mairtin O'Carrigan
Mistletoe Over Manhattan
2011
As Nick Claus.

George Wendt
Merry-In-Laws
2012
George Wendt once again portrays Santa, this time with Shelley Long (who previously starred alongside him on Cheers) appearing as Mrs. Claus.

Bert Newton
Go, Santa, Go!
2013
Bert Newton appears as Santa in The Wiggles' latest Christmas DVD.

Brian Blessed
Pranks & Presents
Brian Blessed plays Father Christmas twice in Sooty.

Ólafur S.K. Þorvaldz
LazyTown: "The Holiday Spirit"

Nick Frost
Doctor Who: "Last Christmas"
2014
Santa first makes a small appearance at during a mid credits scene in the Series 8 finale Death in Heaven. In the special, Santa has two elves named Ian and the Wolf, but has only three reindeer, Rudolph, Donner and Blitzen.

Robert Wagner
Northpole
Hollywood actor Robert Wagner played Santa in this Hallmark Channel Original Movie with his wife Jill St. John playing Mrs. Claus.

Neil Crome
Odd Squad: "Reindeer Games"
Santa requests help from the Odd Squad to locate his missing reindeer.

Donovan Scott
Northpole: Open for Christmas
2015
Donovan Scott took over the role of Santa in this sequel to Northpole.

John Sumner
Power Rangers Beast Morphers: "Scrozzle's Revenge"
2019
At the end of the episode, Santa arrives to invite the Beast Bots to the North Pole, a surprise by the Rangers.
Animated
Picture
Performer
Feature
Year
Notes

Allan Watson
Silly Symphonies
1932-1933
In the 1932 short Santa's Workshop, Santa reads letters from children as he prepares for his big night. In the following year's The Night Before Christmas, he embarks upon a home filled with children.

Edward Ivory
The Nightmare Before Christmas
1993
Santa is held captive by Oogie Boogie while Jack Skellington poses in his place.

Hal Smith
Bonkers: "Miracle at the 34th Precinct"
While testing out in his new sleigh, Santa accidentally falls out and lands in Burbank, California, where he loses his memory and hangs out with Fall-Apart Rabbit, who nicknames him Jim.

Daran Norris
The Shnookums and Meat Funny Cartoon Show: "Jingle Bells, Something Smells"
1995

James Earl Jones
Recess: "Yes, Mikey, Santa Does Shave"
1998
In this special, the real Santa is an African-American man with a cleanly-shaven beard.

Earl Boen
Buzz Lightyear of Star Command: "Holiday Time"
2000
Santa operates out of the planet North Polaris, where utilizing an interstellar sleigh and a time-manipulation device, delivers presents to all the planets within the Galactic Alliance. He recruits Buzz Lightyear's help in retrieving his Chronal Disruptor from Evil Emperor Zurg.

Corey Burton
House of Mouse: "Clarabelle's Christmas List"
2002
This version of Santa appears to be the same one from the Silly Symphonies shorts.

Chuck McCann
Mickey's Twice Upon a Christmas
2004

John Astin
Higglytown Heroes: "Twinkle's Wish"

Dee Bradley Baker
Mickey Mouse Clubhouse: "Mickey Saves Santa"
2006
This version of Santa later reappeared in the hour-length episode "Choo-Choo Express".

Jeffrey Tambor
My Friends Tigger & Pooh: Super Sleuth Christmas Movie
2007
This direct-to-video film marked the only time Santa was seen in the Winnie the Pooh franchise.

Daran Norris
The Replacements: "Dick Daring's All-Star Holiday Stunt Spectacular 5"
2008
Appears in a sketch where Todd Daring tries to replace him with different types of Santas.

Clancy Brown
Phineas and Ferb Christmas Vacation!
2009
Santa arranges for Dr. Doofenshmirtz to build the Naughtyinator with which to ruin Christmas, and a CD of him singing (under the alias Sal Tuscany) for Perry to use to foil the doctor's plan. He later uses the sauna in the rest stop that Phineas and Ferb built for him and reads Phineas' letter, saying all Phineas wished for was to be like him.

W. Morgan Sheppard
Prep & Landing series
2009-2011
Santa is codenamed "The Big Guy". His face is never fully shown onscreen, except from a distance in a few shots in Operation: Secret Santa.

Doc McStuffins: "A Very McStuffins Christmas"
2013

Kevin Michael Richardson
Duck the Halls: A Mickey Mouse Christmas Special
2016
Santa's design here is based off of the Silly Symphonies version.

Christopher Lloyd
Big City Greens: "Green Christmas"
2019
When Cricket is feeling miserable about accidentally getting Tilly placed on the naughty list, Santa approaches him and offers him a magical gift which can give him anything he wishes for. Cricket, having realized the error of his ways, refuses the gift and says that all he wants is for Tilly to be put back on the nice list. Like in the Prep & Landing specials, Santa's face is not shown onscreen. However, his face was shown in the Chibi Tiny Tales short "Christmas Crashers".

Fred Tatasciore
T.O.T.S.: "Santa Baby"
Like in the above special, his face is never seen.

Hugh Bonneville
DuckTales (2017): "How Santa Stole Christmas!"
2020
In the DuckTales reboot, Santa is an anthropomorphic polar bear, and Scrooge McDuck holds a grudge against him, to the point that he won't allow Santa to visit his mansion and even sets traps against him. It is eventually revealed when Santa appears that he and Scrooge were once friends who briefly went into business together as "McDuck and Claus Deliveries". They planned to distribute gifts by Christmas Day by obtaining the Feliz Navidiamond, but when Santa suggested they simply give the gifts away rather than sell them, Scrooge furiously ended their partnership.

Stan Francis
Rudolph the Red-Nosed Reindeer
1964
A skinny (and extremely cranky) Santa fattens himself up before asking Rudolph to guide his sleigh through the stormy weather on Christmas Eve.

Paul Frees
Frosty the Snowman
1969
Hocus Pocus flags down Santa as the only magical being who can bring Frosty back to life after he's melted in a greenhouse.

Mickey Rooney;
Paul Frees (Rudolph's Shiny New Year)
Santa Claus is Comin' to Town
1970

Main article: Santa Claus (Santa Claus is Comin' to Town)

This same version reappeared in The Year Without a Santa Claus (1974), Rudolph's Shiny New Year (1976), and Rudolph and Frosty's Christmas in July (1979).

Allen Swift
'Twas the Night Before Christmas
1974

Pinocchio's Christmas
1980
Santa is seen in a fantasy sequence where Pinocchio is teaching his toys to dance (this scene is cut from ABC Family's broadcasts). He later shows up to bring Pinocchio and Dr. Cricket back home to Geppetto's workshop. His design is identical to the Mickey Rooney version.

J.D. Roth (Young Claus);
Earl Hammond
The Life and Adventures of Santa Claus
1985
Santa, known at this time as just Claus, grew up in the Forest of Burzee and was raised by the immortal Necile.

The Shanty Where Santy Claus Lives
1933
Santa let's a homeless boy come with him to his workshop.

Mel Blanc
Bugs Bunny's Looney Christmas Tales
1979
Does not appear onscreen; is instead only heard talking to his wife.

National Lampoon's Christmas Vacation
1989
A clumsy Santa is depicted during the film's opening title sequence.

Animaniacs: "Jingle Boo"
1993
After a brief cameo in "'Twas the Day Before Christmas", Santa shows up to give Chicken Boo a rare happy ending for one of his segments.

Earl Boen
A Pinky and the Brain Christmas
1995
Appears to be the same version from Animaniacs.

Tom Hanks
The Polar Express
2004
Hanks' role in this CGI movie was one of many in this 2004 adaptation of Chris Van Allsburgh's story.

Mickey Rooney
A Miser Brothers' Christmas
2008
As this special is a sequel to The Year Without a Santa Claus, this version of Santa is meant to be the same as the above-mentioned version from that special (albeit with a different design). Mickey Rooney reprised the role for this special.

Fred Tatasciore
Scooby-Doo! Haunted Holidays
2012

Barry Corbin
The Looney Tunes Show: "A Christmas Carol"

Mark Hamill
Tom and Jerry: Santa's Little Helpers
2014
His face is never shown onscreen in this special.

Ed Asner
Elf: Buddy's Musical Christmas
Asner was the only actor from the live-action film to reprise his role.

Robert Morse
Teen Titans Go!
2015-2019

Dorothy and the Wizard of Oz: "Christmas in Oz"
2018

Hal Smith
The Flintstones: "Christmas Flintstone"
1965
When he's sick with a flu, Santa has Fred Flintstone substitute for him.

A Christmas Story
1972

A Flintstone Christmas
1977
Like in the first Flintstones Christmas production, Santa has Fred substitute for him.

Casper's First Christmas
1979
All that Casper wants for Christmas is for his friend Hairy Scary's house to not be torn down. Although Hairy doesn't believe in Christmas, Santa Claus nevertheless delivers him a deed to the condemned house.

Yogi's First Christmas
1980

Peter Cullen
Christmas Comes to Pac-Land
1982

Hal Smith
Midnight Patrol: Adventures in the Dream Zone: "Santanapped"
1990
This version of Santa enters the Dream Zone and dressed in a Hawaiian shirt. This would be Hal Smith's final appearance in a Hanna-Barbera TV series.

The Town Santa Forgot
1993
To repay Jeremy Creek for his unexpected kindness, Santa makes him his assistant in his annual trek. This would notably be the last production in which Santa was voiced by Hal Smith, who died the following year.

T.K. Carter
What a Cartoon!: "George and Junior's Christmas Spectacular"
1995

Heathcliff: "North Pole Cat"
1986

John Stocker
The Super Mario Bros. Super Show: "Koopa Klaus"
1989

Frank Welker
Inspector Gadget Saves Christmas
1992

Jay Brazeau
Sonic Christmas Blast
1996
At the end of this special, Santa retires and gives his position to Sonic the Hedgehog.

Super Duper Sumos: "Santa's a Big Fat Sumo"
2000

Gadget and the Gadgetinis: "Santa Claw"
2003

Neil Ross
Rugrats: "The Santa Experience"
1992

Brian Doyle-Murray
CatDog: "A Very CatDog Christmas"
1999
Already disillusioned by the commercialism the kids in Nearburg have succumbed to, Santa decides to cancel Christmas after CatDog sells themselves out.

Tom Arnold (Corporate Santa); Kevin Michael Richardson (Magic Santa)
The Fairly OddParents
2001-2008
According to "Christmas Every Day!", Santa has the image and personality of a corporate CEO outside of Christmas. Every Christmas Eve, all the fairies transfer their magic to him, transforming him into his more familiar jolly appearance. However, he is always depicted in his familiar jolly form in his later appearances on the show (including "Merry Wishmas").

Howie Dorough
Dora the Explorer: "A Present for Santa"
2002
The Backstreet Boys member voiced Santa in the first Christmas episode of the Nick Jr. animated series. Santa is depicted with medium skin, as if Latino.

Merry Nickmas: "Holiday Party"
Based loosely off of the version from the Rankin/Bass Rudolph special, he is referred to as St. Nick as a direct reference to the channel's name and laughs to the tune of the Nickelodeon jingle.

Mel Brooks
The Adventures of Jimmy Neutron, Boy Genius: "Holly Jolly Jimmy"
2003
Santa is shown to be a supergenius much like Jimmy.

Pat Fraley
My Life as a Teenage Robot: "A Robot for All Seasons"
2004

Wow! Wow! Wubbzy!: "The Super-Special Gift"
2008

Harry Chase
Dora the Explorer: Dora's Christmas Carol Adventure
2009
Looks the same as in the first Dora the Explorer Christmas special, but has a different voice actor this time.

Kevin Michael Richardson
Back at the Barnyard: "It's an Udderful Life"
Santa comes down with a case of ferret fever.

Conan O'Brien
The Backyardigans: "The Action Elves Save Christmas Eve"
Although never seen, Snappy the elf talks to Santa by cell phone.

Matthew W. Taylor
T.U.F.F. Puppy: "A Doomed Christmas"
2011
In T.U.F.F. Puppy, Santa is depicted as an anthropomorphic polar bear. He also appears in the earlier-produced non-holiday episode "Mission: Really Big Mission".

John Goodman
SpongeBob SquarePants: "It's a SpongeBob Christmas!"
2012
Unlike in "Christmas Who?", Santa is depicted as resembling an anthropomorphic "sea pig". This same version reappeared a few seasons later, in traditional animation, in the episode "Goons on the Moon", where he was voiced by Lewis Black.

Ron Pardo
Marty Moreau
PAW Patrol: "Pups Save Christmas"
2013

Carl Reiner
Shimmer and Shine: "Santa's Little Genies"
2015

Jeff Bennett
Bunsen is a Beast: "Bunsen Saves Christmas"
2017

Top Wing: "A Top Wing Christmas"
2019
Santa is depicted once again as a polar bear.

Lewis Black
Kamp Koral: SpongeBob's Under Years: "The Ho! Ho! Horror!"
2021
The version from "It's a SpongeBob Christmas!" reappears in CGI animation, with his voice actor from "Goons on the Moon" reprising.

Rob Riggle
Middlemost Post: "Parker Saves Christmas"
In this series, Santa is Angus Shackleton III's older brother.

Lewis Black
SpongeBob SquarePants: "SpongeBob's Road to Christmas"
Another appearance for the version originally seen in "It's a SpongeBob Christmas!"

Tom Bosley
Johnny Bravo: "Twas the Night"
1997
Johnny mistakes Santa for a burglar and accidentally knocks him out, forcing him to take over for Santa. At the end of the episode, Santa gives Johnny boxing gloves, vowing that next year is "Round 2".

Bruce McGill
I Am Weasel: "Happy Baboon Holidays"

Jeff Bennett
Dexter's Laboratory: "Dexter Vs. Santa's Claws"
1998
Dexter attacks Santa and shaves his beard in an attempt to prove that he is really his dad in a costume.

Earl Boen
A Johnny Bravo Christmas
2001
In the second Johnny Bravo Christmas episode, Johnny travels to the North Pole when he forgets to send his and his mother's letters to Santa. Upon being reminded of the previous episode's events, Santa upholds his promise to Johnny.

Michael Patrick Bell
The Powerpuff Girls: 'Twas the Fight Before Christmas
2003
Santa is tricked into believing that all the kids in the world are naughty after Princess Morbucks switches the headlines around on his naughty and nice lists.

Danny Antonucci
Ed, Edd n Eddy's Jingle Jingle Jangle
2004
Santa appears briefly near the end to drop his sack of gifts on top of Eddy.

Lewis MacLeod
Robotboy: "Christmas Evil"
2005

Tom Kane and Phil LaMarr
Foster's Home for Imaginary Friends: "A Lost Claus"
Pictured here are two of the many imaginary Santas who are created every Christmas. (The real Santa is never shown onscreen in this special.)

Gilbert Gottfried
Billy & Mandy Save Christmas

Dee Bradley Baker
Codename: Kids Next Door: "Operation: N.A.U.G.H.T.Y."
Santa doesn't actually go flying around the world; instead he uses a sleigh-shaped computer to transport presents and coal into the homes of good and bad children, respectively.

Tom Kenny
Camp Lazlo: "Kamp Kringle"
2007

Ed Asner
Regular Show: "The Christmas Special"
2012
Santa Claus doesn't look a lot like how most people imagined he'd look like (he says TV producers made that appearance up). He has really long hair, which he has tied back into a ponytail. He wears a black jacket that is unbuttoned, revealing a red shirt, which is tucked in. He also wears brown pants, a belt, and a red scarf, and does not wear the familiar Santa hat. The only thing people got right about him was his beard. He also isn't fat at all; in fact, he has a six-pack.

Brian Blessed
The Amazing World of Gumball: "Christmas"
As a result of being struck by a car, Santa believes he is a random homeless man. Richard and the kids believe him to be Santa, but he hasn't the faintest clue what they are talking about. The kids' attempts at getting his memories back only succeed in annoying him. Eventually, Nicole reveals that Santa Claus is nonexistent, causing him to realize how worthless he is. At the lowest point in his depression, he is struck in the head again, causing him to regain his memories.

Bob Joles
Uncle Grandpa: "Christmas Special"
2014

Bob Joles
Craig of the Creek: "Merry Stumpmas"
2021

Ron Feinberg
The Tick: "The Tick Loves Santa!"
1995
Santa Claus personally visits The Tick himself, when a supervillain dressed like him with a gang of duplicates goes on a crime spree, and he doesn't have the courage or sense to fight back against them.

Ed Asner
Olive, the Other Reindeer
1999

Family Guy: "A Very Special Family Guy Freakin' Christmas"
Seth MacFaralne
2001
In Stewie's dream, Santa kidnaps him for being naughty and sends him to his workshop.

Hank Azaria
The Simpsons: "Simpsons Christmas Stories"
2005

The Cleveland Show: "A Cleveland Brown Christmas"
2009
He appeared at the end of the episode.

Dan Castellaneta
The Simpsons: "The Fight Before Christmas"
2010
In Bart Simpson's Polar Express-inspired dream, Santa is portrayed by Krusty the Clown.

Bruce McGill
Family Guy: "Road to the North Pole"

Matt McKenna
American Dad!: "For Whom the Sleigh Bell Tolls"

Billy Gardell
Ice Age: A Mammoth Christmas
2011

Miscellaneous

John Le Mesurier
Bod's Present
1975

Frank Welker
A Chipmunk Christmas
1981

Fairy Princess Minky Momo: "Please, Santa Claus"
1982

The Snowman
In this short film, Father Christmas hosts a Snowman party where he meets James and his snowman. He later gives James a snowman scarf as a Christmas present. Father Christmas is mute in this film and has only two nameless reindeer.

Peter Hawkins
SuperTed Meets Father Christmas
1984

Carroll O'Connor
The Glo Friends Save Christmas
1985

George and the Christmas Star

Les Lye
Babar and Father Christmas
1986

Rex Robbins
Max's Christmas (short)
1988
Santa in the Max and Ruby short originally based on the book is depicted as a rabbit.

Brian Trueman
Count Duckula: "A Christmas Quacker"
1990
The Count Duckula version of Santa is an anthropomorphised bird.

Andrew Hill Newman
A Wish For Wings That Work
1991

David Shaw Parker
Mr. Men and Little Miss: Christmas Rescue

Mel Smith
Father Christmas
This is the same version featured in The Snowman. This special shows him going on holiday and is also shown to own a cat and a dog besides his two reindeer. Unlike in The Snowman, Father Christmas speaks in this film.

Up on the Housetop
1992

Jim McNabb
The Teddy Bears' Christmas

William Shatner
Eek! The Cat: "It's a Very Merry Eek's-Mas"
1993

Andrew McGibbon (UK) / Jim Cummings (US)
Spot's Magical Christmas
1995

Jim Cummings
The Mask: "Santa Mask"

Keith Knight
The Busy World of Richard Scarry: "Sally Cat's Christmas Dream"
In Sally Cat's dream, Santa is portrayed by Huckle and Sally's father, John Cat.

Ed Asner
The Story of Santa Claus
1996

Jim Cummings
Earthworm Jim: "For Whom the Jingle Bell Tolls"
Queen Slug-For-A-Butt captures Santa and brainwashes him into helping her plant brainwashing microchips in the brains of all the children on Earth. However, Santa is returned to normal after a speech by Jim and defeats the Queen, revealing to the heroes that he is also Woltan, the Norse God of Judgement.

Oliver Clark
Christmas in Cartoontown

Trey Parker
South Park
1997

Jim Cummings
The Online Adventures of Ozzie the Elf

Jonathan Winters
Santa vs. the Snowman

Takko Ishimori (Japanese);
Ted Lewis (English)
Pokémon: "Holiday Hi-Jynx"
1998
In the Pokémon world, Santa works with Jynx as his elves and a team of Rapidash.

John Goodman
Rudolph the Red-Nosed Reindeer: The Movie

Gordon Peters
Mr. Men and Little Miss: "The Christmas Letter"

Ricky Tomlinson (UK);
James Belushi (US)
Robbie the Reindeer
1999
Santa (nicknamed Weirdy Beardy) appears in the first film Hooves of Fire, where he invites his team of reindeer to his house to show off his new sleigh. He later attends The Reindeer Games where he later lends the sleigh to Robbie, who uses it to take Donner on a date to the moon. In this special, Santa has a wife and an infant son, who have beards like him.

Rik Mayall
Santa's Special Delivery

Hamtaro: "Merry Christmas!"
2000

Robby Benson (young);
Jim Cummings (old)
The Life and Adventures of Santa Claus
Santa, known at this time as just Claus, grew up in the Forest of Burzee and was raised by the immortal Necile.

Jim Staahl
Grandma Got Run Over by a Reindeer

Jojo: The Violet Mystery
His sleigh is pulled by a horse instead of reindeer.

Gary Chalk
Rudolph the Red-Nosed Reindeer and the Island of Misfit Toys
2001
As this special is a sequel to Rankin/Bass's Rudolph the Red-Nosed Reindeer, this version of Santa is meant to be the same as the above-mentioned version from that special (albeit with a slightly different design).

The New Woody Woodpecker Show: "The Twelve Lies of Christmas"

Max & Ruby: "Max's Christmas"
2002
Again as before in the TV adaptation from the book, still depicted as a rabbit.

David Kaye
Jackie Chan Adventures: "A Jolly J-Team Xmas"

Meg's Christmas
2003

French Tickner
In Search of SANTA
2004
When he said "My mastery of the martial arts, is lesser-known," he uses his lesser-known martial arts skills to tempoary turn his red suit into a black suit with red Chinese symbols in a pattern to command the Pirates of the "Blubber Belly" to leave his city in the North Pole, carrying their gifts along.

Mickey Rooney
The Happy Elf
2005
Referred to as "Big Red" by Eubie.

French Tickner
Pucca
2006
Santa appears as a recurring character on the series.

Toot & Puddle: I'll Be Home for Christmas
Not stated directly, but strongly implied to be Santa Claus. Appears human, which would make him the only human character in any incarnation of the franchise.

Andy Griffith
Christmas is Here Again
2007

Gary Trousdale
Shrek the Halls
Gingy is shown to gravely fear Santa because he eats gingerbread men.

Skatoony
2007-2013

David Graham
Peppa Pig
2007-2019
Father Christmas appears in every Christmas episode of Peppa Pig.
Richard Duval
Spike
2008
Santa appears in this short film and has four reindeer named Olaf, Otto, Bjorn and Jorg, who pull his sleigh.

Super Why!: "'Twas the Night Before Christmas"
Super Why and his friends learn what makes Santa give gifts to children on Christmas Eve.

William Shatner
Gotta Catch Santa Claus

Totally Spies!: "Ho-Ho-Ho No!"
At the end of the episode as Jerry zooms into the night sky with his flying snow jet, Santa sees him and waves at each other.

Oggy and the Cockroaches: "Santa Oggy"

Masha and the Bear: "One, Two, Three! Light the Christmas Tree!"
2009

Richard Ridings
Ben & Holly's Little Kingdom
2009-2013

Simon Pryce
Dorothy the Dinosaur Meets Santa Claus
2009

Carl Reiner
Merry Madagascar and The Penguins of Madagascar: "The All Nighter Before Christmas"
2009-2011
Santa is mistaken for the "Marauding Red Night Goblin" that comes every "Julienary" throwing black rocks at the animal residents of the east African island. Alex accidentally causes Santa to crash and catch a case of amnesia, prompting Alex, Marty, Gloria, Melman, and the penguins to substitute for him. Reiner reprised the role for The Penguins of Madagascar episode he reappeared in.

Kid vs. Kat: "Kid vs. Kat vs. Christmas"
2009
Santa is a pie maker who makes pies at Bootsville. Kat gets angry when he finds out he was not the real Santa.

Jim Broadbent
Arthur Christmas
2011
In this film, it is revealed that Santa is a hereditary title which is passed down from father to son. For most of the film, Malcolm Claus serves as Santa after he inherited the title from his father Grandsanta in 1941. At the end of the film, Malcolm retires and passes the title to his youngest son Arthur.

Dave Parke
Hoops & Yo-Yo Ruin Christmas
Santa gets his first visit from Hoops and Yoyo as a young stable boy who makes a special toy.

The Elf on the Shelf: An Elf's Story
Jolly Old Saint Nick is in charge of all the Scout Elves.

The Snowman and the Snowdog
2012
The same Santa Claus who appeared in The Snowman and Father Christmas meets the Snowman again, this time with his new friends Billy and the Snowdog. Like in The Snowman, Father Christmas is mute.

John Rhys Davies
Mukpuddy: "Missing Christmas"

SheZow: "SheZon's Greetings"
2013

Lee Tockar
Nerds & Monsters: "Zanti-Clops"
2014
The monster version of Santa Claus collects broken junk and leaves behind a pile of sparkling green dung. If he catches anyone looking at him, he will eat them.

Keith Wickham (UK) / Kerry Shale (US)
Thomas & Friends: "Last Train For Christmas"
Father Christmas appeared briefly in the distance passing by in the night sky at the end of the episode. Thomas mistook him for Harold the Helicopter (as part of a running gag throughout the episode).

Steven Blum
Marvel Super Hero Adventures: Frost Fight!
2015

Colin Murdock
Bob's Broken Sleigh
Santa is nearly forced to cancel his Christmas deliveries when a villainous puffin who seeks a sophisticated, but malfunctioning sleigh built by one of his elves.

Brian Blessed
Danger Mouse: "The Snowman Cometh"
This version of Santa is depicted as a polar bear. His magical hat (which helps him deliver his presents in one night) is stolen by a villain called the Snowman.

Hugh Bonneville
Stick Man
In this short film, Santa gets stuck in a chimney, but is helped out by Stick Man. As gratitude, Santa returns Stick Man to his family.

David Holt
A Christmas Adventure
2016

Martial Le Minoux (French)
Joe Ochman (English)
Miraculous: Tales of Ladybug & Cat Noir: "A Christmas Special"
Santa is akumatized by Hawk Moth and becomes "Santa Claws".

Super Wings: "Christmas Down Under"
2017

Charlie Adler
All I Want for Christmas is You

Paradise P.D.: "Christmas in Paradise"
2018
A drug dealer who works for an argyle meth corporation and created the red, green, and white design for argyle meth. He worked as an employee for the argyle meth kingpin, Gerald Fitzgerald and was killed by Dusty Marlowe with a candy cane shank after getting in a bloody battle with him.

PJ Masks: "PJ Masks Save Christmas"
2019

Hotel Transylvania: "A Year Without Creepmas"

The Stockholms: "The Holiday Heist"
"The Sing-A-Long Sting"
2020
Santa Claus gets held hostage and trapped in the bank, making him one of the main cast members for the remainder of the series. Episodes that focus on him are considered Christmas specials, even when the show isn't really about Christmas.

Terry McGurrin
Total DramaRama: "Me, My Elf, and I"
See also
References
External links