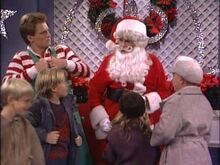 "Santa Mama" is the first Christmas episode of the NBC sitcom Mama's Family, aired in the second's third season.
Synopsis
Vinton is chosen to play Santa at the Raytown Mall. However, with too much practice, he loses his voice! So Mama fills in at the last second. She deals with many brats, but is touched by a little girl who wants tools for her unemployed daddy. Mama is also upset that her star's missing (the one her husband made for her on their first Christmas).
See also
Community content is available under
CC-BY-SA
unless otherwise noted.