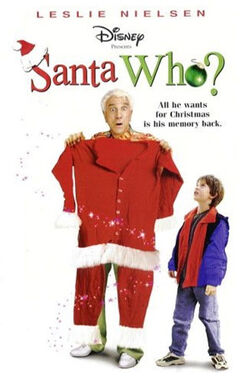 Santa Who? is a 2000 made-for-TV movie starring the late Leslie Nielsen. It originally aired, as part of The Wonderful World of Disney, on ABC on November 19, 2000.
Synopsis
This page about a Christmas special or an episode from a television series with a Christmas theme is in need of a longer synopsis. You can help the Christmas Special Wiki by expanding this synopsis.
The film starts with Santa feeling ill and going out for fresh air on a flight in his sleigh. Because of bad weather, he falls out and lands in New York. After he regains consciousness, he is unable to remember who he is.
Peter Albright, an afraid-of-commitment TV news reporter, finds and uses him on TV to get an audience while vowing them to find his family. In the meantime, Santa works in a mall. Peter's girlfriend's son repeatedly tries to convince the adults that he is the real Santa Claus, which they refuse to believe.
Santa still remembers certain details about Christmas but is unable to remember how he knows them, as typically happens with amnesia.
All the while, Santa's elves are looking for him.
Near the end, a couple thinks it could be their grandfather who has grown a beard, and take him with them. Instead, when it is proved he is Santa, Peter regains his faith in Christmas and gains a family.
Cast
Actor/actress
Character(s)
Leslie Nielsen
Santa Claus
Steven Eckholdt
Peter Albright (adult)
Connor Cunningham
Peter Albright (young)
Robyn Lively
Claire Dreyer
Max Morrow
Zack Dreyer
Tommy Davidson
Max
Darren Frost
Rupert the Elf
Karen Leblanc
Lenny
R.D. Reid
Grady
Ted Atherton
George
Stewart Arnott
Lusby
Carol Lempert
Ellen
Roger Clown
Ray
Elizabeth Brown
Nancy
Laura de Carteret
Sister Greta
Richard Fitzpatrick
Detective Lohenry
Karen Robinson
Dr. Ericson
Bill Dear
Sparky
David Sparrow (#1)
Jazz Mann (#2)
Customs Inspectors
Aron Tager
Grandpa
Kay Tremblay
Elderly Woman
Charles Seixas
Tow Truck Driver
Steve Smith
Tree Lot Guard
Jonathan Welsh
Park Policeman
Erik Knudsen
Nasty Boy
Kayla Perlmutter
Little Girl
Victoria Moseley
Malibu Mallory Girl
Irv Stevens
Police Sergeant
Dianne Parke-Jones
Caroler
Gerry Quigley
Skinny Santa
Jack Newman
Borscht Belt Santa
Jeffrey Smith
Brando Santa
Robert McKenna
Soused Santa
Claudio Masciulli (#1)
Deborah Lobban (#2)
Shoppers
Billy Otis
Shifty Man
Alison Burn
Angry Woman
Marty Moreau
Easter Bunny
Peggy Coffey
Cab Passenger
Brendan Wall
Mall Santa
Shira Hoffman
Girl in living room
D'Andre' Rippy
Kid with Santa

Anne Scheffler

Nora Lem (uncredited)
Santa's workshop elf
DaJuan Rippy (uncrdtd.)
Kid Approaching Santa
External links
This page about a Christmas special or an episode from a television series with a Christmas theme is a stub. Please help the Christmas Special Wiki by expanding this article.
Community content is available under
CC-BY-SA
unless otherwise noted.