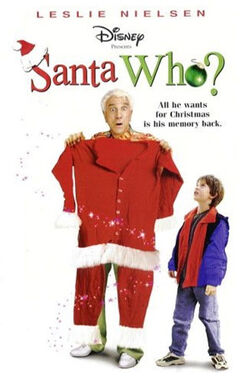 Santa Who? is a 2000 made-for-TV movie starring the late Leslie Nielsen. It originally aired on ABC on November 19, 2000.
Synopsis
The film starts with Santa feeling ill and going out for fresh air on a flight in his sleigh. Because of bad weather, he falls out and lands in New York. After he regains consciousness, he is unable to remember who he is.
Peter Albright, an afraid-of-commitment TV news reporter, finds and uses him on TV to get an audience while vowing them to find his family. In the meantime, Santa works in a mall. Peter's girlfriend's son repeatedly tries to convince the adults that he is the real Santa Claus, which they refuse to believe.
Santa still remembers certain details about Christmas but is unable to remember how he knows them, as typically happens with amnesia.
All the while, Santa's elves are looking for him.
Near the end, a couple thinks it could be their grandfather who has grown a beard, and take him with them. Instead, when it is proved he is Santa, Peter regains his faith in Christmas and gains a family.
External links
This page about a Christmas special or an episode from a television series with a Christmas theme is a stub. Please help the Christmas Special Wiki by expanding this article.