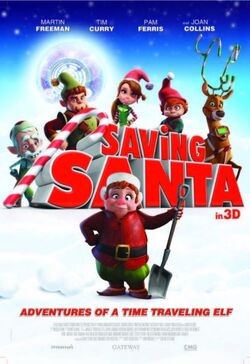 Saving Santa is a CGI -animated Christmas musical movie, from Gateway Films and Prana Animation Studios, originally premiered as the Walmart exclusive release on November 1, 2013. Distributed in the U.S. by The Weinstein Company, it is directed by animators Leon Joosen and Aaron Seelman.
Summary
Bernard, a lowly elf, finds that he is the only one who can stop a invasion of the North Pole by using the secret of Santa's sleigh, a TimeGlobe, to travel back in time to save Santa - twice.
Music
The original musical score is composed, orchestrated & conducted by Grant Olding, who also arranged the following original songs.
Original Songs
Song title
Music & Lyrics by
Performed by
"A Christmas Wish"
Grant Olding
Benjy Norman
"Prospects"
Martin Freeman
"An Elf Like Me"
"Do or Die"
Ashley Tisdale (U.S.)
Katarzyna Laska (U.K.)
M. Freeman
"Swingle Bells"
Traiditonal (music/lyrics)
G. Olding (arranger/additional lyrics)
"12 Days of Elevator Muzak"
"Some Kind of Miracle"
Mark Yaeger
A. Tisdale (U.S.)
K. Laska (U.K.)
Rachael Dahl (BG vocal)
Jessica Burgan (BG vocal)
Benjamin Willan (BG vocal)
Vince Walker (BG vocal)
Klaus Badelt (producer)
M. Yaeger (producer)
Brian Sumner (mixer)
Dave Pensado (mixer)
"A Christmas Wish Reprise
G. Olding
B. Norman (as the Cast)
Tim Conway (U.S.; as the Cast)
Tom Baker (U.K.; as the Cast)
A. Tisdale (U.S.; as the Cast)
Katarzyna Laska (U.K.; as the Cast)
M. Freeman (as the Cast)
Cast
Voice actor/actress
Character(s)
Newell Alexander
Butterscotch
Mercenary #4 (U.S.)
Chris Fairbrass
Mercenary #4 (U.K.)
Noel Clarke
Snowy
Joan Collins
Vera Baddington
Tim Conway (U.S.)
Tom Baker (U.K.)
Santa
David Cowgill
Mercenary #1
Tim Curry
Neville Baddington
Holly Dorff
Minty
Reporter
Moosie Drier
Tin Soldier #1
Old Man Elf
Pam Ferris
Mrs. Claus
Martin Freeman
Bernard D. Elf
Jackie Gonneau
Female Santech Elf with glasses
Nick Guest
Blitzen (U.S.)
Shortbread
Chiris Barrie
Blitzen (U.K.)
Richard Horvitz
Orange-haired Elf
Chestnut
Ashley Tisdale (U.S.)
Katarzyna Laska (U.K.)
Shiny
David Zyler
Tin Soldier #2
Mercenary #3
Ricky Roxburgh
Nick Simunek
Terry Stone
Gregor Truter
Additional voices
Toby Williams
Nutcracker
Xavier Alcan (uncredited)
Lutin
External links
Community content is available under
CC-BY-SA
unless otherwise noted.