Scooby-Doo! Haunted Holidays is the third Christmas special spun off from the Hanna-Barbera animated series Scooby-Doo. It was originally released as a direct-to-video special on the Scooby-Doo - 13 Spooky Tales: Holiday Chills and Thrills DVD set (which also included the franchise's first two Christmas specials, "The Nutcracker Scoob" and A Scooby-Doo Christmas) on October 16, 2012, and made its television premiere on Cartoon Network on December 4th of the same year.[1]
Synopsis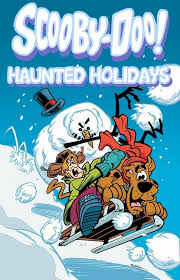 This page about a Christmas special or an episode from a television series with a Christmas theme is in need of a longer synopsis. You can help the Christmas Special Wiki by expanding this synopsis.
Scooby-Doo and the Mystery gang participate in a holiday parade where they discover an abandoned haunted clock tower with a troubled past. The sinister snowman haunts the streets and accompanied with a large blizzard, threatens to close down the toy store for good.
Cast
References
External links
Community content is available under
CC-BY-SA
unless otherwise noted.