Wiki Targeted (Entertainment)
Play Sound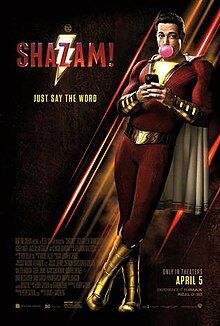 Shazam! is a 2019 superhero film based on the DC Comics character of the same name, and the seventh installment in the DC Extended Universe (DCEU). It stars Asher Angel as Billy Batson, a teenage boy who can transform into an adult superhero, played by Zachary Levi. Mark Strong, Jack Dylan Grazer, and Djimon Hounsou also star. It is the first live-action film version of the character since the 1941 serial Adventures of Captain Marvel (the character's original name). Like Batman Returns before it, it takes place during Christmas. A sequel is scheduled to premiere in 2023
The film received praise from critics for Levi and Grazer's performances and Sandberg's direction, as well as its light tone and sense of fun, with many considering it to be one of the best DCEU films.
Plot
At Upstate New York in December 1974, a young Thaddeus Sivana and his older brother are driven home by their father. While playing with his Magic 8 Ball, Sivana is magically transported to the Rock of Eternity, where he meets a wizard, who introduces him to the mystical statues containing the spirits of the Seven Deadly Sins: Pride, Greed, Lust, Envy, Gluttony, Wrath, and Sloth. The last of a council of 7, the wizard spent centuries searching for a new champion. Tested to see if he is pure of heart, Sivana attempts to touch the eye of envy, failing the test. Transported back to the car, he causes a scene in which his brother hits him, and his father crashes on ice, injured. The Magic 8 Ball reads "find me".
A few years before modern day, Billy Batson is at a carnival with his mother, who plays darts in vain to get a tiger. Afterwards, Billy loses a pendant ball he has and chases after it, separating from his mother. Lost, he is picked up by police who gets him to a foster home.
In present-day (2018) Philadelphia, Billy lures and traps police officers into a pawn shop, using their computer in hopes of searching the address of his long lost mother. Traveling, he is disappointed. He is found and brought to a social services worker who puts him with the Vasqueze family, and the other siblings, Eugene, Darla, Pedro, Mary and Freddy.
In the office building of Sivana Industries, a woman tells a doctor about her experience and shares a video. Sivana takes the video to his office where he had a project that tracked people who had similar sightings around the word, and the video enabled him to find access to the wizard's lair. When questioned about it, Sivana turns the doctor into dust. He uses the symbols to access the lair, confronts the wizard, and touches the energy ball by Enzy, unleashing the Seven Deadly Sins. They form into an eye and sits at home and latches itself into his right eye.
At school, the foster children show Billy around the school. At lunch, Freddie sits with Billy and, after pestering him for a few minutes, attempts to get him to know him better. Outside, bullies drive him and hit Freddie. Billy stands up to the bullies and hits them with Freddie's walking stick, and runs into the subway to avoid them. While on the train, symbols appear and he enters the Rock of Eternity. The wizard reveals he had previously given his to someone else, but had turned evil and killed numerous people and released the seven deadly sins. The wizard vowed to search for someone who possessed a pure of heart, leading him to search for millennia. He chooses Billy, who has to say the word "Shazam". Billy says the word, and transforms into the champion Shazam, and the wizard disappears. Shazam returns to Philadelphia and returns to the foster home and meets with Freddie. Testing all the abilities, lightning, super speed, and strength. They enter a store and stop an armed robbery. Heading home, he discovers he reverts to his other form by saying Shazam.
At Sivana industries, Dr Sivana barges into a corporate meeting hosted by his brother and father, who lost his legs from the accident in 1974. A confrontation between the siblings results in Sivana throwing his brother out of the window and showing off the sins in his eyes, slaughtering everyone in the room, including his father.
Freddie posts videos of Shazam's powers, going viral. Freddie and Billy are in school and skip school when Billy poses as Shazam to check them out. Leaving, they get around to test fire immunity, flight, and strength. Happy, they walk through a mall where they use the lightning ability to charge people's cell phones, get sodas for free, attempt to purchase a lair from a real estate agent, and going to a strip club. He comes out and says we need more money. They go to an ATM, zapping it and taking some of the money, using it to purchase merchandise.
Next day at school - the bullies begin to mess with Freddie and Billy again until Freddie tells them he knows the new hero "Red Cyclone" - they don't believe him, but he tells them that he'll get him to show up to lunch tomorrow. Freddie and Billy get into a bit of an argument over him just assuming and trying to use Billy for his powers. That night at dinner the father asks the family what they think of the new hero - everyone gives input and Freddie takes a dig at Shazam and then him and Billy get into a bit of an argument leaving the rest of the family confused.
Billy decides not to attend school the next day because he wants to find his mother, despite Freddie asking for lunch. Shazam does various things, taking selfies, and showing off lightning for money. He sees and saves Mary from being hit by a car, and talking to her makes him realize she is upset that, because of college, she has to leave her family. Shazam accidentally reveals he knew her name and housing situation, but leaves. Freddie finds Shazam and tries to talk to him, yet Shazam tries to diffuse it, shooting lighting that hits the tires of a bus across the city, sending it off the side of the bridge. Catching it, Shazam puts it on the concrete, only to be promptly told he's not using his powers right. Hearing the commotion, Dr. Sivana shows up and demands the powers that Shazam possesses. Brushing him off, Shazam is promptly thrown around and lands through a mall, while discovering his ability to fly. Sivana hunts him down, but Shazam transforms back into Billy and runs. Freddie is there and is taken hostage by Sivana, who demands to be taken to Billy. Billy shows up, and they know with Eugene telling him that his mother is only two subway stops away. Billy rushes out of his house, with his foster parents in tow. Back at the house, Sivana shows up with Freddie and traps the children. Billy arrives at his mothers apartment complex. His mother informs Billy he was intentionally abandoned on that day, and saw him with the police and that he would be better cared by others, since she was 17. Leaving, he receives a call and Sivana tells him to come home. Billy jumps off the apartment building and transforms to Shazam and flies home.
Shazam decides to give up the power to save his family and Sivana opens a magical door to the Rock of Eternity. Taking the wizard's staff, Sivana unleashes the 7 deadly sins. The siblings enter the cave and distract Sivana long enough for them to run and exit into a winter carnival.
Sivana and the sins attack the Carnival, shooting at a Ferris wheel, almost tipping over. Sivana and Shazam fight all around the carnival. Getting a hold of the wizard's stick, Shazam and his family, yell his name, and transmits his power to his family, transforming them into the Shazam family, each an adult superhero. Each fighting one sin, Shazam engages with Sivana while flying through skyscrapers.
As it goes to tip over - Freddie flies in to save the last two people on it - the bullies. Shazam and Sivana end up on a rooftop and Shazam goads the one deadly sin who remained -- Envy. It rips itself out from Sivana's eye and Shazam yells Shazam, hurting it. Sivana is knocked off the roof, now mortal. Shazam grabs Sivana and drags him to the carnival, ripping the magical eye out. Saving the day, the Shazam family basks in the cheers of the crowd, takes the eye back to the lair, and return the sins for keeping. Shazam and Freddie decide this is their lair. Back at the foster home, everyone returned to their original form and are watching a news cast of the carnival instance, with Santa Claus describing the event. The foster family all talk and laugh and Billy finally feels happy and safe accepting a family.
At school, Freddie sits down at lunch and the entire table leaves so all his siblings come and sit next to him. The bullies show up and ask if he's still friends with Red Cyclone - Shazam shows up and tells the school how Freddie showed him everything it means to be a hero and that he also brought another friend - Superman. In the mid-credits scene, Sivana is doodling the symbols all over the wall of his prison cell until he's interrupted by Mister Mind, who tells him of the pillars of evil that will come together. After the credits, Shazam tries to talk to fish a la Aquaman.
Songs
Song
Performed by
"Do You Hear What I Hear?"
Bing Crosby
"Don't Stop Me Now"
Queen
"Legend"
21 Pilots
"Eye of the Tiger"
Survivor
"Feel Me Flow"
Naughty by Nature
"I'll Be Home for Christmas"
Dean Martin
"Feels"
Calvin Harris featuring Pharrell, Katy Perry and Big Sean
"Feels Good"
Colton Fisher
"24k Magic"
Bruno Mars
"Musical Chairs"
Rumspringa featuring Joey Stevens and Itaru De La Vega
"Do You Really Want to Hurt Me"
"The Real Thing"
Cook Classics featuring Outasight
"Bounce"
Sweatbeatz featuring Dia Hodari and Ricardo Spicer
"Slow Hands"
Niall Horan
"Winter Wonderland"
"Cherry Pie"
Warrant
"This Will Be (An Everlasting Love)"
Natalie Cole
"Superman Theme"
John Williams (composer)
"I Don't Want to Grow Up"
Ramones
Home media releases
Trivia
At the end of the shopping mall conflict scene, David F. Sandberg's 2006 award-winning short All Quiet Now… is shown on the television screen.
Cast
Actor/actress(es)
Character(s)
Zachary Levi
Asher Angel
Billy Shazam
Billy Batson
David Kohlsmith
Billy Batson (young)
Mark Strong
Dr. Sivana
Jack Dylan Grazer
Adam Brody
Freddy Freeman
Freddy Shazam
Djimon Hounsou
Wizard Shazam
Faithe Herman
Meagan Good
Darla Dudley
Darla Shazam
Grace Fulton
Michelle Borth
Mary Bromfield
Mary Shazam
Ian Chen
Ross Butler
Eugene Choi
Eugene Shazam
Jovan Armand
D.J. Cotrona
Pedro Peña
Pedero Shazam
Marta Milans
Rosa Vasquez
Cooper Andrews
Victor Vasquez
Ethan Pugiotto
Thaddeus Sivana (1974)
John Glover
Mr. Sivana
Landon Doak
Sid Sivana (1974)
Wayne Ward
Sid Sivana (2018)
Paul Braunstein
Nadine Roden
Officers
Caroline Palmer
Billy's Mom
Emily Nixon
Woman in red coat
Michael Xavier
Carnival cop
Keisha T. Fraser
Rachel Batson
Andi Osho
Ms. E.B. Glover
Lotta Losten
Dr. Lynn Crosby
Lisa Truong
Ms. Kwan
Carson MacCormac
Brett Breyer
Evan Marsh
Burke Breyer
Joseph Pierre
Drunk guy
Jhaleil Swaby
Passing teen
Misha Rasaiah
Woman
Luke Gallo
Mugger
Lovina Yavari
Store clerk
Craig Henry
Shawn Stewart
Robbers
Kerri Kamara
Attractive woman
Adam Rodness
Receptionist
Cliff Saunders
School security guard
Simon Northwood
Pissed off phone owner
Kenneth Mohabir
Freaked out man
Paloma Nuñez
Realtor
Ilan O'Driscoll
Bryce Arden Poe
Tosh Robertson
Daniel & Rowan Beiser-Hunt (uncredited)
Michael Towns (uncredited)
Students
Rachel Boyd
Senior girl
Jeff Sanca
Bus driver
Dan Skene
Angelica Lisk-Hann
Cassandra Ebner
John Stead
Allen Keng
Mitra Suri
Stephannie Hawkins
Eli Martyr
Bus passengers
Nneka Elliott
Newscaster
Aria Anthony
Little girl with Santa
Brian Kaulback
Mall Santa
Chemika Bennett-Heath
Sales assistant
Deborah Tennant
Customer in changing room
Martin Roach
Bill Parker
Allison Brennan
Cissie Sommerly
Damir Andrei
Charlie Beck
Steve Newburn
Neil Morrill
Crocodile puppeteers
Stephen Alexander
Pearl Ho
Anthony Gritsyuk
Carnival goers
Jesse Bond
Father at Carnival
Harper Gunn
Little Girl at Carnival
Matthew Binkley
Violetta Pioro
Love Park couple
Jackson Reid
Little boy
Hazel Gorin
Stunned lunch lady
Steve Blum (voice)
Darin De Paul (voice)
Fred Tatasciore (voice)
Sins
Callie Presniak
Craig Warnock
Pamela Matthews
Ava Preston
Manuel Rodriguez
Ali Badshah
Tabitha Tao
Lisa Codrington
Interviewees
Uncredited
Sarah Bennani
Simone
Heather Capuano
Carnival Goer #4
Cyndy Day
Mom on airplane
Bill Dean (voice)
Batman
Robert Grondski
Lucky Harmon
Diezel Hamos
Businessmen
Ryan Handley
Superman
Krystal Kiran
Elahe
Lavender
Joe Lavender
Attendees
David J. MacNeil
Mr. Breyer
Carson Manning
Board Member
Bryan Mills
Pedestrian
Jeffrey Mowery
Philadelphian
Jim Pagiamtzis
Night Club Patron
Caillou Pettis
Carnival Goer
Marc Primiani
School Science Teacher
Jillian Rees-Brown
Ruby Beazley
Dana Reznik
Carnival Mom
Shayna Ryan
Art Museum Goer
Lou Lou Safran
Sivana's Twin Sisters (12 years old)
Natalia Safran
Mrs. Sivana
David F. Sandberg
Crocodile-Men
Mister Mind (voice)
Angela Thompson
Mom at Carnival
K.G. Weiss
Businessman Spectator
External links
Community content is available under
CC-BY-SA
unless otherwise noted.