Sheldon James Plankton is the main antagonist from the Nickelodeon animated series SpongeBob SquarePants. He is the maniacal owner of the Chum Bucket restaurant, and Mr. Krabs' business rival. Due to the pathetic performance of his restaurant, Plankton is constantly trying to steal the secret formula for the Krabby Patty, but he never succeeds.
Appearances in Christmas specials
SpongeBob SquarePants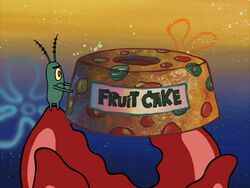 In the series' first Christmas episode, "Christmas Who?", Plankton makes a very brief cameo during the song "The Very First Christmas", where he is shown receiving a fruitcake from Mr. Krabs. Obviously not pleased about this, Plankton promptly throws the fruitcake into a nearby trash can.
Plankton has a much larger role as the antagonist in the series' second Christmas episode, "It's a SpongeBob Christmas!" In this episode, Plankton reveals that he is always getting coal from Santa Claus, so this year, he vows to get what he wants - the Krabby Patty secret formula - by making everyone else in Bikini Bottom look worse by comparison. He aims to do this by making fruitcake laced with an element called jerktonium, which makes anyone who consumes the fruitcake turn bad, and make everyone in Bikini Bottom eat it so that they will all turn into jerks. (In a piece of irony, despite Plankton's reputation as a poor cook, the other characters are shown to enjoy his fruitcake.) However, since SpongeBob himself is immune to the jerktonium's effects, Plankton also sends out a robot look-alike named ToyBob to make SpongeBob look bad. In spite of SpongeBob undoing the effects of the jerktonium with his song "Don't Be a Jerk (It's Christmas)", Plankton's plan appears to succeed anyway when Santa arrives and gives him the Krabby Patty formula because he seems to be the nicest guy in town. But after SpongeBob saves Santa from ToyBob, Plankton's scheme is exposed, and Santa has his elves drop a bag of coal on him.
Other Christmas productions
Plankton also made a few appearances in the Merry Nickmas interstitial shorts. His most prominent role in these shorts was in a parody of Christmas album commercials. In this segment, Plankton advertises his album Plankton's Holiday Hits, which contains his interpretations of "O Come All Ye Faithful", "Joy to the World", "Deck the Halls", and "The Nutcracker Suite". He also briefly appears in "How the You-Know-Who Stole You-Know-What!", portraying the role of Toonville's smallest citizen, Plankton Lou Who (a parody of Cindy Lou Who from How the Grinch Stole Christmas!). Plankton catches Angelica Pickles in the act of stealing all the chocolate candy in his house and asks, "What is going on here?!" Angelica responds by patting his head and kicking his rear end, sending him flying back to his bed. Plankton is also seen having apparently caught Helga Pataki under the mistletoe in "Holiday Party".
External links