Wiki Targeted (Entertainment)
Play Sound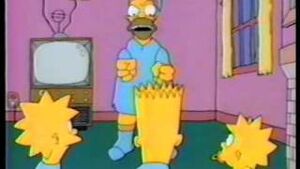 Simpson Christmas is a Christmas-themed Simpsons short, originally aired on The Tracey Ullman Show on December 18, 1988.
Plot
Bart narrates the a parody of the poem 'Twas The Night Before Christmas. The words are:
'Twas the night before Christmas,
And all through the home,
Not a creature was stirring,
'cept for me and this poem.
My sisters were nestled all snug in their beds,
While visions of candy bars danced in their heads.
Then I sprang like a spring, and snuck like a sneak,
Down the stairs to the gifts, for just a quick peek.
When lo and behold, what did I see?
I poked at my package, and said, "This is rad, man!"
Then noticed Homer's shadow, he looked like a madman.
"Oh Maggie, oh Lisa, oh little Bartholomew.
Go upstairs, go right now, before I kill all of you!"
And so into bed we fled in a flash,
Awaiting 'til morning to open our stash.
At last, daybreak came, and we scampered so cheerily,
While Mom and Dad yawned and gazed at us, wearily.
For Maggie, a pacifier. For Lisa, some dolls.
For me, a big burp-gun which shoots ping-pong balls.
Then on came the TV, and we started to doze
Through all the exiting Christmas-themed shows.
So, to those of you groovin' on my holiday rap,
Happy Christmas to all, and to all a good nap.
Trivia
Goofs
When Homer was pointing at Lisa and Maggie he called Lisa "Maggie" and he called Maggie "Lisa".
The Simpsons' house is different.
20th Century Studios
Television episodes and specials
Animated shows and specials
The Simpsons
"Simpson Christmas" • "Simpsons Roasting on an Open Fire" • "Marge Be Not Proud" • "Miracle on Evergreen Terrace" • "Grift of the Magi" • "Skinner's Sense of Snow" • "She of Little Faith" • "'Tis the Fifteenth Season" • "Simpson Christmas Stories" • "Kill Gil, Volumes I & II" • "The Fight Before Christmas" • "Holidays of Future Passed" • "White Christmas Blues" • "I Won't Be Home for Christmas • "The Nightmare After Krustmas" • "'Tis the 30th Season" • "Bobby, It's Cold Outside" • "The Way of The Dog" • "A Springfield Summer Christmas for Christmas"
King of the Hill
"The Unbearable Blindness of Laying" • "Pretty, Pretty Dresses" • "Hillennium" • "'Twas the Nut Before Christmas" • "The Father, the Son, and J.C." • "Livin' on Reds, Vitamin C and Propane" • "Ms. Wakefield"
Family Guy, American Dad!, and The Cleveland Show
"A Very Special Family Guy Freakin' Christmas" • "The Best Christmas Story Never" • "The Most Adequate Christmas Ever" • "Rapture's Delight" • "A Cleveland Brown Christmas" • "Road to the North Pole" • "For Whom the Sleigh Bell Tolls" • "Murray Christmas" • "Season's Beatings" • "Die Semi-Hard" • "Jesus, Mary and Joseph!" • "'Tis the Cleveland To Be Sorry" • "Minstrel Krampus" • "Christmas Guy" • "Dreaming of a White Porsche Christmas" • "The 2000-Year-Old Virgin" • "How the Griffin Stole Christmas" • "Ninety North, Zero West" • "Don't Be a Dickens At Christmas" • "Santa, Schmanta" • "Christmas is Coming" • "Yule. Tide. Repeat." • "The First No L"
Futurama
"Xmas Story" • "A Tale of Two Santas" • "The Futurama Holiday Spectacular"
Bob's Burgers
"God Rest Ye Merry Gentle-Mannequins" • "Christmas in the Car" • "Father of the Bob" • "Nice-Capades" • "The Last Gingerbread House on the Left" • "The Bleakening" • "Better Off Sled" • "Have Yourself a Maily Linda Christmas" • "Yachty or Nice"
Other cartoons
"Hook's Christmas" • "A Christmas Surprise for Mrs. Stillman" • Olive, the Other Reindeer • Ice Age: A Mammoth Christmas • "The War on Grafelnik" • "Miracle on Culpepper Slims Boulevard"
Community content is available under
CC-BY-SA
unless otherwise noted.