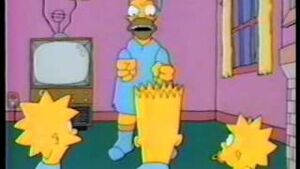 Simpson Christmas is a Christmas-themed Simpsons short, originally aired on The Tracey Ullman Show on December 18, 1988.
Plot
Bart narrates the a parody of the poem 'Twas The Night Before Christmas. The words are:
'Twas the night before Christmas,
And all through the home,
Not a creature was stirring,
'cept for me and this poem.
My sisters were nestled all snug in their beds,
While visions of candy bars danced in their heads.
Then I sprang like a spring, and snuck like a sneak,
Down the stairs to the gifts, for just a quick peek.
When lo and behold, what did I see?
I poked at my package, and said, "This is rad, man!"
Then noticed Homer's shadow, he looked like a madman.
"Oh Maggie, oh Lisa, oh little Bartholomew.
Go upstairs, go right now, before I kill all of you!"
And so into bed we fled in a flash,
Awaiting 'til morning to open our stash.
At last, daybreak came, and we scampered so cheerily,
While Mom and Dad yawned and gazed at us, wearily.
For Maggie, a pacifier. For Lisa, some dolls.
For me, a big burp-gun which shoots ping-pong balls.
Then on came the TV, and we started to doze
Through all the exiting Christmas-themed shows.
So, to those of you groovin' on my holiday rap,
Happy Christmas to all, and to all a good nap.
Trivia
Goofs
When Homer was pointing at Lisa and Maggie he called Lisa "Maggie" and he called Maggie "Lisa".
The Simpsons' house is different.
REDIRECT Template:20th Century Studios
Community content is available under
CC-BY-SA
unless otherwise noted.