"Simpsons Roasting on an Open Fire", titled onscreen as "The Simpsons Christmas Special", is the first full-length episode of the animated series The Simpsons, though it is actually the eighth episode produced for the show's first season (the intended series premiere, "Some Enchanted Evening", was held over due to problems with its animation). Originally aired on FOX on December 17, 1989, it was written by Mimi Pond (notably the only episode she wrote for the series) and directed by David Silverman. The title, which came from staff writer Al Jean, is an allusion to "The Christmas Song".
The episode has received positive reviews from television critics and was viewed by approximately 13.4 million viewers in its original airing, notably making it FOX's second-highest-rated show at that point. It was nominated for, but did not win, a Primetime Emmy Award in the categories of "Outstanding Animated Program (for Programming One Hour or Less)" (which it lost to, oddly enough, another first-season Simpsons episode, "Life on the Fast Lane") and "Outstanding Editing for a Miniseries or a Special."
Synopsis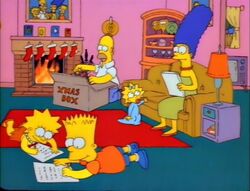 The series begins with Homer, Marge, and Maggie attending Springfield Elementary School's Christmas pageant, in which Lisa performs a dance as Tawanga, the Santa Claus of the South Seas, and Bart ruins his class's performance of "Jingle Bells". Later, at home, Marge writes a letter for the family's Christmas cards while Homer is getting out the Christmas decorations, and Bart and Lisa are writing their Christmas wish lists. After Marge finishes the letter, Bart and Lisa show her their wish lists; Lisa wants a pony, and Bart asks for a tattoo. Marge tries to tell Lisa that her wish for a pony isn't very reasonable, and she forbids Bart from having a tattoo. They then receive a phone call from Marge's sisters, Patty and Selma, who are coming to visit for Christmas (much to Homer's dismay). Afterward, Homer gets the lights set up around the house, but when he plugs them in, most of them don't work.
When Marge, Bart, and Lisa go Christmas shopping at the mall the next day, Bart sneaks away to the tattoo store and tries to get a tattoo of a heart with the word "Mother" written across it, thinking that Marge will appreciate it. However, Marge catches him in the act and immediately takes him to a nearby laser removal clinic. She has to spend the family's Christmas money (which she had saved in a big jar) getting Bart's tattoo removed, assuming that Homer's Christmas bonus will cover future costs. But meanwhile, at the Springfield Nuclear Power Plant, Mr. Burns announces that the unskilled workers, including Homer, will not be receiving a Christmas bonus this year. Homer sighs, hoping that Marge's big jar of money will be enough for the Christmas presents.
When Homer returns home and hears about the loss of their Christmas money, he cannot bring himself to tell Marge his own bad news; instead, he offers to do the Christmas shopping himself. The next day, he goes to buy cheap presents from Circus of Values, a variety store that sells nothing over five dollars. He tries to be optimistic about the dismal presents he is buying, but while leaving the store, he literally bumps into his neighbor, Ned Flanders, and enviously notices the plentiful amount of presents in fancy packaging that Ned has already bought for his family.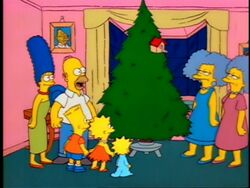 At Moe's Tavern, Homer meets his friend, Barney Gumble, dressed in a Santa Claus suit. On Barney's advice, Homer secretly takes a job as a mall Santa, though he learns that he will not receive any payment until Christmas Eve. When he arrives home that night, Marge tells him that her sisters have arrived. Patty and Selma point out the fact that the Simpsons don't have a Christmas tree, so Homer hurries out and steals one from a tree farm outside of town.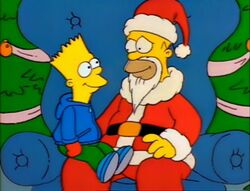 Later, as Homer is working as Santa at the mall on Christmas Eve, Bart and his friends, Milhouse and Lewis, are watching nearby, commenting on how gullible the children are. Milhouse dares Bart to tear off Santa's beard and Bart agrees, not knowing that Santa is really Homer. Bart cuts ahead in line and, upon reaching Santa, grabs Homer's fake beard. Bart is shocked at this, and an angry Homer escorts him inside Santa's workshop, where he explains his situation to Bart.
Later, Homer receives his paycheck, but to his dismay, he finds that, due to a high amount of tax deductions, it is only for thirteen dollars. While a depressed Homer sits down to figure out what to do with the paycheck, an excited Barney tells him that he is going to the Springfield Downs to place a bet with his earnings. He invites Homer to come along with him, ensuring a win on a dog named Whirlwind; Homer is reluctant, but with some encouragement from Bart, who thinks this could lead to a miracle, Homer agrees to gamble the paycheck and takes Bart with him to the track.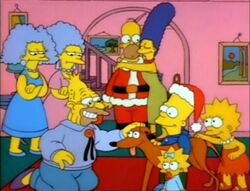 Despite Barney's recommendation, though, Homer decides to instead bet on a last-second entrant named Santa's Little Helper, believing it to be a sign. He, however, comes in dead last (in fact, he does not even make it to the finish line), and his owner, Les Moore, abandons him. He runs up to Homer and Bart, who decide to keep him. When they return home, Homer confesses to his family about his misfortune, but in the middle of it, Bart introduces Santa's Little Helper as their new family pet. Marge, Lisa and Maggie think that Homer brought him as a gift and are overjoyed, and the Simpsons have a merry Christmas after all.
Songs
Trivia
Edits
In syndication, the "Santa of Many Lands" segment was trimmed, and the the family watching The Happy Little Elves at the start of the third act was also cut.
Availability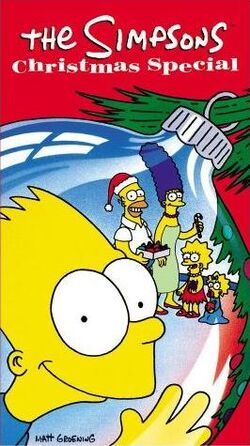 The episode was made available on The Simpsons Christmas Special VHS, notably the very first home video release for the series, released by FOX Home Video in 1991.
The episode made its DVD debut on The Simpsons: The Complete First Season set, released on September 25, 2001. Its presentation on that set also included an audio commentary by the show's co-creators, Matt Groening and James L. Brooks, and the episode's director, David Silverman. It was also featured (unfortunately without the inclusion of the audio commentary) on the 2004 single-disc DVD Christmas with the Simpsons (later repackaged as The Simpsons Christmas), which also included the episodes "Mr. Plow", "Miracle on Evergreen Terrace", "Grift of the Magi", and "She of Little Faith".
Cast
Gallery
See also
External links
20th Century
Television episodes and specials
20th Television Animation
The Simpsons
"Simpson Christmas" • "Simpsons Roasting on an Open Fire" • "Marge Be Not Proud" • "Miracle on Evergreen Terrace" • "Grift of the Magi" • "Skinner's Sense of Snow" • "She of Little Faith" • "'Tis the Fifteenth Season" • "Simpson Christmas Stories" • "Kill Gil, Volumes I & II" • "The Fight Before Christmas" • "Holidays of Future Passed" • "White Christmas Blues" • "I Won't Be Home for Christmas • "The Nightmare After Krustmas" • "'Tis the 30th Season" • "Bobby, It's Cold Outside" • "The Way of The Dog" • "A Springfield Summer Christmas for Christmas" • "Manger Things"
King of the Hill
"The Unbearable Blindness of Laying" • "Pretty, Pretty Dresses" • "Hillennium" • "'Twas the Nut Before Christmas" • "The Father, the Son, and J.C." • "Livin' on Reds, Vitamin C and Propane" • "Ms. Wakefield"
Family Guy, American Dad!, and The Cleveland Show
"A Very Special Family Guy Freakin' Christmas" • "The Best Christmas Story Never" • "The Most Adequate Christmas Ever" • "Rapture's Delight" • "A Cleveland Brown Christmas" • "Road to the North Pole" • "For Whom the Sleigh Bell Tolls" • "Murray Christmas" • "Season's Beatings" • "Die Semi-Hard" • "Jesus, Mary and Joseph!" • "'Tis the Cleveland To Be Sorry" • "Minstrel Krampus" • "Christmas Guy" • "Dreaming of a White Porsche Christmas" • "The 2000-Year-Old Virgin" • "How the Griffin Stole Christmas" • "Ninety North, Zero West" • "Don't Be a Dickens At Christmas" • "Santa, Schmanta" • "Christmas is Coming" • "Yule. Tide. Repeat." • "The First No L" • "Christmas Crime"
Futurama
"Xmas Story" • "A Tale of Two Santas" • "The Futurama Holiday Spectacular"
Bob's Burgers
"God Rest Ye Merry Gentle-Mannequins" • "Christmas in the Car" • "Father of the Bob" • "Nice-Capades" • "The Last Gingerbread House on the Left" • "The Bleakening" • "Better Off Sled" • "Have Yourself a Maily Linda Christmas" • "Yachty or Nice"
Other cartoons
"Hook's Christmas" • "A Christmas Surprise for Mrs. Stillman" • Olive, the Other Reindeer • Ice Age: A Mammoth Christmas • "The War on Grafelnik" • "Miracle on Culpepper Slims Boulevard" • "Solar Opposites Christmas Special"