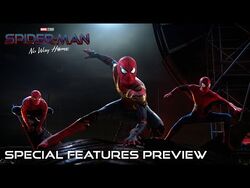 Spider-Man: No Way Home is an Marvel Studio movie that was released in theaters on December 16, 2021. Like Iron Man 3 and the Disney+ series Hawkeye before it, it take place at Christmastime, hence its inclusion on this wiki.
Synopsis
This page about a Christmas special or an episode from a television series with a Christmas theme is in need of a longer synopsis. You can help the Christmas Special Wiki by expanding this synopsis.
Music
Cast
Actor/actress
Character
Tom Holland
Peter Parker/Spider-Man*
Zendaya
MJ
Benedict Cumberbatch
Doctor Strange
Jacob Batalon
Ned Leeds
Jon Favreau
Happy Hogan
Jamie Foxx
Max Dillon/Electro
Willem Dafoe
Norman Osborn/Green Goblin
Alfred Molina
Dr. Otto Octavius/Doc Ock
Benedict Wong
Wong
Tony Revolori
Flash Thompson
Marisa Tomei
May Parker
Andrew Garfield
Peter Parker/Spider-Man*
Tobey Maguire
Peter Parker/Spider-Man*
Angourie Rice
Betty Brant
Arian Moayed
Agent Cleary
Paula Newsome
MIT Assistant Vice Chancellor
Hannibal Buress
Coach Wilson
Martin Starr
Mr. Harrington
Haroon Khan
Emily Fong
Apprentices
J.B. Smoove
Mr. Dell
J.K. Simmons
J. Jonah Jameson
Rhys Ifans
Dr. Curt Connors/The Lizard
Mary Rivera
Ned's Lola
Charlie Cox
Matt Murdock
Kathleen Cardoso
Rudy Eisenzopf
Jonathan Sam
Arena Bystanders
Thomas Haden Church
Flint Marko/Sandman
Ben VanderMey
Man in Car
Andrew Dunlap
Dad in Car
Gary Weeks
Agent Foster
Zany Dunlap
Mom in Car
B. Clutch & Minnah Dunlap
Kids in Car
Willie Burton
May's Neighbor
Mallory Hoff
Greg Clarkson
Regina Ting Chen
Reporters
Gregory Konow
Donut Shop Boss
Carol Dines
Donut Shop Waitress
Anisa Nyell Johnson
School Security Guard
Robert Mitchel Owenby
Daily Bugle Lackey
Glenn Keogh
British Reporter
Paris Benjamin
British Anchor
Jwaundace Candece
Damage Control Agent
Taylor St. Clair
Protestor
Rolando Fernandez
Gabriella Cila
Darnell Appling
Crowd Member
Edward Force
Donut Shop Patron
Michael Le
Guy with Phone
Dean Meminger
NY1 Reporter
Frederick A. Brown
Fred the Janitor
Clay Savage
Suit Voice
* - Spider-Man created by Stan Lee and Steve Ditko
See also
External links
This page about a Christmas movie is a stub. Please help The Christmas Special Wiki by expanding this article.