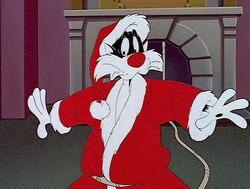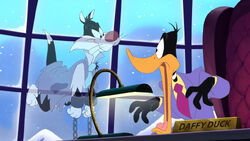 Sylvester J. Pussycat, Sr. is a cartoon character created by Friz Freleng for the Looney Tunes series of cartoon shorts. Introduced in the 1945 short Life with Feathers and eventually given his name in Scaredy Cat three years later, Sylvester is a house-cat who speaks with a lisp (except in the shorts where he is Porky Pig's pet). He is best known for his most frequent role as Granny's cat who is often attempting to catch and eat her canary, Tweety, which he never succeeds at. Sylvester also starred in shorts where he would be outwitted by Speedy Gonzales and Hippety Hopper (the latter adversary often humiliating him in front of his son, Sylvester Jr.), and he additionally co-starred in a few other shorts with Porky Pig, Elmer Fudd, Foghorn Leghorn, and Daffy Duck.
Appearances in Christmas specials
Along with Tweety, Sylvester has notably appeared in more Christmas specials than any other Looney Tunes character.
Looney Tunes
Bugs Bunny's Looney Christmas Tales - In this compilation special, Sylvester appears in the "Bugs Bunny's Christmas Carol" segment. Here, he is the mostly-silent pet of Ebenezer Scrooge, played by Yosemite Sam. Sylvester alerts his master when he sees that Bob Cratchit (Porky Pig) is keeping himself warm using a hot coal that Bugs Bunny took from Scrooge's fireplace and placed in Cratchit's stove. Later, when Bugs, as "the Ghost of Christmas", shows up to scare Scrooge into reforming, Sylvester utters his only line in the short - "G-g-g-ghost!?" - and flees. Unusually for a cartoon featuring both him and Tweety (who plays Tiny Tim), Sylvester does not interact with or even share the screen with the bird once in this special.
Bah, Humduck! A Looney Tunes Christmas - In the Looney Tunes' second take on A Christmas Carol, Sylvester appears in the Jacob Marley role. In the special's context, Sylvester was a greedy investor whom Daffy Duck (the film's Scrooge counterpart) idolized, and who died after being run over by a forklift nine times.
The Sylvester and Tweety Mysteries
Baby Looney Tunes
External links
Community content is available under
CC-BY-SA
unless otherwise noted.