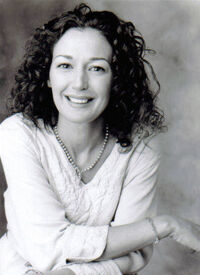 Tabitha St. Germain, formerly known as Paulina Gillis Germain and known as Tabitha or Kitanou St. Germain, is an actress, comedian, and singer known for playing Maria on Due South and guest roles on shows such as The Outer Limits, Stargate SG-1, Da Vinci's Inquest, and Supernatural. As a voice actress, she is known for voicing Spryte on The Legend of Zelda segments of The Super Mario Bros. Super Show!, Kootie Pie Koopa on The Adventures of Super Mario Bros. 3 and Super Mario World, the first voice of Nazz on Ed Edd n Eddy, Minty and Thistle Whistle on the G3 My Little Pony films, the title character in the Scary Godmother specials, Martha on Martha Speaks, Rarity, Granny Smith, and Princess Luna on My Little Pony: Friendship is Magic, and Pepper Clark on the 2012 Littlest Pet Shop series.
Christmas Filmography
External links
Community content is available under
CC-BY-SA
unless otherwise noted.