source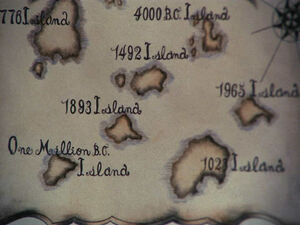 ...for the spelling used for certain character names. —Scott (talk) 04:47, 30 November 2007 (UTC)
Does this really count as a Christmas special?
I've long been wondering, why is this special covered here on the Christmas Specials Wiki? Since it actually seems to be a New Year's special, shouldn't it be covered on the Other Holidays Specials Wiki? - JeremyCreek 21:28, September 3, 2011 (UTC)
Setting?
According to the map, the story begins and ends in 1965 Island. So, is this special takes place a year after the previous special (1964)? - SeanDerpyHerbs (talk) 20:19, December 31, 2019 (UTC)
Actually, we never see the Island of 1965 in this special; aside from being included on that map of the Archipelago, 1965 only gets a brief mention from Rudolph right before he and O.M. arrive at the Island of 1023. And at the beginning of the special, Father Time mentions that this story takes place immediately following the events of the original special. Of course, since there is an island for 1965, this would indicate that both of these specials (and by extension, Rudolph and Frosty's Christmas in July) take place at least after 1965. (I find that rather odd, since the first special, which depicted its main story as something that happened a long time ago, came out in 1964, and the original Rudolph story was written in 1939.) --JeremyCreek (talk) 21:26, December 31, 2019 (UTC)
Community content is available under
CC-BY-SA
unless otherwise noted.