Theodore Tasmanian Devil, often referred to as Taz for short, is a character from Warner Bros' Looney Tunes cartoons. Debuting as an antagonist to Bugs Bunny in the 1954 short Devil May Hare, he is a ferocious yet dim-witted omnivore with a notoriously short temper and little patience. He will eat anything and everything, with an appetite that seems to know no bounds. Taz appeared in only five shorts before Warner Bros. Cartoons closed down in 1964, but marketing and television appearances later propelled him to new popularity in the 1990s, to the point that he even starred in his own show, Taz-Mania, which ran from 1991 to 1994.
Appearances in Christmas specials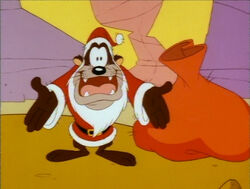 Looney Tunes
Taz-Mania
"No Time for Christmas" - Taz's most prominent role in a Christmas production, naturally, was in this Christmas-themed episode of Taz-Mania. In it, he goes about delivering Christmas presents to his co-stars, but he becomes sad when it seems that none of them care about it being Christmas.
Other Christmas productions
External links
This article about a character from either a Christmas movie, television episodic series or special with a Christmas theme is a stub. Please help to expand this article in the Christmas Specials Wiki.
Community content is available under
CC-BY-SA
unless otherwise noted.