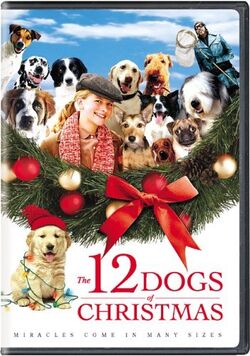 The 12 Dogs of Christmas is a 2005 Christmas movie, produced by Alchemist Productions and Ken Kragen Productions. It was then followed by a sequel, 12 Dogs of Christmas: Great Puppy Rescue.
Summary
This page about a Christmas special or an episode from a television series with a Christmas theme is in need of a longer synopsis. You can help the Christmas Special Wiki by expanding this synopsis.
A girl who uses dogs to teach people about the true meaning of Christmas during the Depression.
Cast
Actress/actor
Character(s)
Jordan-Claire Green
Emma O'Conner
Tom Kemp
Douglas O'Conner
Susan Wood
Cathy Stevens
Adam Hicks
Mike Stevens
Jim Jackman
Melvin
Richard Riehle
Mayor Nobel Doyle
Roland Pelletier
Clerk-Sherriff
John Billingsley
Dogcatcher Doyle
Cathy Worthington
Woman in Furs
Bonita Friedericy
Aunt Delores
Dorothy Brodesser
Mabel
Michael Howard
Old Jake Charles
Mindy Sterling
Mrs. Walsh
Kapri Merrill
Mrs. Clancy
Eric Lutes
Coach Cullimore
Alisha Mullally
Miranda
Travis Flory
Denny Doyle
Carl Zurhorst
Matt McPherson
Bullies
Robert Chapman
Editor
Alan Day
Storekeeper
Jerry Walker
Whitesides
Adam Lawson
Hollow Cheek Man
William Clark
Butcher
Heidi Webster
Lucy Stark
Kevin Merritt
Railroad Worker
Emma Kragen
Cynthia McDonnell
Chris Burns
Salvation Army Carolers
Lawrence Bloom (uncredited)
Townsperson
Monique Lycette (uncredited)
Town meeting speaker
External links
Community content is available under
CC-BY-SA
unless otherwise noted.