The Mandalorian's Popularity | The Loop
"

Dear Bob and Larry,
Christmas is coming, and I know I should be excited, but I'm not. My dad lost his job, and his new job is in a different city. It means I have to move away from my friends. How can I be happy about Christmas when things aren't going very well?
Your friend, Arthur.

"

— Petunia [reading letter at the beginning of the program]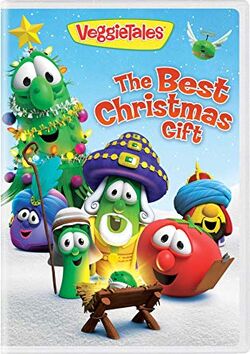 "The Best Christmas Gift" is the Christmas episode of the direct-to-video series VeggieTales (2019 incarnation), which serves as the show's premiere episode despite it is produced as the second episode of the "show", which premiered on Digital & DVD on October 22, 2019, with TBN, the exclusive broadcasting rights holder of the Big Idea catalog, premiering it on November 2019. Co-creator Phil Vischer wrote this episode in a response to the letter written by Arthur.
Summary
Bob and Larry are preparing for their first Christmas show in Mr. Nezzer's theater and the show seems to be headed for disaster. Bob begins to wonder how to celebrate Christmas when everything is going wrong. It's only when the Veggies go back to the very first Christmas, where times were tough and things didn't seem to be working out, that they all learn the promise of Christmas – God is with us. It's a timeless story of hope that every family will enjoy!
Songs
Episode
Classic Silly Songs
Silly Song Remixes
This episode includes two all new Silly Song Remixes, performed by VeggieTales superfan Shama featuring Drû:
Karaoke Silly Songs
Those songs are only available in the Bonus Features section of the DVD release.
Cast
Notes
Gallery
Stills
Promotional Stills
Videos
External links
Community content is available under
CC-BY-SA
unless otherwise noted.